Regent Seven Seas Cruises®: An Unrivaled Experience On The Water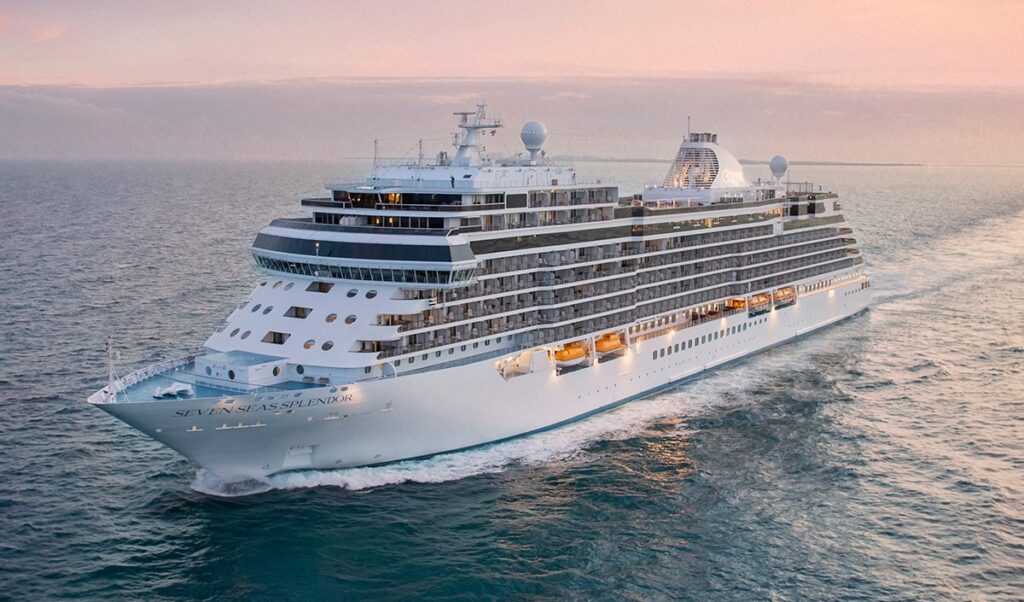 With over 30 years providing guests unforgettable vacations, Regent Seven Seas Cruises® has mastered what it means to offer elevated luxury on and off land.
"We are the only true all-inclusive cruise line," says Andrea DeMarco, President at Regent Seven Seas Cruises. "It's a key part of the overall unrivaled experience that Regent offers. Throughout our 30-plus-year history, we've been at the forefront of including as much as possible into the cruise fare to allow our guests to concentrate on spending their time on truly relaxing and deciding what they want to do in the next wonderful destination."
In terms of some of the specifics that come with offering an experience that's "beyond all- inclusive," you can expect to see Epicurean Perfection ™, refined service and exhilarating shore excursions. It also goes as far as offering free round- trip business-class airfare on intercontinental flights from the U.S. and Canada, free unlimited WiFi during every sailing, unlimited valet laundry and curated enrichment experiences.
Options depend on the cruises you select, too. For example, the line's newest ship, Seven Seas Grandeur, due to set sail in November, will include a multimillion-dollar art collection that features the first Fabergé Objet d'Art to permanently reside at sea. This ship also features the Regent Suite, a space spanning almost 4,500 feet overlooking the bow of the ship with two bedrooms, two and a half bathrooms, a living room with a personalized bar setup, a dining room and a private in-suite spa with unlimited complimentary treatments.
"Regent Seven Seas Cruises guests are discerning and enjoy the finer things in life," DeMarco continues. "They are well-travelled but always seeking for more discoveries and new, personalized experiences."
"THROUGHOUT OUR 30-PLUS- YEAR HISTORY, WE'VE BEEN AT THE FOREFRONT OF INCLUDING AS MUCH AS POSSIBLE INTO THE CRUISE FARE."
Looking ahead to the rest of this year and next, the luxury cruise line's attention to detail is set to continue with a roster of new stops and immersive cultural experiences in destinations across the globe. These include a 78-night arctic adventure, a 62-night journey from Stockholm to Athens and a 59-night trip from Sydney, Australia, to Tokyo, Japan.
"A truly luxurious, all-inclusive travel experience is about having all the little details taken care of for you" DeMarco says. "Onboard, our outstanding attendants and butlers will maintain your suite just the way you like it, ensuring a fresh, warm and comfortable home is awaiting your return each day. The direction of the maître d', the expertise of the chef, the guidance of the sommelier and the attentiveness of the wait staff will make each dining experience feel like a symphony of refined flavours and impeccable service."
Thanks to the selection of fine wines and spirits, not to mention dishes that have been authentically crafted from places like France, Italy and Asia, dining aboard the ships is a true luxury. Plus, with the introduction of more than 200 plant-based dishes, you can rest assured there's something for all flavour profiles and preferences.
To further mention the on-board team, they too personify what it means to travel in style. As DeMarco says, "It's our extended family of guests, crew and shoreside team members around the globe that bring to life the unrivaled Regent experience and bear witness to the broad history and deep roots that connect us all. We discover that travel has the power to unify. Fuelling those connections and building relationships as we pursue the horizon and explore the world in luxury — this is at the heart of what we do."
Upon completing your first voyage, you'll automatically be welcomed as a member of the Seven Seas Society and offered savings on future bookings when you refer future members, as well as other exclusive rewards. "As you continue to journey with us, you'll enjoy instant recognition when you board a voyage, where the number of nights you will sail elevates you to the next level," DeMarco shares.
Thanks to the destinations it offers, its approach to luxury and the level of personalized service, Regent Seven Seas Cruises is a true wonder on water. As DeMarco concludes, "Cruising with us is the best way to travel."