Museo Enzo Ferrari: Through The Lens Of Innovation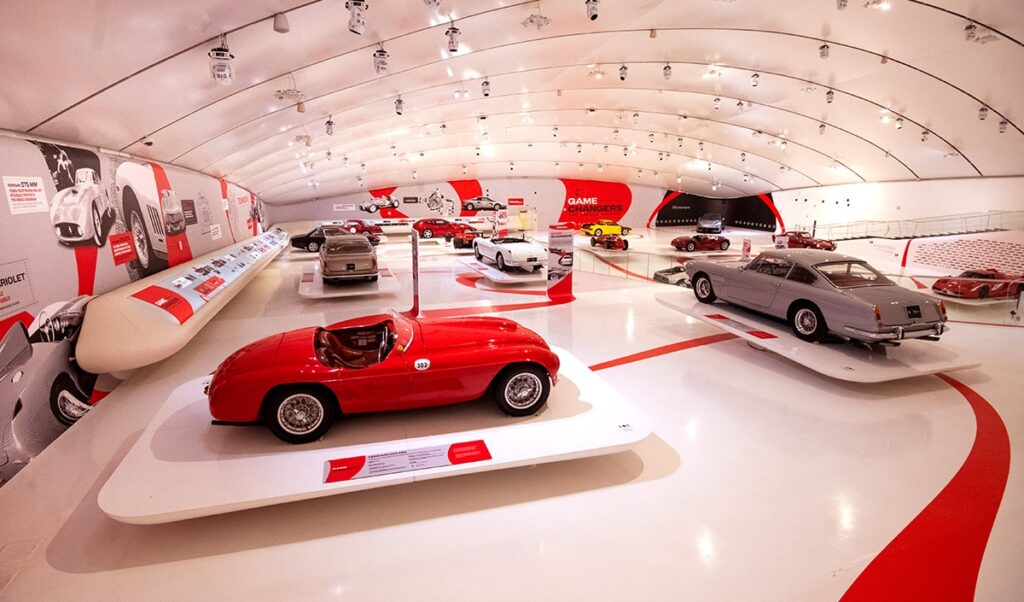 Until February of next year, Museo Enzo Ferrari is showcasing Ferrari's spirit of future-facing innovation.
In 1947, the Prancing Horse debuted its very first car. Called the 125 S, it came with an original design, a 1,500-c.c. V-12 engine and marked the beginning of what would be a string of defining, game-changing cars that would shape the automotive world.
The 125 S is the car that serves as the foundation for Game Changers, a new exhibition open at Modena's Museo Enzo Ferrari that showcases some of the most significant cars in the brand's history.
It does so through the lens of innovation, diving into the specifics that have made the Prancing Horse emblem so renowned, earning victories at races across the globe.
The exhibition is split into sections of design, technology and performance. Models on display in the design section include the 375 MM, the first one-off commission by Italian film director Roberto Rossellini for Ingrid Bergman, and the 166 MM, which was the first aluminum-bodied barchetta.
Move through to the technology space and you'll see the 400 Automatic. Released in 1976, it's the first 2+2 Grand Tourer fitted with an automatic gearbox, a response to market demand and international clients. It sits alongside the Ferrari F1-89, which holds another debut accolade: this time for being the first single-seater to integrate an electrohydraulic gearbox.
Finally, the performance section of the exhibition champions exactly that, featuring the Ferrari FXX, which was the first model in a Prancing Horse special series designed for track use.
While the exhibition serves to offer a glimpse at the brand's innovation and its constant look towards the future, it also tells the story of Ferrari's past, a story that includes victories at Rome GP and 24 Hours of Le Mans, and reaching various milestones in design engineering.
And while not all of the brand's wins and vehicles are on show at the exhibition, it does serve as a reminder of how far Ferrari has come.
Game Changers runs at the Museo Enzo Ferrari in Modena until Feb. 17, 2024.