Pass the SALT – SALT vine Wines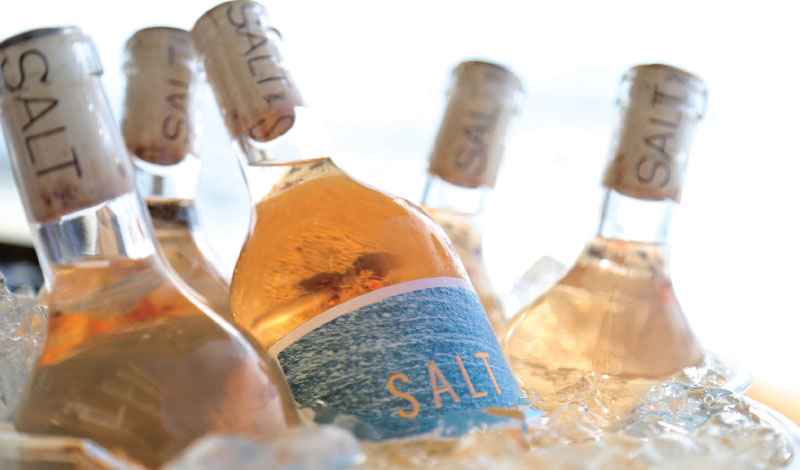 SALT vine Wines are made from the best grapes found in Napa, California. Standards may be high but SALT epitomizes simplicity and humility. Owners Marc and Ashley Wade believe the secret to a great bottle of wine is the presence of good company to enjoy it with.
Gaining its name from the phrase "salt of the earth," SALT vine Wines is a project of simplicity and honesty. A grassroots endeavour, SALT vine is a passion project of husband and wife proprietors Marc and Ashley Wade. Partnered with friend and 100-point winemaker Mike Smith, the Wades have built a winery that truly expresses the essence of humility.
The humility, chill and relaxed attitude of SALT vine is the embodiment of Wade. After 20 years in finance, Wade continues the busy business of Bay Street, while moving to the relaxing shores of Laguna Beach. SALT vine is but one of many passion projects Wade is a part of, including a partnership with Rande Gerber from Casamigos Tequila. Even Smith, Wade's winemaker, says that Wade's "long hair" makes it hard to believe he ever worked in finance, emblematic of the idea that Wade himself is a "salt of the earth" type of individual.
SALT vine has two types of wine, a Cabernet Sauvignon and a Pinot Noir Rosé — both pure and elegant expressions of their types. The Cabernet Sauvignon's aroma displays hints of "intense ripe berries, blackberry tea, sweet tobacco, cacao nib and cassis," and tastes of "dark berries," "chocolate shavings" and "baking spices." Meanwhile, the Pinot Noir Rosé is a pale pink with intoxicating flavours of "wild raspberry, peach and blood orange."
Wade wanted to make something new with SALT vine, something that he liked and that he hoped other people would like too. In Wade's approach, quality is the focal point — when making SALT vine Wines, he uses only the highest-quality vines and grapes he can find.
"This I did purely passionately, and by accident it became successful…some of the best things sell and you don't have to sell it at all"
The entire process behind SALT vine is an attempt to make the absolute best of the best wine that has ever been made: buying and growing the best grapes, employing rigorous horticultural standards and measures to cultivate them — and then, even further, only picking fruit of the utmost quality to be crafted into SALT vine wine. "If you want the best fruit, with arguably one of the best winemakers in this time, that's what we make," Wade says.
What SALT vine offers, beyond a delicious, satisfying taste, is an experience. Wade encourages people to have SALT vine wine while they are spending time with their family and friends, and not just at Michelin-starred restaurants. A taste of this journey is also offered through private dinners that SALT vine wine hosts. "We'll get a table and set it for a hundred people, and it's right between the vines of the vineyard overlooking the sunset. We'll bring one of our favourite chefs to come up with something really cool that night. Possibly have a bonfire, and maybe some people playing guitars. We serve our wine. We'd rather you have a whole lifestyle experience than just come through." The important part of this adventure is to acquaint the drinker with the true soul of what SALT vine is.
The expression of SALT's humbleness is not just through its experience or its founder, but also in the winery's lack of bravado or pomp in promoting itself. The quality, hard work and passion of SALT vine speaks for itself. Wade puts it best: "Some of the best things sell and you don't have to sell it at all."
PHOTOS COURTESY OF SALT VINE wines