Cadillac Escalade Hybrid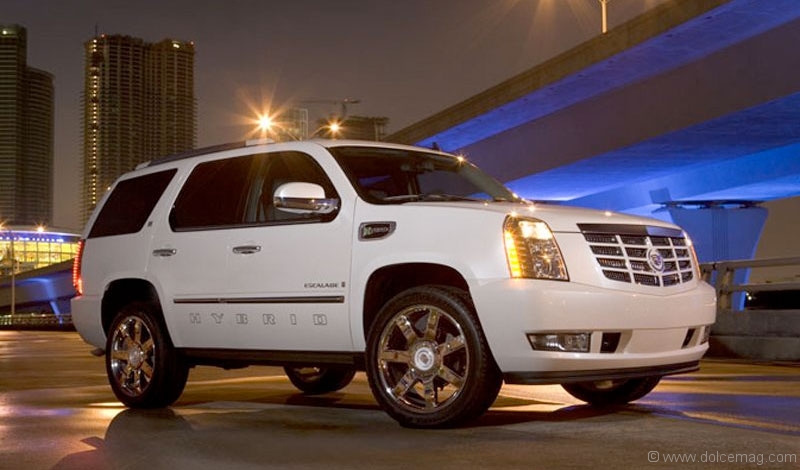 A number of months ago, I had the opportunity to experience a friend's Escalade EXT. I say 'experience' because this luxury sport utility vehicle is not one you simply 'drive.' From the moment you jump inside, you quickly realize that this Cadillac is not your grandfather's Deville. In fact, the Escalade has helped keep Cadillac relevant during a trying time for the North American auto industry.
As my friend and I cruised down the dim-lit streets of Toronto's trendy Yorkville on a warm summer evening, we could not help but roll down the windows and turn up the music; generating envious glances from the ice-cream-eating passersby. Like Vincent Chase from HBO's Entourage about to arrive to a star-studded movie premiere, when you're driving an Escalade, you're going to be noticed.
As an SUV driver myself, I expected this beast to guzzle its fair share of fuel – I just didn't realize how quickly.
Enter the 2010 Escalade Hybrid – just as luxurious, just as capable, and just as awe-inspiring. But, this vehicle boasts 40 per cent better fuel economy than its standard-engine counterpart. The Hybrid's 6.0-litre, 332-horsepower, Vortec V-8 is outfitted with a 300-volt battery pack, running with the engine or independently. An Active Fuel Management system – that deactivates four cylinders when less power is 
needed – is standard equipment on this vehicle as well. In fact, the Escalade Hybrid can be driven slowly, and in 
stop-and-go traffic without ever 
activating the gasoline engine!
It goes without saying that Cameron Diaz will still be able to get better fuel economy in her little Toyota Prius, but she won't look nearly as stylish doing so! This hybrid comes with all the luxury one would expect from a Cadillac, including automatic drop-down running boards, LED headlights, heated and cooled front seats, a DVD system with embedded LCD screens, plush leather seating, and specialized 22-inch rims. And, if you want to drive in style while listening to your favourite tune, the Escalade has a phenomenal sound system.
Realizing that many Escalade drivers may also have yachts, Cadillac made 
sure that the Hybrid was just as 
capable of towing as its gasoline correlative. While other hybrids lack 
the ability of being fully-functioning 
haulers, the Escalade Hybrid is 
up to the job.
A perfect balance between the power and opulence of a full-size luxury SUV and the desire to preserve the environment and reduce dependency on foreign oil gives way to the 2010 Escalade Hybrid.
GENERAL SPECIFICATIONS
Engine: 6.0-L, V-8 with Active,Fuel Management and 300-volt Hybrid Electric Propulsion System
Transmission: 2-mode continuous ratio
Drivetrain: All-wheel drive
Suspension: Independent Front/Five-Link Rear
Brakes: 4-wheel disc with ABS, Stability Control System
Price: $94,295 (Cdn)