Dolce Road Automotive Tripping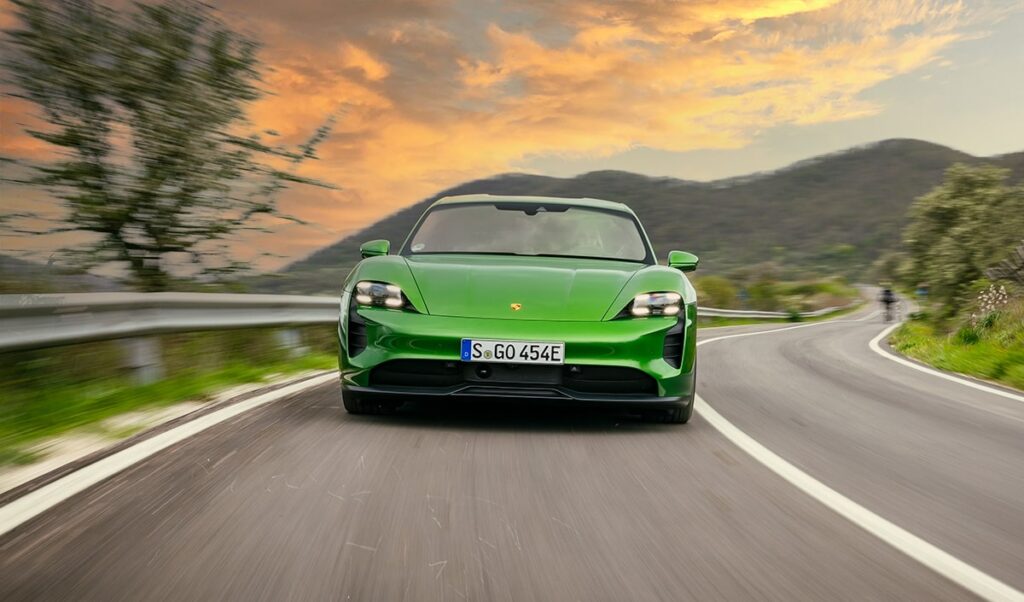 Driving along winding country roads in a Porsche Taycan GTS Sport Turismo to the idyllic Langdon Hall Relais & Châteaux country house estate is the ultimate summer road trip.
Driving to Langdon Hall in southwestern Ontario, a Relais & Châteaux hotel and one of North America's finest country house estates, at any time of year can be a special experience. But having the opportunity to do so along winding country roads about two hours from Toronto behind the wheel of the 2022 Porsche Taycan GTS Sport Turismo can be a thrilling summertime experience.
This was the experience recently enjoyed by me and my guest and dear friend, Carla Zingone. And what better choice than to have a flight attendant as my co-pilot. I was invited by Porsche for a day of speed, style and splendour by driving its new version of its electric sports car to enjoy a tour of Langdon Hall and a glorious luncheon prepared by Langdon Hall's acclaimed chef, Jason Bangerter.
The Porsche Taycan GTS Sport Turismo is the third body version of the first all-electric Porsche model series, and the newcomer shares its sporty silhouette and the distinctive rearward-sloping roofline with the Taycan Cross Turismo. With a retail price starting above $150,000, the Taycan GTS is the sporty all-rounder of the model range and boasts considerable power. It has an impressive 590-horsepower of overboost power when using Launch Control, and the sprint from zero to 100 kilometres per hour (km/h) can be achieved in 3.7 seconds, with a maximum speed of 250 km/h. This commitment to engineering excellence has helped Porsche achieve some 30,000-plus worldwide motorsport wins to date.
"A Delicious Luncheon Prepared By A Worldfamous Chef At Beautiful Langdon Hall Is As Close To Perfection As Possible – A.k.a. La Dolce Vita" — Michelle Zerillo-Sosa
As is tradition with Porsche, the exterior and interior are distinctive. There are numerous black or dark details on the exterior, such as the front apron, the bases of the exterior mirrors and the side window trims. The interior provides both an elegant and dynamic ambience with numerous black Race-Tex features and the standard brushed aluminum interior package with a black anodized finish.
Once inside the gates, and in stark contrast to the speed and power of our mode of transport, we could enjoy the beauty, peace and serenity of Langdon Hall. This included a special tour led by the head gardener, Jeremy Gehl, of the estate's acclaimed 75-acre vegetable garden, the source of many of the foods and herbs that make it world famous. The knowledge of this man is astonishing. We tried herbs that tasted like green apples and licorice, too. Who knew?
Not to mention, I had to fight the urge to go home and spend the rest of the week gardening, thanks to Gehl's love and passion for harvesting magic in the garden.
A highlight of this ideal day in the country was a luncheon prepared by chef Bangerter. He now enjoys a world-renowned reputation and is the World Culinary Council representative for Relais & Châteaux. Bangerter has received many awards during his distinguished career and is the author of a recent and highly praised book, Langdon Hall: A Cookbook, a collection of seasonally inspired recipes he features there.
My Ōra King Salmon was served with Holland Marsh Leeks, Ox-Eyed Daisy Capers, and Brown Butter Hazelnuts.
Whatever your station in life, we all have what we would consider that ideal day. Being able to drive a new Porsche electric sports car through the countryside, discovering vintage shops like Feather Nest Furnishings and enjoying a decadent and delicious luncheon prepared by a world-famous chef at beautiful Langdon Hall is as close to perfection as possible — a.k.a. la dolce vita/Dolce road-tripping.