Jaguar XJL Review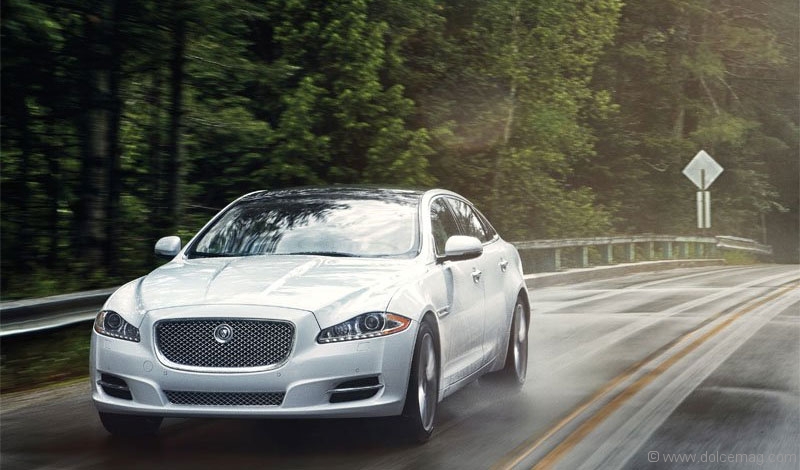 The full-size luxury car segment is such a visual bore. How can anyone be inspired by the stylistic lull hanging over this straight-laced crowd? So many brands deliver premium luxury and solid performance, but most do so without a hint of panache. It's all black ties and creases.
After all, must be proper, dear.
But what if I want to step outside the standard executive paradigm for BMWs and Mercedes? What if I want to strut in a fitted Armani suit? What if I want to feel like Daniel Craig's James Bond, striking and confident?
Isn't 40 supposed to be the new 20? If so, why are auto manufacturers so keen on keeping this segment for grandpa? Luxury shouldn't mean sacrificing style; yet this seems to be the case for the majority of the full-size luxury segment.
Queue the Jaguar XJL.
Now this is style: sleek, smart and sexy with a brush of contemporary flair. Self-assured without being brash, exclusive without the arrogance, the XJL is a car living in the moment. It's a reflection of urbane urbanism melded with enthusiast passion — a piece of automotive fashion.
Circling the XJL, examining its smooth contours and subtle details, it really is hard not to be impressed by what this British manufacturer has developed. In fact, Jaguar's entire recent reinvention has been rather remarkable. It's entered a renaissance of sorts and has produced some serious stunners, like the revitalized XK and XF, along the way. The old boys' club mentality has dissolved. Gone is the great cat leaping off the hood, replaced by sharp ridges and a furrowed brow. The British gent has been retired, succeeded by Gen X.
The XJL has received the same treatment. It's balanced from front to back, lengthy but lean. Claw-mark LED tail lights suggest an underlying aggression. Its face is stern. Eyes: hard, piercing with attitude. It's imposing when fully appreciated, but discreet in an actions-speak-louder-than words way. Like Bond sipping a vodka martini, the XJL exudes cool, through and through.
Outside of some upgraded features, the XJL is five inches longer than the standard XJ. Complaints were raised regarding the XJ's lack of backseat space, but with the XJL's extra length, passengers can breathe easy.
While its looks will certainly appeal to a wider, perhaps more youthful demographic, Jaguar purists may cringe at seeing their beloved brand modernized. Fear not Jaaaag enthusiast: that touch of nostalgia is present inside. Sitting behind the wheel of the XJL, your tweed jacket can rest easy amidst the seamless fusion of traditional elements and modern features. Polished wood panelling sweeps around the cabin and soft leather covers the rest, maintaining that familiar Jaguar charm. Retro air vents and analog clock are classic details.
But underneath these old-world comforts modern tech abounds. Heated steering wheel, heated front and rear seats, 20-way adjustable massaging front seats with memory function, four zone climate control, eight-inch touch screen and navigation system, front and rear parking sensors with rear reversing camera, blind spot monitor, dual sunroofs and voice command come standard.
Novel features, like the JaguarDrive Selector™, which rises out of the centre console when the XJL comes to life, and JaguarSense™ control, which only needs a light touch to turn on overhead lights and open the glove box, add to its distinction. Instead of physical gauges the XJL uses digital instruments, as well. This might be contentious among old-school drivers, but the digitals look great and never hinder the experience.
Backseat business trays, a 1,200-watt 20-speaker Bowers & Wilkins sound system, adaptive cruise control, mounted eight-inch screens in the back of the front headrests and wireless headphones are additional options.
Take this apex feline out for a run and that underlying aggression rears its head. Response is immediate from the 5-Litre V-8. Its 385-horsepower and 380 lb-ft of torque charges from 0–100 km/h in 5.7 seconds — impressive for a car this size. Thanks to its lightweight aluminum body, the XJL is also surprisingly agile. Steering is tight, and with the encouragement of the V-8's deep growl, you'll attack corners with confidence. It really is a great car to drive.
Some gripes: Because of its length and sleek back end, vision in the rear-view isn't ideal. Its sleekness may also leave taller passengers starved for headroom in the backseat. And its trunk is spacious, but not as ample as some of the competition.
Thankfully, with the number of accolades Jaguar has received over the last few years, many of the reliability concerns that plagued it in the past are being put to rest. Just this past spring, in fact, Jaguar reached No. 1 on the 2012 UK Vehicle Ownership Satisfaction Study by J.D. Power and Associates in conjunction with What Car? We're really seeing the rebirth of Jaguar in all respects.
In the full-size luxury segment there are plenty of heavy hitters vying for your attention. There are the big dogs: the BMW 7 Series and Mercedes-Benz S-Class. The Audi A8 and Lexus LS are always jockeying for position, and the emergence of the Porsche Panamera brings another rival. It's a crowded segment.
Debating performance and luxury in this class is often like splitting hairs. Most of these cars, after all, are exceptional vehicles. However, none of them come close to matching the Jaguar in the looks department. It just hits so many marks so well: it's luxurious, a phenomenal ride and the best-looking car in its class. If you're searching for something outside the familiar faces of template luxury, a car that exudes style and exuberance without sacrificing prestige, the XJL is one to consider.