Rolls-Royce Announces New Colour and New Engineer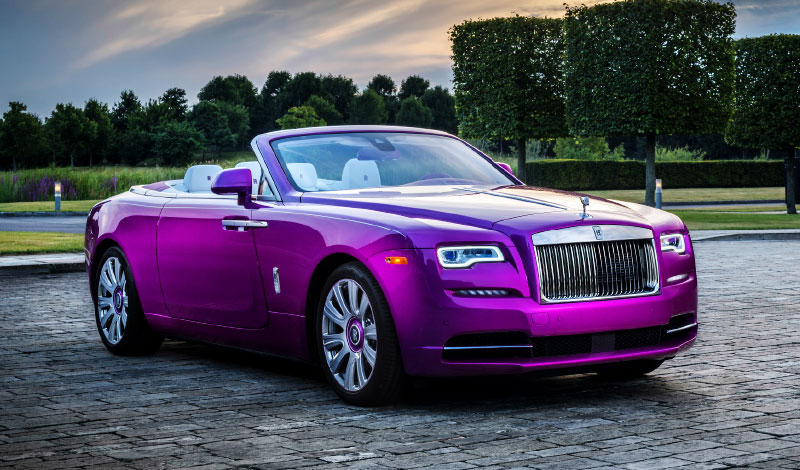 Rolls-Royce Motor Cars continues to be the forefront of automotive innovation with a new colour and a new director of engineering.
Rolls-Royce Motor Cars offers customers an impressive palette of more than 44,000 colours, but for one client, the available options were not enough.
Recently at The Quail, a Motorsports Gathering in Pebble Beach, California, renowned car collector Michael Fux added another bespoke colour to this palette with the addition of an eleventh commissioned Rolls-Royce to his personal collection. The Rolls-Royce "Dawn in Fuxia" was unveiled by Torsten Müller-Ötvös, CEO of Rolls-Royce Motor Cars, as part of the company's activities at the 2017 Pebble Beach Concours d'Elegance, the world's premier celebration of luxury automobiles.
"When I commissioned my first bespoke Rolls-Royce in 2005, I wanted something completely different than any of the other cars commissioned at the time. I knew the designers had a lot of creativity that I wanted to explore," said Fux. "I love the heritage of the Rolls-Royce brand and I love these cars. I always challenge my fellow owners to push the bespoke envelope."
Mr. Fux has previously commissioned ten other Rolls-Royce vehicles, each highly personalized to his exact specifications.
"Michael is a very special patron of Rolls-Royce Motor Cars," stated Müller-Ötvös. "Rolls-Royce designers love working with him because he constantly challenges them to take their work to an even higher level, delivering a true work of art."
In addition to delivering new custom creations, Rolls-Royce is also shepherding in a new director of engineering.
Dr. Mihiar Ayoubi has been appointed director of engineering starting this March.
Dr. Ayoubi joins Rolls-Royce from the BMW Group, with over 20 years of experience in a broad range of engineering positions. He is currently head of concepts, architectures and integration and has previously headed departments in acoustics and vibration, dynamics development, chassis control systems, drivetrain development, all-wheel drive and driver assistance systems.
Of Syrian descent, Dr. Ayoubi moved to Germany in 1985 to study engineering, eventually joining BMW Group in 1997. He holds a degree and doctorate in control systems engineering and applied artificial intelligence from the technical University of Darmstadt.
"I am delighted to welcome Dr. Mihiar Ayoubi as our new director of engineering," Müller-Ötvös said. "Mihiar is an exceptionally talented engineer and follows in the esteemed footsteps of the company's founding father and first engineer, Sir Henry Royce."
photos courtesy of rolls royce