Knowledge is Brain Power – One-of-a-Kind Learning with Dr. Karine Rashkovsky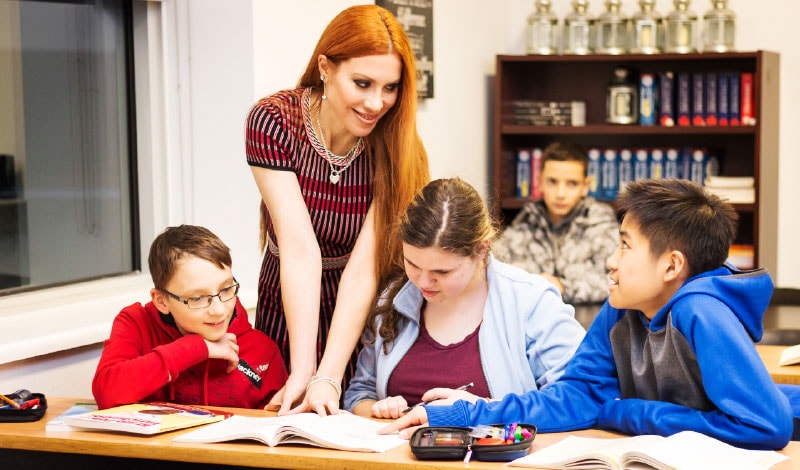 Brain Power has cemented itself as an enrichment learning centre that redefines education and prepares children for life both inside and outside of the classroom.
We've all thought at some point, "I wish school were more like …" This was largely wishful thinking until Brain Power Enrichment Programs opened its doors nearly three decades ago. Founder and director Dr. Karine Rashkovsky and her team of PhDs fill in these wishful blanks with a values-driven approach tailored to the minds of bright students, and—lucky for us—the GTA is Brain Power's home.
Let's be clear: This is not another tutoring company. Brain Power has instead carved its own niche as a unique and progressive educational enterprise. Here, about a thousand of the GTA's best and brightest young minds from Grades 1 through 12 gather weekly in an ideal learning environment where bright and gifted students thrive. Encouraged to become leaders, Brain Power students are immersed in after-school curriculum that weaves together academic excellence, social justice and global consciousness. What's more, alongside like-minded peers and mentors, these youngsters simply have a lot of intellectual fun.
With humble beginnings in the 1990s, a father-daughter duo—Dr. Reuven Rashkovsky, PhD, and Karine, PhD—have grown over the decades with what Karine describes as a mission "to provide unique curriculum, world-class teaching and experiential learning opportunities, all while exceeding current educational standards and promoting a social conscience." Karine began assisting her mathematician father at a very young age and, with her vision and determination, eventually turned his "hobby" into a much-expanded-in-scope successful enterprise.
Today, Karine, as founder and director of Brain Power, is a trailblazer in supplementary educational programs, a passionate educator and an entrepreneurial role model. She has received multiple local, national and international awards, and is also the official Education Expert for Vaughan's SRC community, an Ontario Mentor for VBEC and a sought-after speaker for academic, civic and entrepreneurial events.
So what makes Brain Power an innovative model of success? For one, Karine employs brilliant PhD instructors with vibrant personalities. To add, Brain Power ensures small class sizes where students develop critical thinking in fields of their choosing (including, but not limited to, English language arts, MENSA-style math and problem solving, public speaking and the art of persuasion, robotics, coding and aerospace engineering, and entrance exam preparation for IB, TOPS, MaCS, UTS and more). Students receive individualized feedback on their academic development, and parents receive full transparency on their child(ren)'s weekly progress. Another ingredient in the recipe for success is the fact that Karine ensures that Brain Power's business decisions are based on values and principles, as opposed to profit. For example, her choice to use open-source software (for Brain Power's Learning Management System) from a small startup company was risky, but she appreciated the startup's values and commitment to excellence and went with them, with great success. As well, by using a "non-marketing" approach, Brain Power's growth has been largely through word-of-mouth, a testament to the company's values (and solid loyal following).
"Brain Power provides unique curriculum, world-class teaching, and experiential learning opportunities, all while promoting a social conscience"
The proof is also in the walls, so to speak. Especially notable is Brain Power's eco-flagship location, which opened its doors a few years ago in the Toronto-North Schwartz/Reisman Centre. Former York Region chairman and CEO Bill Fisch, and regional councillor and former deputy mayor Gino Rosati, along with local and regional councillors, led the ribbon -cutting ceremony, recognizing Brain Power's forward-thinking efforts in environmental sustainability and enrichment education. While the project was costlier than a typical build, Brain Power values long-term effects and student experience over immediate profit: "If we're going to have an ideal learning experience, we need to make sure the space is one the students both learn in and from," says Karine. The diverse construction team, powered by both women and Brain Power volunteer alumni, reflects Brain Power's commitment to social justice and community involvement. Construction consisted entirely of recycled, non-toxic local materials (including pressed-juicebox walls instead of drywall and reclaimed cotton jeans instead of typical fibreglass insulation). Leftover construction materials were upcycled by the students into a giant 8'x8' brain sculpture that won an award in Canada's Green Building Council enviroSCULPT competition.
Clearly Karine has made it her life goal to significantly raise the bar with respect to enrichment education for high-achieving students, and what better way to do it than creating an ideal model? The results of this progressive approach are many. Not only have academics from York University's Faculty of Education called Brain Power "a model site of transformative education" (according to graduate program director Professor Sandra R. Schecter), but the company enjoys significant growth, each year adding to its repertoire of brilliant teachers and high-calibre students (it's important to note that there is an assessment interview process for prospective students and that not all students are accepted into Brain Power's programs). With this growth, Brain Power continues to be recognized with various accolades and its students are already being distinguished as the leaders of tomorrow. Especially worthy of mention is a Brain Power alumni being named Millennial Impact Entrepreneur of the Year for 2017 at the Global Social Impact Investment Steering Group (GSG) and two Brain Power students recently placing second in the Business World Cup Championships for their innovation of a life-saving product that detects blood alcohol levels. Brain Power also brings in inspiring speakers to add to its roster of "teachers"; last spring, for instance, Brain Power hosted CBC's Terry O'Reilly, who offered a packed room of avid listeners insights on public speaking. Brain Power has also had the honour of hosting the University of Waterloo Apprentice Case Competition, and honouring one of Canada's leading geneticists with the floor at one of its book club meetings (on the classic sci-fi novel Flowers for Algernon).
With these and many other achievements, Karine is ensuring that Brain Power is pioneering the way for what enriched education should be all about, and what any values-driven business can emulate. This is why students at Brain Power say, "I wish school were more like … Brain Power!"