Speed For Sale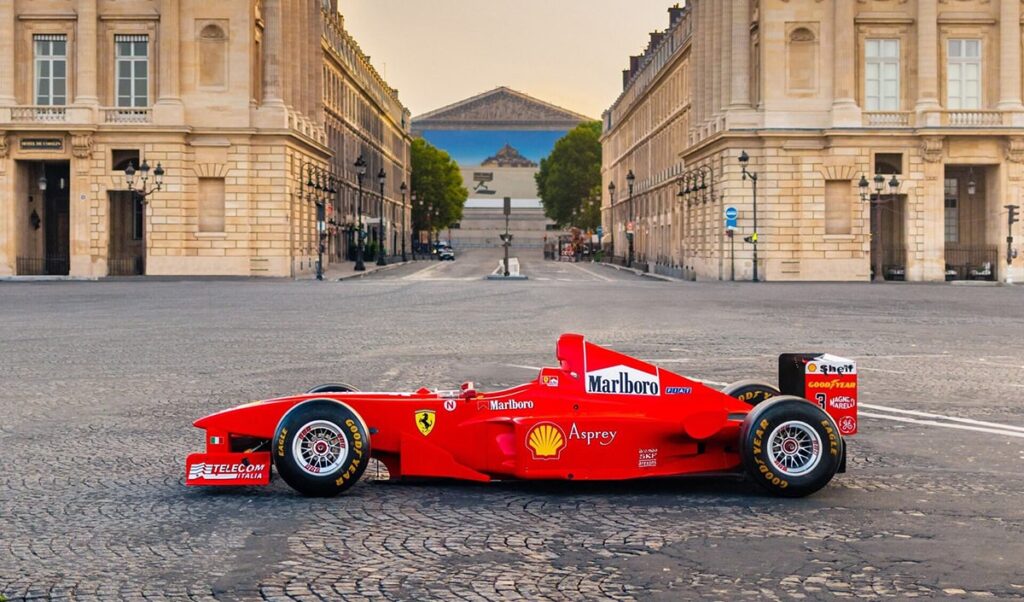 Michael Schumacher's legendary Ferrari F300 No. 187, undefeated in his historic streak in 1998, will go on public sale for the first time in Monterey, California.
If you are of the opinion that no one, or anything, can go undefeated in sports, Michael Schumacher and the people at Ferrari would like a word.
For the first time in its history, the most successful UNDEFEATED Schumacher car, Ferrari F300 No. 187, will be offered for public sale in Monterey, Calif., by RM Sotheby's, the world's largest collector-car auction house by total sales. The car is the most successful Ferrari Formula One car, utilized during the 1998 Formula One World Championship season, piloted to four victories at the hands of one of history's greatest drivers, Michael Schumacher.
In early January of 1998, Ferrari debuted the car, dubbed "The F300," to more than 800 journalists. This latest Ferrari titan employed a new 3-litre V-10 engine and featured a maximum engine speed of 17,500 rpm, producing an impressive 800 horsepower. While the car continued to be tinkered with during the season, even the sport's most jaded journalists admit the design's efficient aerodynamics and well-balanced V-10 power plant were the foundation of its soon-to-be domination of the Formula One world.
Schumacher, in the F300, specifically chassis 187, began his winning streak at the Canadian Grand Prix in Montreal. There he claimed the win with a jaw-dropping fastest lap, with a 16-second lead over the runner-up. That is the type of historical dominance you rarely see, similar to Secretariat's legendary 31-length win in the 1973 Belmont Stakes in another sport of speed, horse racing.
Schumacher continued the streak with wins in the F300 No. 187 in France and Britain, and concluded the streak weeks later at the Italian Grand Prix with the 33rd win of his extraordinary career, making chassis 187 the only undefeated chassis to run at least three races.
In September 1999, the famous car was sold privately in the same race-used condition in which it remains today. In those intervening 23 years, chassis 187 has been remarkably preserved, as it has never been restored or altered from its as-raced condition. It has also been shielded from public view until now, ensuring its pristine and historical condition and authenticity.
Those with a sense of history will be asked to pay, however. RM Sotheby's estimates Michael Schumacher's most successful and undefeated Ferrari F300, No. 187, will sell at a price somewhere between six and eight million dollars.