Pretty in Pink: Get the Look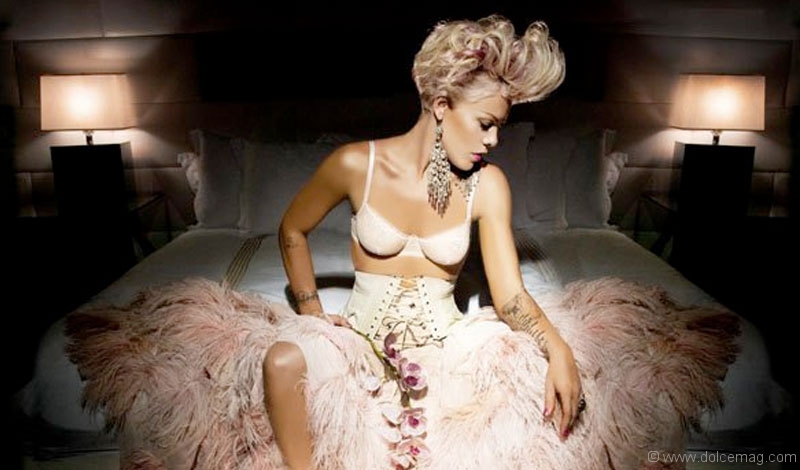 The first step to achieving the look is to clean your hair with White Sands Orchid Bliss Shampoo and Conditioner. Hamilton uses a pink mybotto inverted bottle holder that allows her to get "all of the shampoo and conditioner out of the bottle, to the very last drop."
Next, she applies a few pumps of volumizing mousse for life and texture evenly from the roots to the tips of P!nk's hair. After that, she blow-dries her hair with a medium round boar bristle brush. Then she clips extension pieces into the crown of her hair and makes sure to leave the perimeter out. "If your hair is fi ne or a bit short, I suggest using clipin extensions to achieve P!nk's Marilyn style," she explains. "Approximately three pieces should do the trick."
After that, she sprays the hair with a heat protectant such as White Sands Liquid Texture — Firm, curling the entire head with a medium to large curling iron. If you want streaks for playful colour, Hamilton suggests applying HyperColor Hair Powder with a makeup brush and then setting the style with a medium hold hairspray, while teasing the roots a bit.
The gutsy rock star has proven that even the colour pink can be bold. Now her stylist, Marcia Hamilton, opens up about this season's hottest trends.
Q: How would you describe P!nk's style?
A: P!nk's beauty style is fun and edgy, yet effortless. She's a spunky girl and lets it show in her tough mama swag.
Q: What are P!nk's go-to looks?
A: She loves her hair short, especially with her busy schedule. Her go-to is short on the sides and long on the top.
Q: What new looks can we expect from her this spring?
A: P!nk is always switching it up. She loves to keep folks guessing and stays ahead of trends. Stay tuned and see what she rocks next!
Q: What are some of this season's biggest trends?
A: The bob is the hottest cut for spring/summer 2013 trends. Clean, geometric shapes and lines are flooding the runways.
Marcia Hamilton
Jada Pinkett Smith, P!nk, John Legend and Kim Kardashian are among Marcia Hamilton's star-studded clientele.
Known for her spunky, edgy style, Hamilton has made a colourful splash in celebrity beauty. She has appeared on The Ellen Show, The Today Show, E! Entertainment and other shows on NBC, ABC and HBO.
www.marciahamilton.com
PHOTOGRAPHY BY DEBORAH ANDERSON