Glamorous and Green – Husk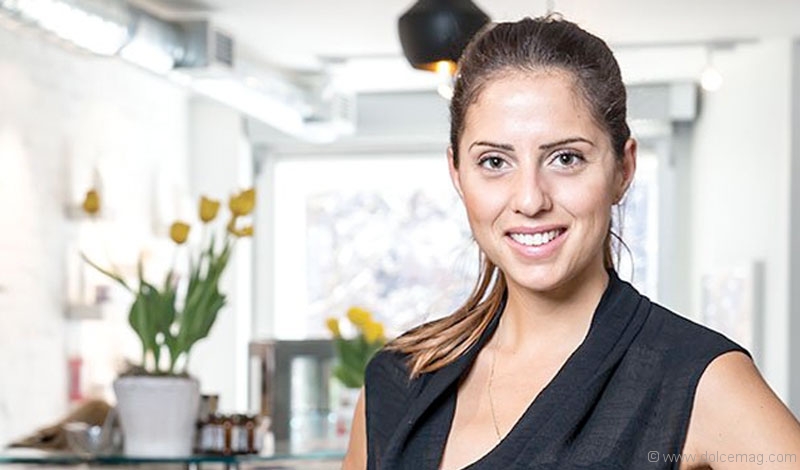 Within moments of entering Husk, a quaint shop on Scollard Street in Toronto, my preconceived perception on all things green is crushed. Green, holistic, organic, natural, eco-friendly — these are words that are thrown around all too often and that have made their way into our everyday vocabulary. They conjure up an image of a granola-eating-hemp-wearing individual that isn't commonly associated with a life of beauty and glamour. Husk founder Stephanie De Gasperis is changing that; she is putting the glam into green with a thoughtful mix of beauty and nutrition products that support the body inside and out. The Yorkville row house that is home to Husk and its range of 30 brands was completely remodelled before opening last September, the space now seamlessly merging contemporary design elements with environmentally responsible materials. For De Gasperis, it's this type of awareness that is at the core of her existence. "It was important that sustainability be translated into every aspect of construction," she tells me as we make our way to the sun-filled second-floor office, adding, "all the floors are reclaimed wood and stained with flaxseed oil." Her environment, the products she uses and the food she eats play an essential role in achieving overall balance of the mind, body and spirit — a way of life that she's studied, adapted and now shares with her growing list of devoted Toronto clients.

Making the change to a more conscious approach to living is no small feat. De Gasperis can attest to the commitment required to live a more healthful lifestyle. "It's gradual and it's a process. I don't think anybody can or should do it overnight, it's important to be easy on yourself … it's a process that doesn't always have instant results." She goes on to say, "That's the beauty of it; you get to see things evolve through the journey." De Gasperis studied history and languages in university and after graduation got into the family business of real estate and development. She is the next generation of the powerful De Gasperis construction family, whose roots go back to Italy. It's this link to Europe and the Italian sensibility that she says influenced her early on and would eventually inspire what she did with Husk. "That natural style of living and living in balance, not having things in excess, was always very close to me." After a stint in the family business, which De Gasperis says "wasn't something that I was innately passionate about," she began to develop other interests, eventually pursuing holistic nutrition. "It's about looking at your health in a whole form, it's essentially a balance of mind, body and spirit and, instead of treating a condition by addressing symptoms and covering them up, it's really about getting to the root of a problem." She goes on to tell me that "it's about figuring out what is causing the problem as opposed to covering it up through conventional means of treatment … nourishment inside and out," she says, is the basis of the teaching.
After receiving her degree in holistic nutrition, De Gasperis travelled extensively to the pockets of North America and Europe where wellness was flourishing. What she discovered and brought back would eventually serve as the basis of Husk's product range. Products like The Body Deli, that De Gasperis has long been devoted to, are made in Palm Desert and contain ingredients such as Coachella Valley Medjool dates. "It's the reason I opened the store," she says. "The products are really superfoods for the skin." Josh Rosebrook's line of hair and skin care from Los Angeles is another favourite. "He has a serum for the face that is great. I can use it on my face or in my hair. It's really amazing." Adaptability, she goes on to explain, is one of the many benefits of green beauty. "Natural products are really universal, a lip stain from RMS Beauty, for example, you can use on your cheeks or eyes … it's coconut-oil based." The RMS line is out of New York and is a celebrity favourite. Founder Rose-Marie Swift visited Toronto last year and the Diabolique shade of her lip2cheek product that model Miranda Kerr wore to the Met Gala has become a top seller at Husk.
There are great products from local artisans, too. "The wellness industry is really growing here [in Yorkville]. Of course, [there's] Whole Foods but across from us is Dr. John Dempster, a well-known naturopath … The Good Press Juice is opening up on Yorkville Avenue … there really is a community here," she explains. Beauty products represent 70 per cent of the store and the rest is devoted to nutrition. One brand that De Gasperis supports is Giddy Yoyo, a company based in Orangeville, Ont. that produces organic superfoods like raw cacao beans and maca powder. "They spend half of their year in South and Central America with farmers extracting the ingredients; it's really the highest quality," she adds. De Gasperis is committed to promoting these local entrepreneurs in her store and through Husk's social media channels. Instagram in particular has been "crazy powerful," she says, and she has established a dialogue with customers and the international wellness community. It's a platform that De Gasperis regularly updates with vibrant photos of Husk's regional and international offerings and, once they hit Instagram, they sell out.
When I mention the hesitation many feel about the idea of going green, De Gasperis responds, "I think that's what made me so passionate about opening the store — shedding light on the cool brands … Buyers want pretty pigments and nice colours for the runway or everyday life. It doesn't all have to be granola," she says with a smile. "Going green can be sexy and cool."
www.lovehusk.com