Celebrity Chef Mark McEwan, a Four-Course Life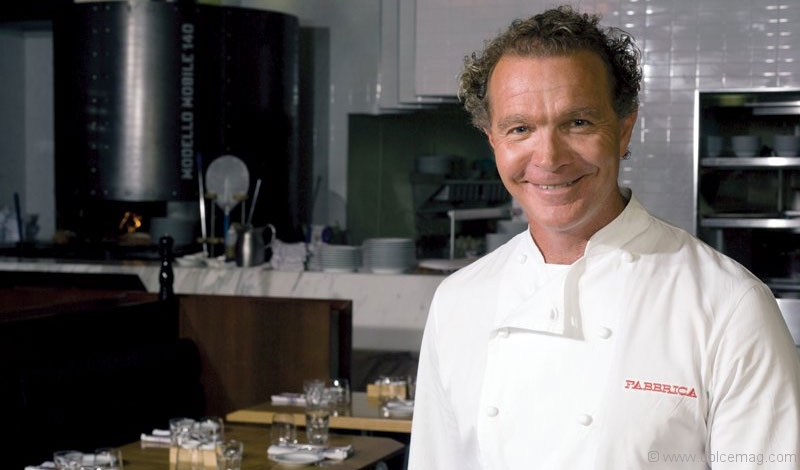 A noted restaurateur and TV star with an eponymous gourmet market and two cookbooks, Canadian celebrity chef Mark McEwan leads a four-course life. When he made the time to wine and dine us at Fabbrica, his most recent gastronomic venture, nothing was left off the table. The food is phenomenal, the atmosphere: outstanding; but the culinary master doesn't stop there. To keep Torontonian tummies topped up, McEwan dishes his favourite fall fare at all four of his first-class restaurants.
CHEF McEWAN'S RECOMMENDATIONS
ONE – Appetizer: Soft scrambled eggs with crisp pork belly, crème fraîche, pork gravy and shaved black truffle. Main: Braised short ribs, caramelized parsnip, carrot-horseradish purée, Yorkshire pudding and natural sauce. Dessert: Sticky toffee pudding with brandy butter sauce. "I think for the fall they're really reflective of the season, the scrambled eggs would sort of confuse most people, but it's a really great item. The short ribs are classic for everybody, and there's the dessert, the sticky toffee pudding, we basically put it back on in the fall and its always been a personal favourite of mine."
BYMARK – Appetizer: Seared foie gras with sage donut, peach compote and white balsamic reduction. Main: Pappardelle with braised rabbit, lardons and squash. Dessert: Quince tart tatin with bourbon caramel mousse. "Rabbit is a personal favourite, it's not necessarily the most popular dish, but it's really interesting, it shows some diversity amongst the restaurants. The foie gras with the sage and the peach is really, really tasty. And the caramel mousse is – again caramel, fall – very different than the others, but it's a dessert that works really well."
FABBRICA – Appetizer: Grilled octopus with Genoa salami, chickpeas, peperonata, chili and wild arugula. Main: Black pepper potato gnocchi with braised baby goat and housemade sheep's milk ricotta. Dessert: Zeppole – warm donuts with cinnamon sugar, orange cream and white chocolate sauce. "Octopus is a big favourite of mine, so I recommend it any time I have it on a menu. The gnocchi with the brazed meat, I just think it's really delicious and very reflective of the restaurant in terms of its Italian roots. The donuts are a slam dunk."
NORTH 44 – Appetizer: Grilled pizza with shaved truffle, fontina cheese, white rice and fresh thyme. Main: West Coast halibut baked in banana leaf with leek hearts, braised onions, coconut and coriander, served with basmati rice. Dessert: Fresh ginger cake, pear tatin with honey chèvre ice cream. "The halibut in the banana leaf I came up with the recipe 10 years ago. My interpretation of that recipe, and any time I have tried to take it off the menu, I have had riots from my clients. I like it for the fall season because it's a hardy fish dish."
Guest Food Editor, Mark McEwan
Mark McEwan: Host of The Heat on Food Network Canada and author of Mark McEwan's Fabbrica: Great Italian Recipes Made Easy for Home and Great Food at Home. He's also the lead judge on Top Chef Canada.