The Faces and Places of Toronto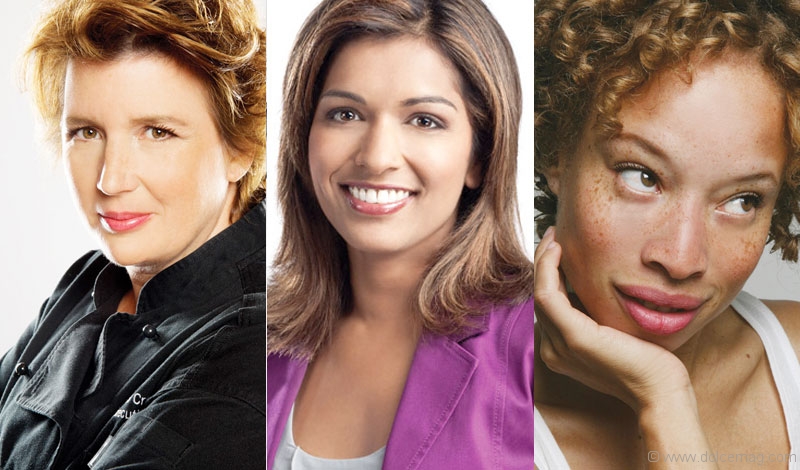 Lisa Ray
Actress, model and Top Chef Canada host, and Jason Dehni, vice-president at Scotiabank Group and co-founder of Artbound
Q: Favourite restaurant?
A: Outside of "Lisa and Jason's kitchen", I'm digging Actinolite Restaurant, which is my friends' labour of love and has just opened on Ossington Avenue north of Dupont Street. Jason's current fave is Gusto 101 for its vibe and the fact that it's in our 'hood. For really special, intimate evenings, it's The Harbord Room.
Q: Favourite place to shop?
A: For Jason, it's Holt Renfrew – he's dressed with flair and has a weakness for pocket squares. For Lisa, it's St. Lawrence Market. Nothing excites me more than fresh produce and artisan ingredients.
Q: Favourite travel destination?
A: We have Napa Valley [California] on our mind, since that's where we got engaged and where we're getting married in October. It feels like a piece of Tuscany set down in North America.
---
Adam Van Koeverden
Canadian kayaker and three-time Olympic medalist
Q: Favourite restaurant?
A: My favourite restaurant definitely depends on what I'm looking to eat and drink, and who I'm with. Kit Kat on King Street West wins for atmosphere and feel, and best pasta and bruschetta. I went to Delux on Ossington Avenue during Winterlicious, and had the best meal out I can remember – rabbit done two ways on some pappardelle. If you're looking for a great coffee, there's nothing better than stopping in at Thor Espresso Bar on Bathurst Street. Saving Grace on Dundas Street West is the best for brunch if you get there early, or don't need to rush to work during the week!
Q: Favourite spot to socialize in the city?
A: I like being outside, so patios are key. Shanghai Cowgirl and Czehoski on Queen Street West are pretty fun because they're small and intimate. The Drake is sweet in the summertime and the food is really good, and the Thompson Hotel's view is hard to beat. I'd rather be moving than sitting, though, so I'd prefer to rip some of the Don Valley's mountain bike trails. If we're going to be truly social, then we can earn our pint.

---
Lynn Crawfard
Celebrity chef and owner of Ruby Watchco restaurant
Q: Favourite dog-walking neighbourhood?
A: Toronto Beaches. I love waking up early and walking along the water in the crisp morning air with Ms. Charlie Pickles, my chocolate Labrador retriever.
Q: Favourite place to escape?
A: Driving up to my cottage in Kawartha, Ontario is my favourite getaway. It gives me a chance to sit back, relax and think about new dishes and ingredients.
Q: Favourite wine?
A: My favourite wine is Inniskillin Cabernet Franc VQA 2008. It is a great wine to go along with amazing food and friends.
Q: Favourite travel destination?
A: You can make anywhere a fantastic destination when there is great food and great wine!
---
Charles Foran
Award-winning author of Mordecai: The Life and Times
Q: Favourite restaurant?
A: Since the mid-1990s, I've been meeting friends at Spadina Garden for peanut chicken, spicy bean curd and beer. The restaurant moved over to Dundas and Bay streets 15 years ago, but has stayed in the same genial extended family, and kept the same high standards of hearty northern Chinese fare.
Q: Favourite place to shop?
A: Golf, George Bernard Shaw once said, is a good walk ruined. Shopping, I mostly believe, is a precious afternoon wasted. If it must be done, I opt for concentrated exposure and minimal fuss. In other words, I head for Kensington Market.
Q: Favourite travel destination?
A: The Asian room at the Royal Ontario Museum is tranquil, elegant, and two-plus millennium-deep in history and culture. I often bring a book and simply sit there, not reading, but travelling instead.
Q: Favourite spot to socialize in the city?
A: Old friends favour the small Bar Mercurio on Bloor Street for afternoon drinks and, if time passes agreeably, a pizza.
Q: Toronto's best-kept secret?
A: It's not a secret exactly, but the laneways and narrow, car-unfriendly streets of Cabbagetown seem to belong in another city, if not on another continent. The best way to walk the neighbourhood is to have no route in mind and no destination. A good path to mindfulness.
---
Stacey McKenzie
Canadian supermodel
Q: Favourite restaurant?
A: I looove Sotto Sotto on Avenue Road. The food is delicious!
Q: Favourite place to shop?
A: I shop at Canadian designers' showrooms, Arthur Mendonça, Gsus and up-and-coming designers that I come across.
Q: Favourite travel destination?
A: Montreal. However, I have to admit I have not yet explored Canada as much as I would like to. One place I'm most definitely looking forward to seeing – and is my fantasy favourite – is the Rockies.
Q: Favourite spot to socialize in the city?
A: The Thompson Hotel patio in the summertime or the Hyatt for a late night glass of wine with a skyline view to kill!
Q: Favourite real estate neighbourhood?
A: The up-and-coming area on Queen Street West (where Rachel McAdams has an old beautiful brownstone house).

---
Reshmi Nair
Host of CBC News Now

Q: Favourite restaurant?
A: The Hogtown Vegan. I've been vegan for a year now because I want to improve both my physical and mental health. (I also love animals, but who doesn't?) As much as I love quinoa salads, I still miss stuffing my belly with comfort food, so Hogtown Vegan is my dream-come-true! They have the best vegan mac 'n cheese in Toronto, "unchicken" strips that could go up against fast food fried chicken chains, and desserts that make every non-vegan I take there shockingly declare, 'this is vegan?!' It can definitely convert the most stubborn meat eaters.
Q: Favourite place to shop?
A: I'm currently furnishing my new home, so top of mind is The Pine Store on King Street East. It's a family run business in the heart of Toronto, and their story goes back generations. It warms my heart to know businesses like The Pine Store still exist, and one of the main reasons has to be the impeccable customer service.
Q: Toronto's best-kept secret?
A: The Toronto Islands, hands-down. I was born and raised in Toronto, but I spent my 20s in Vancouver. Moving back to Toronto with a greater love for the outdoors drew me straight to the Toronto Islands. It's busy during festivals and events, but on a slow summer day, it is the most peaceful place to be in the city. One of my favourite things to do is rent a bicycle and soar around the pathways in the warm sunshine and feel like a kid again