Mercedes Stuns Montreal with One-Two Finish at Canadian Grand Prix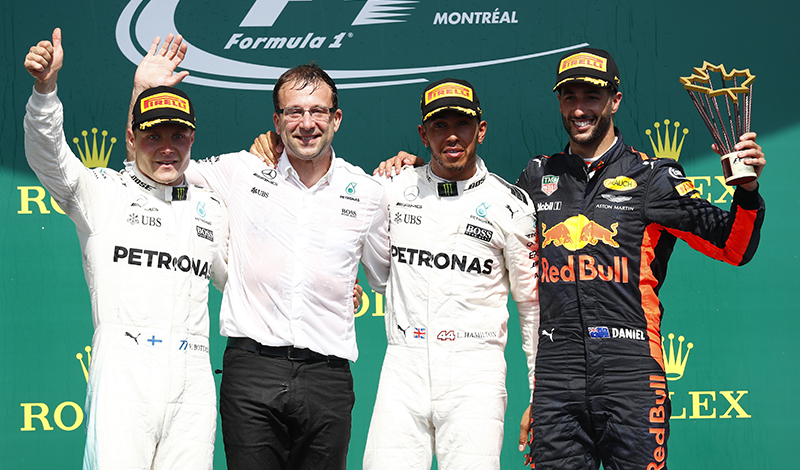 It was sizzling hot on the Circuit Gilles-Villeneuve track on Sunday, June 11, at the 2017 Canadian Grand Prix in Montreal — but no one was hotter than Mercedes-AMG Petronas Motorsport as Lewis Hamilton and Valtteri Bottas finished an incredible one-two, the Silver Arrows' first such combination finish of 2017.
Hamilton won for the 56th time in his illustrious career and, perhaps more amazingly, his sixth career victory at the track in Montreal.
"It's been such an incredible weekend and I just couldn't be happier with how it's gone and I'm so grateful for this result," says Hamilton, who scored his fourth career Grand Slam during the Canadian Grand Prix, claiming the pole position, the victory, the fastest lap and leading every lap of the race, a true rarity in the ultra-competitive field of world-class motorsports. "Valtteri did a fantastic job too and we delivered a real blow to the Ferraris. This is our first one-two finish together, we scored a big load of solid points and it's well deserved."
With the victory, Mercedes-AMG Petronas Motorsport now leads Ferrari in the Constructors' Championship title race by eight points, 222 to 214. Hamilton has now narrowed the gap on Sebastian Vettel in the Drivers' Championship battle to just 12 points, 141 to 129 points, with Bottas a further 36 points back in third position.
"I'm so happy for us as a team to bounce back the way we did this weekend," says Bottas, after Mercedes had a disappointing showing in Monaco two weeks ago. "It's so impressive to see how the team has reacted in the last two weeks — how it's worked and improved. I've never seen a group of people so determined to win and to get back on top, so to get the one-two finish today, it's simply amazing."
"This feels absolutely great," says a jubilant Toto Wolff, head of Mercedes-Benz Motorsport. "We have finally taken a one-two finish and done so at a track that we expected to be difficult for us — and which certainly was for us last year. Lewis delivered a stellar performance this weekend: a pole lap that was almost scary when you watch the onboard, then a totally dominant race. Likewise, Valtteri struggled with his car yesterday but he got everything right today to complete a perfect day for our team."
Hamilton's victory on Sunday reminded him of his first pole and win in Montreal, now 10 years ago. "This race felt very reminiscent of 2007 in terms of how it unfolded," says Hamilton. "It's a long race here, especially when you're out there on your own, but I knew the car would hold together and it did perfectly."
The car's performance was especially gratifying to the Silver Arrows' technical director James Allison. "This is an extremely satisfying win after the disappointment of Monaco a fortnight ago," says Allison. "We came racing back on all cylinders and made important headway in both championships."
Photos Courtesy of Mercedes-AMG Petronas Motorsport