Arielle Raycene: Preparing To Play The Lead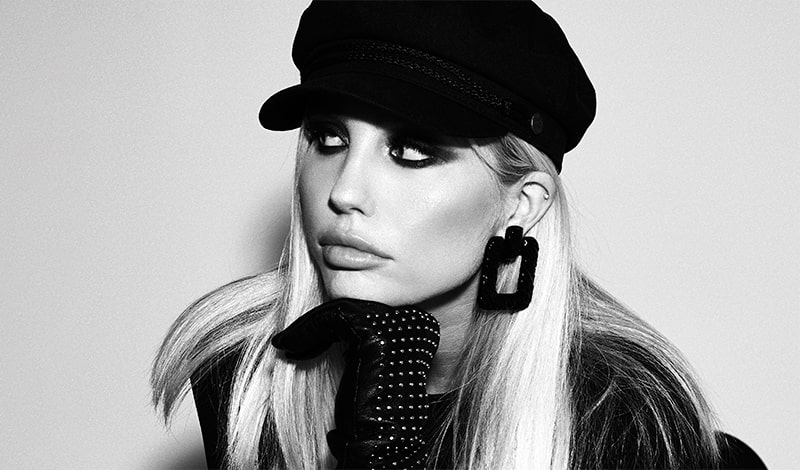 The model-turned-actress discusses la dolce vita, body positivity and living life in front of the camera.
When we call Arielle Raycene, she's in the final stages of preparing for her upcoming off-Broadway show USED, on stage between Feb. 18 and 22 at the Hudson Guild Theatre in New York City. Raycene is set to play the lead role of Amanda, a high-end escort who meets Mick, a rich, privileged banker. The show explores the philosophy behind the relationships you share with yourself, others and the environment, and is written by Lauren Fleishman.
"It's a festival piece but we're not allowed to go on stage until the day. We've been rehearsing on a box stage but it's different when you walk into the actual place," says Raycene, talking about the process behind the show. "I read the script every day but it's a lot of memorizing. I've started walking around [the city] like Amanda. She's fighting for something, trying to figure out what love is."
Though Raycene is on the way to making her mark on the acting world, she started her career in modelling. As a result, she has appeared in publications internationally, including Playboy, FHM and Maxim, and has grown an audience of almost 200,000 followers on Instagram alone. But while modelling has been consistent, acting is what she calls her "endgame." It's a love that was kindled from growing up between Kansas and Los Angeles, and has seen her enter a period of change and reflection.
"It's been a process," she says. "It started when I was passed over for an audition where the casting director assumed because I was an 'Instagram model,' I couldn't act. That woke me up. I concentrated more on my craft, reinventing my image, stepping away from the overtly sexy images in trades of likes and followers. I decided to start doing improv with UCB and even worked on stand-up comedy. I also worked privately with an acting coach."
That's not to say it's been without its challenges, and her experience has seen her become passionate about promoting body positivity. "Every size should matter. There's still this stigma that to be a leading actress, you have to be thin. I've been told that multiple times," she continues. "It matters. We're fighting so much for something but is change actually happening? From Instagram it looks like it is, and agencies are signing bigger models but […] people need to start looking at themselves more, being kind and taking people for their talent, not their size. If you can't hire someone, don't start abusing their bodies. Say they don't have enough credits, or move toward something else."
When Raycene isn't modelling or performing she's someone who enjoys attending film festivals, seeing plays in the city and staying on top of self-care through meditation, reading and spending time with family and friends. She also loves travelling. "I went to Cannes in summer and I think it's one of my favourite places in the world," she says.
But when you ask her about la dolce vita, the sweet life, you realize how much her craft matters to her. "For me, the sweet life is working all the time," Raycene concludes. "I've been loving going to rehearsal every day. Being on set and kicking ass."