Honouring Salome Bey: Canada's First Lady Of The Blues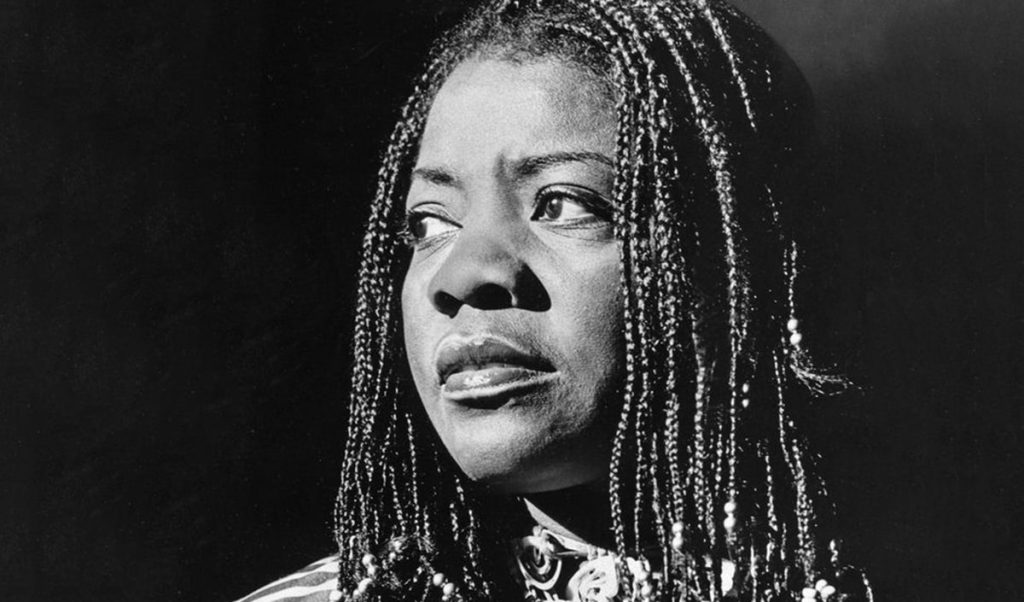 A Grammy-nominated singer-songwriter, actress and playwright, Salome Bey's music came from the heart. A recent inductee into Canada's Walk of Fame, Bey was a pioneer of Black Canadian theatre and music, but her influence stretched around the world, with a legacy that's woven into the jazz cafés of Paris and the theatres of Broadway. Even more important, she dedicated herself to supporting and inspiring her family, friends and community. Just ask her daughters, singer SATE and singer-performance artist tUkU.
Salome Bey gave the world some amazing music, performances and productions. She saw her own art as a gift, but she also knew the power of Black culture and how important it is to mentor and interact with other artists. It was her mission to do just that in life. Bey died on Aug. 8, 2020, at 86 years of age, survived by her two daughters, SATE and tUkU, and her son, Marcus, but her legend lives on. Dolce spoke with her two daughters about their mother.
Passionate, dynamic and perseverant — that's how SATE describes her mother. And it helps to understand where Bey was coming from. "For her, being artistic was a sacred practice," says tUkU. "If you understand that you have gift and blessing here, then you need to do this important work." For their mother, love was at the centre of everything, she adds.
Born in Newark, N.J., Bey was one of nine children. They were a working-class family, so there wasn't a lot of money, but there was an old piano in the living room, and the kids loved singing harmonies together. When she was just 14, Bey sneaked out of the house with her older sister to go to the famed Apollo Theatre, where she won a competition at one of its amateur talent nights. Bey was pretty happy about that, but not so much her dad, who wanted her to go to university to become a lawyer. She went for a few years, but then she joined her sister and brother in their sibling act and began touring in Europe and other cities around the world as Andy & the Bey Sisters.
One night in 1962, during their residency, they were playing in Toronto and they ended up at an after-hours club, managed by Howard Matthews. Bey fell in love, and Matthews was totally smitten. They were married, and she moved to Toronto in 1964. She played at jazz clubs, and he opened a popular restaurant, the Underground Railroad, which served up mouth-watering food: southern fried chicken, collard greens and spice cake. At home, they welcomed Black performers, like B.B. King and Ray Charles, who would drop in when they were in town.
"When Salome and Howard met, he was running a club called the First Floor Club, so my dad was in music on one side, and my mother was the music on the other. So, that's also how they were able to really complement each other," says SATE. Similarly, the Underground Railroad was a place that was moving culture forward; it was a meeting place and a networking place, too, she adds.
Bey lived a big life — she fell in love with musical theatre, appearing on Broadway in shows like Your Arms Too Short to Box with God, which earned her and the cast Tony awards and a Grammy nomination. In the late '70s, she gathered Black actors and musicians for her first play, Indigo, about the evolution of the blues. "This is your shot," she told the performers. They rose to the challenge, and Indigo played for more than a year, picking up rave reviews and receiving two Dora Mavor Moore Awards, Toronto's theatre awards. A long list of honours followed, including the Martin Luther King Jr. Award for lifetime achievement from the Black Theatre Workshop of Montreal, and she became an honorary member of the Order of Canada.
Bey loved gathering her children onstage. In fact, one production, Rainboworld, was based on tUkU's questions about injustice, loaded with a cast of kids and starring tUkU herself in 1993. As they got older, her daughters collaborated with her, singing backgrounds and appearing onstage as part of Salome Bey & the Relatives.
Bey leaves behind not only an easier road to travel for aspiring performing artists, but also a lot of love for her children. "What I appreciated as a kid, I look at myself and say 'Wow, you were always a weirdo, tUkU', and I say that with so much love for myself." Sometimes, she says, she wonders if her mother thought she was strange. "But, I don't think so. I think she really believed that we had magic and she constantly reminded us of that," she adds.
On a more practical level, her daughters talk about being able to learn from their mother. They both had the opportunity to watch her process, of the research, the intention and the focus that went into creating. They watched their mom do extensive research for a production, reading books and listening to music and watching movies, so she could go deep into the history for a work she was creating. "What I learned from her … giving it all onstage, leaving everything onstage," says SATE. "The intention and the process are two things that I really took away from just having the opportunity to be Salome's daughter." She just followed her heart and kept moving forward based on her vision, adds tUkU, and she was a meticulous archiver, who kept everything and never let go of drafts, because she might want to look back, reflect and put something back in."
So, how would Bey feel about being inducted into Canada's Walk of Fame? Probably that it's about time, says her daughter SATE. "She made Canada her home, and we are on Indigenous land," she says. "So, whether we're born here or not, we're all immigrants, and this is as much her Canada as anyone else's." She never gave up on her new home, the landscape, the building, the tilling of this soil here, because there's so much richness, she adds. "I think she would be grateful and, at the same time, very understanding of what she deserves, because of the work that she put in."
tUkU agrees, saying her mother might have looked at it as being able to open more doors for people and passing on the message of what those who look like her are capable of. What's her mother's message? "Don't back down, don't give up your dreams," she says. "If it's possible for me, it's possible for you."
Interview by Estelle Zentil