Hand-Crafting Perfection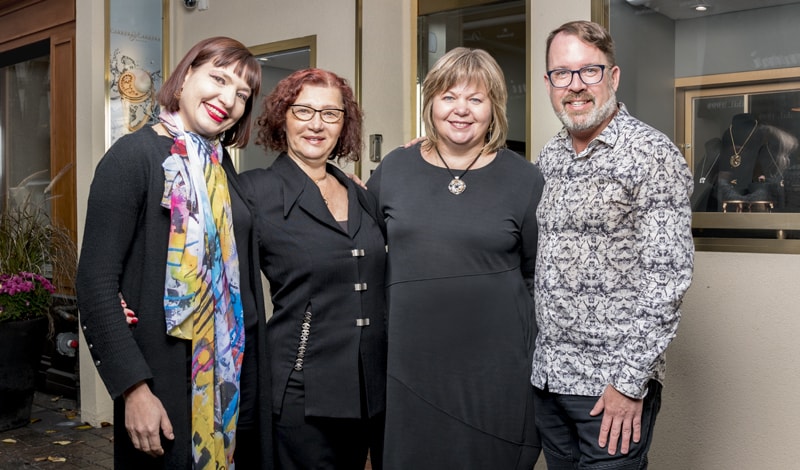 Commanding the world in ways few brands have done before, Carrera y Carrera celebrates its successful expansion into Canada with the company's Yorkville boutique.
Interview By Victoria Scott
Exquisite. Joyful. Evocative. Singular. Passionate. These words perfectly encapsulate Carrera y Carrera's jewelry creations. An icon of Spanish craftsmanship, the company has its roots in a small jewelry shop opened in 1885 by Saturio Estevan Carrera in the /em>Barrio de las Letras (Literary Quarter) of Madrid. It was the same bohemian neighbourhood where the first edition of Don Quixote was printed. By 1920, Saturio's son, José Esteban, who trained to be a jeweler in Paris, had opened up a workshop in Madrid's hub. José went on to teach the business to his four nephews, José, Saturio, Pedro and Andrés. The company began to flourish. Fast forward to 1965, when Saturio's great-grandson, Manuel Carrera, the founder of Carrera y Carrera, opened a shop in the Madrid of the Austrians, a name used for the old centre of Madrid. "I was hypnotized by the process of jewelry creation from the time I was a small boy," Carrera says. "I was 14 years old when I first entered the workshop as an apprentice. I went step by step, knowing that I was on the only correct path to making my dreams come true. Now, I can say that this was my destiny; it was great luck that I was able to see that from the very beginning."
The company, which has expanded internationally over the past several decades, opened its first Canadian boutique in winter 2015, in the historic and upscale Toronto neighbourhood of Yorkville. The location was chosen for its beauty and its vibrancy. "Imagine yourself in a big European city like Paris or Madrid. The neighbourhood looks like and has the feel of Europe, which is unique for a big city," says store owner Natalia Lisochkina. "It is very fitting in terms of the history of the brand."
Carrera travelled from Spain with family members in February 2016 to visit the Yorkville store and take part in the celebration of the launch of the brand in Toronto. He says that while Toronto presented a new challenge for his brand, the opportunity to partner with Lisochkina made his decision easier. "Natalia completely understands the essence of our brand; she is the perfect partner," he says.
Interestingly, before Lisochkina opened the Yorkville boutique, she had no prior experience in the jewelry business. She did, however, know the brand intimately. Before coming to Canada, Lisochkina lived in St. Petersburg, Russia, where the brand is very active and well advertised. "I was drawn in by the brand's uniqueness," Lisochkina says. "There is so much to tell about each piece. The jewelry, a combination of sculpture and jewels, has gone through several distinctive techniques. In the 1970s, there was the matte gloss and polished finished, and later on, the sandblasting technique. All of the designs are steeped in Spanish culture, nature and architecture."
Although Lisochkina is not currently involved in design, it is something that she dreams of doing. She finds that, because jewelry embraces both art and beauty, the business of selling jewelry is ensconced in joy and happiness. "When you are buying jewelry, it is usually around a celebration, around something happy in your life," she says.
Carrera's design style, the secrets of which are embedded in the brand's DNA, were in the 1950s at the opposite extreme to the traditional, classic jewelry style of the time. Carrera found this tradition too conservative for his creative spirit. At the end of the Franco dictatorship, however, Spain entered into a lively period of renaissance. "It was the moment to create, to cross the borders, to dare," Carrera says. "'Dare to be different' has always been our credo. We didn't hesitate; we tried the boldest ideas. Mini sculptures, the beauty of naked bodies — we didn't doubt, we created. It represented, at the time, a significant revolution within the jewelry world. Now this style, this mini sculpture, has become an essential characteristic for Carrera y Carrera."
In 1960, Carrera y Carrera was awarded its first royal commission, a wedding tiara for the nuptials of King Baudouin I of Belgium and Spanish aristocrat Fabiola of Mora y Aragón. Suddenly, Carrera y Carrera had arrived. International expansion quickly followed, with the 1979 distribution of the Carrera y Carrera brand in New York's Cellini Boutique, located in the luxurious Waldorf Astoria Hotel on Park Avenue. By the 1990s, the brand had become a hit in Russia and Eastern Europe. And by 2013, Carrera y Carrera collections could be found in Japan and Beijing. "It was essential for us to expand," Carrera says. "Spain represented a limited market for us. Our style was so different that art lovers from all over the world became our faithful clients. From a local small workshop, we evolved into a jewerly house that is easily recognizable all over the world. It is a real acknowledgment."
Since its original royal commission, Carrera y Carrera has gone on to receive several more commissions from Spain and Belgium's royal houses. In fact, the company is now one of the 30 most prestigious jewelry companies in the world and is considered a pillar of the Spanish jewelry industry, as well as a fashion favourite for the crème de la crème. Models Eugenia Silva and Alejandra Alonso have been the face of the jewelry icon. Celebrities and fashion influencers such as Lady Gaga, Jennifer Lopez, Taylor Swift, Christina Hendricks and Madonna often wear the brand's creations.
Carrera's designs feature flowing volume, shape and symbols that embrace myriad storylines (many of them Carrera's own): there are human themes based in the feminine and, famously, fanciful depictions of the animal kingdom. These unique takes set apart Carrera y Carrera's breathtaking jewelry, including its collection of rings, earrings, bracelets, pendants and cufflinks. The Bestiario collection, for example, features lions, tigers, serpents, leopards, elephants, monkeys and butterflies, sculpted and positioned to capture their inherent strength and life force. The Tesoros del Imperio collection, inspired by the paintings of Diego Velázquez, one of Spain's greatest painters, reflects the most fruitful period in Spain's history. Its exquisite mix of gold, diamonds, amethysts and sapphires evokes the colours of Spain's Golden Age. The Círculos de Fuego (circle of fire) collection draws from the mystery of fire dragons, which are revered in Asian culture. Horses, which have a prominent place in art history, are represented in the company's Ecuestre collection, which evokes power and elegance as a golden tribute to the famous Andalusian (the pure Spanish horse).
Sensuality reigns in of all of Carrera y Carrera's jewelry collections. Passion shines particularly in Carrera's 2015 collection, Romance en el loto (Romance in the lotus), which pays homage to Manuel's wife and muse, Marina, and their love story, which spans more than 50 years. Whimsical golden frogs (gold features in many of Carrera's collections) represent the couple and are symbolic of the many firsts in their epic love story. Carrera also places this symbol of mutual love on his lotus leaf designs, the lotus being an emblem of purity of body and soul, beauty, perfection and grace — traits intrinsic to Marina.
"We didn't doubt, we created"— Manuel Carrera
Carrera y Carrera launches new collections every year at Baselworld (held in Basel, Switzerland), the world's largest and most important annual event for the jewelry and watch industry. Because everything is handmade, sometimes it can take up to two months to create one piece of jewelry.
In the Yorkville location, some of the most popular pieces (and those with the highest volume of sales) are from the Love collection, an affordable collection popular around Valentine's Day. The Spanish, Aqua, Círculos de Fuego and bridal collections also sell particularly well.
If Lisochkina could choose only one favourite piece, it would be the Allegoria ring from the Universo collection. "It is inspired by notes from an old travel journal called Universo, which was found in a second-hand bookstore in Madrid," she says. "The pieces are inspired by travel stories."
What attracts Lisochkina to the ring is the energy of the ametrine stone, which is a combination of amethyst and citrine ametrine. A rare and unusual stone, it occurs in quartz when the two stones reside in the same crystal. "It feels like your inner soul is being energized, and suddenly your creativity will burst out," says Lisochkina. Known for its ability to encourage decision-making, no two ametrine are ever
exactly alike.
Although Carrera says that he cannot choose a favourite piece or collection, he does say that Bonadea (the female hands) is the most significant. "All of our pieces come alive in Carrera y Carrera's artisans' hands," he says. "They treat every single piece as high jewelry. It is incredible to see how from a sketch, step by step, the piece becomes a true piece of art."