Giovanna Engelbert: The Brains And Beauty Behind Swarovski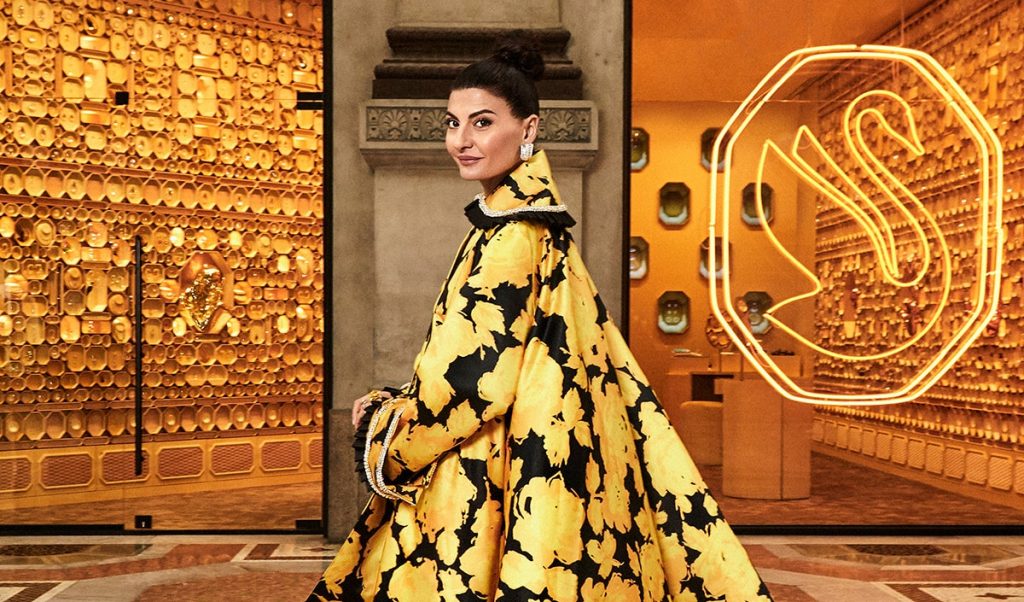 Milanese fashion editor-turned-influencer Engelbert takes household brands to a whole new level.
Giovanna Engelbert's name is synonymous with style. Considered fashion royalty, she is a modern-day Renaissance woman with an incredible curriculum vitae built on more than two decades of experience in the fashion world. She has worn many hats, each more fabulous than the next, including model, stylist, fashion editor, creative consultant and social media guru.
Born and bred in Monte Napoleone, part of Milan's fashionable Quadrilatero della Moda retail district, Engelbert is everything you'd expect and more from someone whose earliest memories are of the vignettes presented in the windows of ultra-luxurious boutiques. The city's neoclassical mansions, antique shops and museums were the perfect backdrop growing up for this icône de la mode.
Engelbert started her career as a fashion model for the iconic Dolce & Gabbana, but quickly realized that her skills were not limited to one side of the camera. She worked her way from model to stylist and eventually became a fashion editor at L'Uomo Vogue, Vogue Japan and W Magazine. Fashion was something learned over time, but Engelbert was born with style — something that cannot be taught. She has an innate understanding of the fashion landscape and lends her intelligence, creativity and style acumen to every project she comes in contact with.
Using social media for her brand, Engelbert naturally took to Instagram when it first launched. With her aspirational lifestyle and luxurious sartorial finds, she has organically grown her account to 1.1 million avid followers since then. Engelbert's Instagram is a visual diary that captures her authentic persona through fashion and travel snaps. The democratic nature of the platform has made some of her street-style looks more well-known than her editorial work. And Engelbert has a masterful ability to garnish her ideas with just the right amount of je ne sais quoi to keep her audience hungry for more of her memorable fashion recipes.
When you scroll through her feed, you can see the glamour that distinguishes the quintessential Milanese woman. Her outfits follow a moreis- more maximalism approach when it comes to accessories and colour, painted with vibrant shades, animalia, rainbows, prints and patterns. The photographers are always keen to capture her eye-catching, mood board–worthy ensembles. Engelbert's style always tells a story.
Occasionally, she shares a glimpse into her private life with husband Oscar Engelbert, a Swedish real estate tycoon whom she married in summer 2016. The Swedish-Italian couple's extravagant wedding took place on the island of Capri, as well as in Stockholm. It should come as no surprise that Engelbert wore six looks at her multiple wedding celebrations: a custom Azzedine Alaïa dress, a Valentino couture gown, a custom Thom Browne dress, a custom Alexander McQueen gown, a Giambattista Valli couture gown, and finally a custom Prada dress as the cherry on top.
After garnering attention through her work as W Magazine's contributing fashion editor, she teamed up with Rizzoli New York in 2017 to publish her first book, Gio_Graphy: Fun in the Wild World of Fashion. It might seem counterintuitive to dive into the print world after moving extensively into the online space, but, understanding both print and digital language fluently, Engelbert strategically found a way to use both in her favour.
"The Wonderlab Is Where Science And Magic Meet, Where Extra And Elegance Collide"
It is because of that fluency, and her signature crème-de-la crème content, that Engelbert has attracted major brands to seek her expertise as a consultant. In 2017, she was named creative director for Swarovski Professional, and in May 2020, her role was expanded to global creative director of Swarovski Group. Swarovski has a rich history spanning more than 126 years of innovation in crystal cutting, celebrating crystal in all its forms, and bringing together the worlds of design, science, fashion and entertainment through its craftsmanship.
Under Engelbert's eye, Swarovski is unveiling the "Wonderlab", a new brand identity, along with new stores and a redesign of the swan logo. Beginning in February 2021, 28 Instant Wonder stores will be unveiled in key global markets. The inaugural opening is in Milan's Galleria, followed by 27 more store openings across North America, Europe and Asia Pacific, including new locations in Paris and New York.
Engelbert describes the new brand identity thus: "The Wonderlab is where science and magic meet, where extra and elegance collide. It is a feeling of wonder that everyone should experience as we invite them into our new world at Swarovski." The partnership between Swarovski and Giovanna Engelbert is a match made in fashion heaven.
The new candy-style crystals are as sure to excite the world as they are to decorate her next outfit. Just as Swarovski has managed to stay timeless, so, too, has Engelbert. Fashion comes and goes, but style lasts forever.