Jun Aizaki: Pushing The Envelope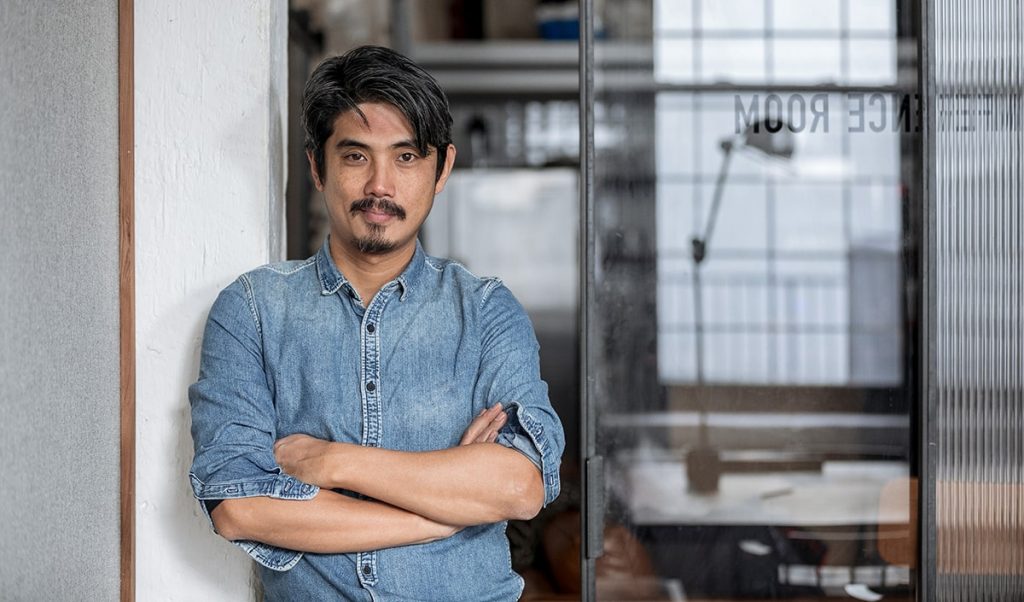 Fresh from finishing his first full hotel, the founder and principal of CRÈME discusses Philadelphia's charm, the power of ideas, and listening to restaurant conversations.
When I speak with Jun Aizaki, he's at his home studio in Brooklyn's Williamsburg, N.Y. New York is a city he's lived in for close to 30 years, but having just completed the full interiors and branding of the Hyatt Centric Center City hotel, he has Philadelphia on his mind.
"We're in Brooklyn, on the periphery of Manhattan and what happens in New York, but we have the best view of Manhattan. We can go there whenever we want, but have a different sense of time. I feel Philadelphia is like that. It's not the mega-city that New York is, but it has its charms, history, nature and so many unique aspects."
Situated in the city's renowned Rittenhouse Square, the Hyatt Centric Center City is sophisticated in its simplicity. Completely new in its construction, the hotel includes more than 330 rooms across two floors, 22 of which are luxury suites. As well as a sweeping lobby on the second floor, the location includes a feature staircase and social spaces.
"We found three tiers of inspiration," Aizaki continues, talking about the design process. "One being the historical architecture and history of how the city evolved. There's also an element of nature that's fascinating about Philadelphia. The last is the city's association with street art and art, in general."
Take a closer look at the hotel, and all of those elements haven't just been introduced but celebrated throughout. Blackened steel and wood-panelled walls line the public areas as an homage to the crafts and cultures that shaped the city. The main lobby's art objects highlight the narrative of the natural world and the farming history of Pennsylvania. The elevator lobbies are home to textile-based projects from artist Fanny Allié, which are testaments to the city's diverse neighbourhoods and landscapes. Everywhere you look, there's a reference to one of Aizaki's three tiers.
The fact that it was a flagship location for the Hyatt brand was also an important factor in ensuring the hotel spoke not just to but of the city. "It was a big responsibility, but also challenging and super exciting," Aizaki explains. "We really wanted to help the brand establish its identity and DNA." The Hyatt Centric Center City took five years from initial conception on paper to completion and, after navigating the events that have changed the world, it's ready to be experienced by guests.
For Aizaki, the passion for creating started young, and he always said to his family that he wanted to become an architect. From as early as six years old, he has memories and anecdotes of telling his parents he wanted to do something with buildings. "Even as a teenager, I liked making things, drawing things, playing with clay and Lego," he says. "There was a point when I wanted to become a cartoonist, but design and architecture were always a calling."
"Our Style Is To Keep Pushing The Envelope. Every Project Is A Different Problem"
In 2004, he founded CRÈME, a creative design agency and collaboration of international designers and creative professionals. With a firm belief that all design challenges require the same problem solving, CRÈME takes a holistic approach to projects. "We tend to think we don't have a style," he says. "Our style is to keep pushing the envelope. Every project is a different problem."
Take a look at their work to date and you realize that's true. Alongside the Hyatt Centric Center City, CRÈME has been responsible for retail spaces in Tokyo and restaurants in London. They're all different in their approach and speak to the challenges waiting to be solved. "There are many parts to design," Aizaki continues. "There's a part when you don't even have a project and you're just imagining what you can do. Thinking about that makes me excited and happy. The power of ideas is so important, and not just in design — in any discipline."
But, whatever the project, it's seeing it come to life and having people experience it that are the true tests. "Everything at the end of a project makes sense when you hear compliments not just from clients, but also people visiting the space. I like to just sit in a restaurant we designed and listen to people," he says. "When I hear someone say it's an amazing space or they didn't know it was here, it makes me really happy."
Thinking back on all of his experiences and projects so far, Aizaki believes the key is perseverance. "I really think it's important," he says. "'Keep doing what you believe in' is the best advice I've been given."
It's that humbleness that also drives his answer when asked what, for him, defines la dolce vita. "It can mean so many different things to different people," Aizaki concludes. "I feel I'm living la dolce vita right now. Being healthy in a pandemic. You can't ask for more. It brought me back to basics. Little things, like going to the park [with my wife and son], redefined what's important in life."