The New Wave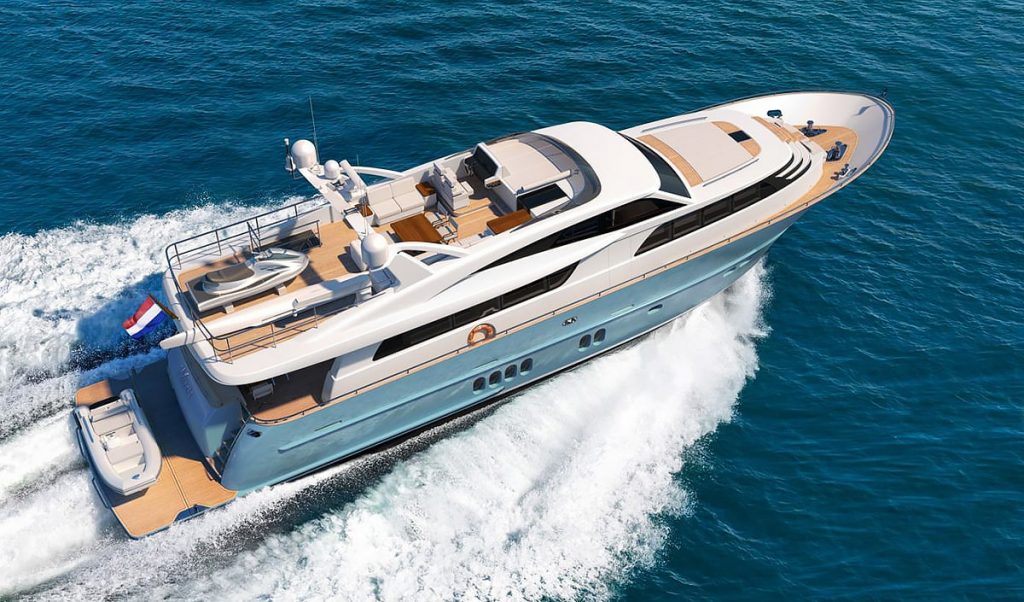 Van der Valk Shipyard has unveiled Helga, a testament to the limitless opportunities its clients have when designing a new yacht.
At 26 metres, Helga is the fifth model in Van der Valk's Raised Pilothouse line. Created as a family super-yacht, the layout and interior — like all in the range — are fully customizable to a client's preferences and tastes.
The Helga features a large main lounge and gathering space, a dining area and a staircase connecting the various rooms. The yacht's dining area purposefully sits in the wheelhouse, allowing for extra space in the salon.
Of the numerous details requested, it's the pastel blue hull that's most noticeable. That's not to say it's the only detail, though. As well as a flybridge for outdoor activities, gate doors and stainless steel additions have been included around the swim platform.
The vessel benefits from four guest suites on the lower deck — one master and three guests — and two crew cabins on the main deck. All are complemented with contemporary finishes of washed oak and walnut, and generous views of the water. The engineering of the yacht is also a feat, with a 12-cylinder MTU engine that boasts a top speed of 27 knots. In short, Helga is a fine example of what Van der Valk Shipyard has to offer in 2021.
As a family-run business, Van der Valk Shipyard's history stretches back to 1967, when it was founded by professional yachtsman Wim Van der Valk. Since then, the business has grown to become the only Dutch yard building with 18 to 45-metre aluminum hulls in-house, as well as take care of all outfitting and finishes.
As the company's website states: "This gives Van der Valk complete control over the price-quality ratio as we ensure our rich heritage is translated into a beacon of innovation in the 2020s."