California Dreamin': A Stylish Road Trip Along the Pacific Coast Highway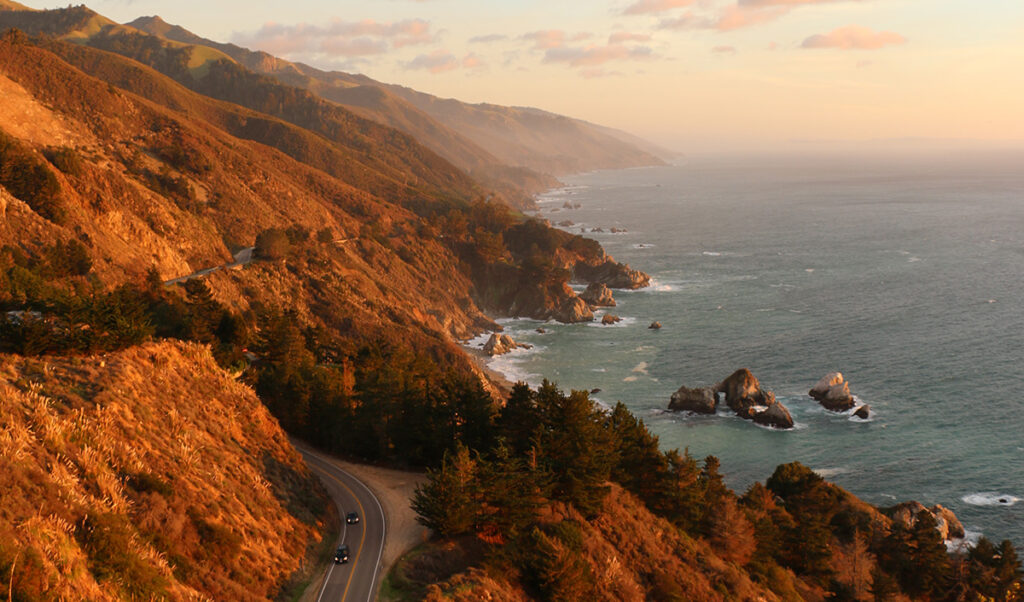 Embarking on a journey along the Pacific Coast Highway (PCH) in California is an invitation to experience luxury and elegance while being embraced by breathtaking natural beauty. It's not just about the destination, but the richness of the journey—a tapestry woven with threads of adventure, style, and exquisite landscapes. A trip down this iconic route promises the allure of an unforgettable pilgrimage, offering a harmonious blend of spectacular views, lavish accommodations, gourmet dining, and an abundance of exclusive experiences.
Any good road trip starts with some expert planning. First things first, choose the time of year you want to embark on your California journey. The Pacific Coast Highway welcomes travelers year-round, but for a more stylish journey, consider visiting from late spring to early fall. During these months, you're likely to enjoy gentler weather, blue skies, and uninterrupted access to the coastline's mesmerizing beauty. Important Note: Summer sees the highest influx of tourists, leading to a noticeable surge in prices. Book accommodation and activities as far in advance as physically possible to secure your stylish experience. 
Embarking on a road trip where style reigns supreme requires a thoughtful blend of comfort and chic fashion. Equip yourself with essentials that seamlessly merge functionality with flair, ensuring that you're not just prepared, but also turning heads on your journey. Begin with chic sunglasses—your ultimate fashion statement. Choose outfits that blend ease with sophistication: think breezy dresses, tailored shorts, and snug, stylish footwear. Prioritize your skin with essential SPF sunscreen, and always carry a camera to capture moments of wonder. In the spirit of spontaneity, include swimwear for those irresistible calls of the Californian waves. And, to forever immortalize your journey, keep a travel journal to pen down tales of your stylish sojourn.
The vehicle you choose to embark on this Californian adventure sets the tone for your entire trip. Like the clothing you choose, your choice of rental vehicle is all about balancing style and comfort. Choose an elegant vehicle with luxurious seats and advanced air conditioning to elevate your journey's comfort. For couples, a convertible is ideal, offering a touch of romance. For larger groups, a luxury SUV combines sophistication and spacious comfort, enhancing the travel experience.
Choosing the car is one thing. But where you rent it from is of the utmost importance. One of the best ways to do this is through Discover Cars. As a third-party online car rental company, consider them the middleman between you and a massive selection of rental companies like Avis, Hertz, Sixt and lesser-known companies where you can grab a great deal. Discover Cars offers a really reliable platform for a more seamless car rental experience so you can get on and enjoy the important stuff like your road trip. 
Navigating the car rental process for the first time? Ensure a seamless experience by booking in advance for competitive rates and thoroughly understanding your insurance coverage. Conduct a detailed inspection of the vehicle, documenting any existing damage, and always opt for secure parking locations to safeguard your rental. Remember to return the car on time and keep essential documents readily accessible throughout your journey.
What takes your Californian road trip from the everyday to super stylish is what you do and where you go. San Francisco is a great place to start your stylish adventure. This iconic city offers a plethora of cultural attractions, gourmet dining and luxury hotels to choose from. While away a few days with a more relaxed start to your journey, explore landmarks like Golden Gate Bridge, Alcatraz Island, and much more. 
The Pacific Coast Highway offers a diverse array of landscapes and attractions, from rainforests and mountains to sprawling cities. In Big Sur, immerse yourself in breathtaking cliff views of the Pacific Ocean, enjoy a meal at the oceanfront Nepenthe Restaurant, or explore the stunning McWay Falls Trail. Santa Barbara captivates with its Mediterranean charm, historic Santa Barbara Courthouse, and the glamorous Belmond El Encanto Hotel reminiscent of old Hollywood. In Malibu, relish the pristine beaches of Zuma and El Matador, indulge in exquisite Japanese cuisine at Nobu Malibu, and explore ancient art at the Getty Villa, ensuring a rich and varied travel experience.
Discover the epitome of luxury and unique experiences at select hotels and boutique inns along the majestic Pacific coast. At The Ritz-Carlton, Half Moon Bay, elegance meets ocean vistas, where cliff-side fire pit sunsets and indulgent spa treatments await. Big Sur's Post Ranch Inn offers private cliffside cabins with private hot tubs, crafting the quintessence of romantic retreats. For a blend of Mediterranean opulence and world-class amenities, The Resort at Pelican Hill in Newport Beach presents an unparalleled sanctuary, featuring exquisite golf and spa facilities for the ultimate relaxation.
Experience California's vibrant culinary scene at some must-visit gourmet pit stops. Savor exceptional dishes at the three Michelin-starred French Laundry in Yountville. Explore the aromatic Ojai Olive Oil Company, indulge in romance at Vintners Bar & Grill in Cambria, or embrace natural beauty with a picturesque picnic at Point Lobos State Natural Reserve. Hog Island Oyster Co. in Marshall is a haven for seafood lovers, offering a delightful array of fresh oysters and marine delicacies. Each location offers a unique and delightful dining experience.
Enhance your road trip with a variety of coastal activities. Explore the tranquil waters of Morro or Monterey Bay by kayaking, or seek adrenaline by surfing in renowned spots like Malibu and Santa Cruz. Witness breathtaking marine life through whale watching or a visit to Monterey Bay Aquarium. Immerse in luxury at Hearst Castle, or indulge in rejuvenating spa experiences at Pebble Beach and Glen Ivy Hot Springs, ensuring a richly varied and memorable journey.
For a stylish road trip along the Pacific Coast Highway, you'll need to find the perfect balance of natural beauty, luxury, and unforgettable experiences. Thankfully, this must-see location is absolutely full of them. From the scenic views of Big Sur to gourmet dining in Santa Barbara, there's something for everyone on a Californian road trip.