Hats Off To Jay Cheng: A Milliner's Tale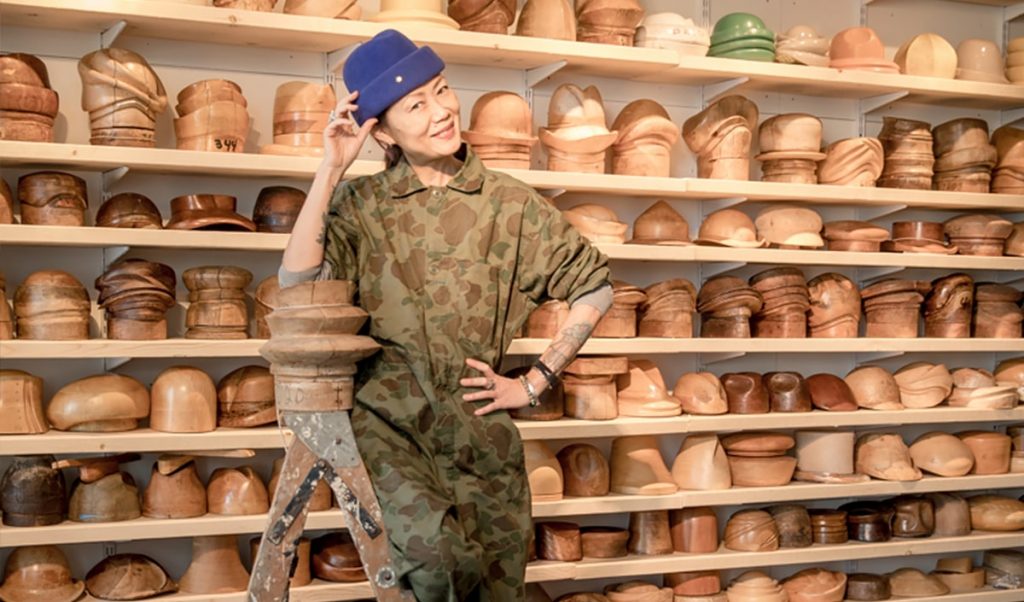 Jay Cheng's magnificent headpieces are a testament to the quality, design and artistry she brings to her millinery creations.
Stacked on a wall lined with a sea of shelves in an artist's studio are rows and rows of tales of romance, but not in the form you'd expect. Instead of being flat books, full of foxed pages with bookmarked leaves, they find themselves in asymmetrical wooden shapes and sizes, with no particular beginning, middle or end. However, each shape tells a beautiful love story carved out by Jay Cheng.
Just like Pinocchio, every wooden shape is yearning to be plucked by Cheng, in the hopes of coming to life as the protagonist of her next great work. As a talented and accomplished milliner, working at her craft over the past 17 years, Cheng creates headwear worthy of royalty.
Originally from Hong Kong, Cheng moved to Toronto to attend boarding school and graduated with a degree in fine arts from York University. Majoring in printmaking, she began to work at a print house in Toronto, but decided shortly thereafter she wanted to return to Hong Kong, known for its fast-paced lifestyle and booming textile industries. She ended up staying longer than expected and met her boyfriend, now husband, photographer Franklin Lau.
During their courtship, Cheng started helping her boyfriend with his shoots. While she was assisting him, she picked up fashion and product styling and was slowly building a career in the fashion space in Hong Kong. Creativity, being something that comes intuitively to Cheng, allowed her to constantly explore where her interests led her. "I slowly got trained to be a fashion stylist, so that was my life before millinery. I did a lot of stuff. I even ventured into being a fashion designer in the '90s and then I did a bit of photography. Like most of my stuff in my life, they found me."
Millinery did find Cheng — and in the most enchanting way. After experiencing a bottleneck period in her creativity, she decided to take a two-week holiday in England and enrolled herself in a millinery class at the London College of Fashion. "I looked at the description, and I love wearing hats. It sounded romantic enough to me."
Her love for millinery started the day she attended her first class. The way Cheng describes her passion and magnetic pull toward the quirky wooden blocks sound like the greatest love affair you've ever heard: "The teacher said go into the next room and find the shape that speaks to you and bring it back to the classroom. So, I walked into the tiny room filled with hat blocks, which define the shape of the hat that you will make, and I walked in there, and the room, lined with shelves from the ground up to the ceiling packed with all these wooden shapes, the smell, the sight, the touch, I just fell in love, right at that moment. I brought the shape into the room. Just holding it, feeling the block, this is it, this made me curious, this speaks to me. I felt that romantic vibe, that fire lit up in me, and once we started learning the technique, it's like I never looked back."
Constantly wanting to evolve in her craft, she managed to get lessons with Rose Cory, milliner to Queen Elizabeth and the Queen Mother before she retired. "Learning from different milliners is making the connection and also learning techniques that they might have learned from other milliners who passed down to them. It's a continuous thing to get techniques that might have been lost in time."
"I Guess I Was Trying To Find That Connection Between The Hands And My Heart, And Millinery Just Filled That Void That I Was Looking For"
As a pioneer in her field, Cheng herself has become a teacher of the millinery arts and has been invited to run workshops and masterclasses in cities all the way from New York to Shanghai. Paving her way as the leading milliner in Hong Kong, Cheng would make fabulous headpieces for clients needing to decorate their heads with something extraordinary for extravagant events, like the Royal Ascot in England.
A career milestone for the milliner was being invited to participate in one of the exhibitions at the 2018 London Hat Week. "I was there to teach my masterclass, so to me, that piece, that particular event, is very meaningful because starting in London, after so many years of doing it from 2004 to 2018, I went full circle. To me, it's very important, being a student back then and then going back and being able to actually be a teacher, share my skills and inspire students who came to my class. It's pretty emotional."
For the last five years, Cheng has been based in Toronto and has created a ready-to-wear collection called Block Common, a collection more suited to the Torontonian market. "It's chic, it's something that you can add on to your wardrobe, play with it, add your own character. There's no trim, no feathers, no extra stuff. You wear it and you pair it up with your own vibe. You define your hat, basically."
The most popular hat in the collection is called the Ma Hat. It takes anywhere from four days to a week to create this signature hat, with every step of the hat handmade by Cheng, something she learned to appreciate from her grandmothers. "Growing up, both of my grandmothers liked to sew and knit, and so I've always had a very hands-on experience with them teaching me different things. I guess I was trying to find that connection between the hands and my heart, and millinery just filled that void that I was looking for."
Pre-pandemic, Cheng had a successful pop-up shop for her ready-to-wear collection, but due to the restrictions, she shifted sales online by meeting people virtually to create their bespoke hats. "I never knew that this pandemic would open up a door for me to reach more clients."
A silver lining found amid the pandemic has been the opportunity to learn something new, revisit an old hobby or give back to our communities in ways we haven't thought of before. With each hat sale, Cheng is generously giving back to her community by donating a portion to the Daily Bread Food Bank Toronto. She is also looking to re-explore her fancy roots by creating a capsule collection inspired by the pieces she made while she was based in Hong Kong. "I don't know if whoever's out there is going to wear it, but if I don't make those pieces, I'll never know."
We may never know what love story will jump out of Cheng's next hat, but we know one thing: if Cheng's hats could come to life, they would sing and dance around in delight, having been crafted by this master milliner's hands.