Lucian Matis: The Making of Matis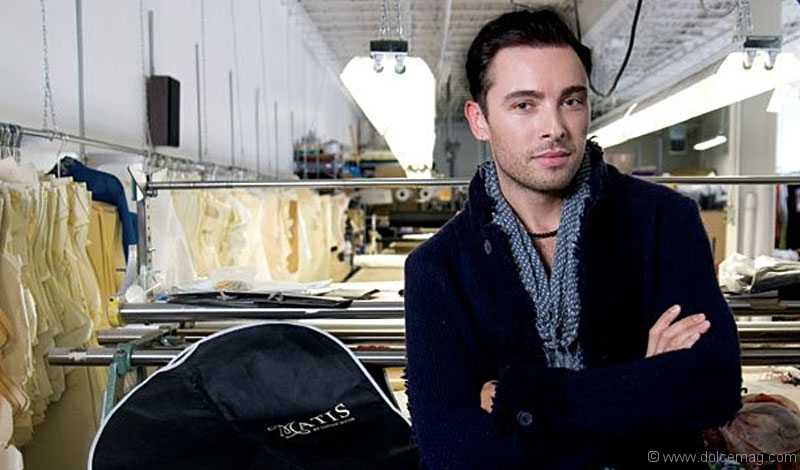 On the ground level lobby of a nondescript building in Toronto, a fastened black door creates a visible contrast to washed-out walls in desperate need of a paint job. An unexpected hush sweeps through the dusky door, wherein a birthing cauldron of fashion rustles with the drop of every pin. With a push, a rusty hinge gives way to a kiss-and-tell view of the pacific studio of fashion designer Lucian Matis, who moments before was sketching tomorrow's fashion in the comfort of his cosseted office.
"When I create, I don't tend to listen to music or to be influenced, because anything from the outside challenges and changes your ideas, your perspectives and your work. I just create in silence, and I get inspired by so many things," says Matis, who turned collective heads earlier this year at World MasterCard Fashion Week. Palpable yet incorporeal like a cast of long shadows, his fall/winter 2012 collection of carefully crafted lace lattice was made by hand using the 19th-century knotting technique of macramé. "It was definitely a heavy, romantic, dilapidated beauty. It had to be something that's not tangible, but you feel something and you don't know why you feel that way. I feel like this is where I started my career."
The Romanian-born and Toronto-based Matis walks toward the centre of his atelier, where pieces from his previous collections embellish clothing racks against the walls. He handles hollowed mannequins and fingers hanging garments, but the gossamer look in his eye reveals more than he can say. He's still sketching ideas left undrawn from an interrupted creative process, his mind reimagining age-old designs for a modern world as it digs through fashion's time capsule.
Subtle in a T-shirt, grey joggers and metallic gunmetal runners, Matis, 33, explains his hopes to fit in a workout session sometime between his early morning workday, which can spill beyond midnight, before heading back to his Bloor West Village home. With a shy smile he apologizes profusely for his dress — ruminating aloud about his longing for a blazer he recently picked up while shopping for fabrics in Paris. Before that he visited China for business, earlier than that he was in Romania, begging the question of how one can find ground while up in the air of the industry. "My life is work.
I love — I'm addicted — to work. I love being here, just experimenting with fabrics and having a good time with my staff, you know. It's fantastic." With that he eagerly leads the way to a commodious back workroom, where employees are stitching and sewing, priming runway-worthy pieces. "Fashion isn't all about the glamour," says Matis, who gained sartorial success as the runner-up on Project Runway Canada in 2007. The subdued scene is an antithesis to the backstage storm of a fashion show: a tempest of frenzy, in all its light bulbs and fracas, peals of laughter and neon lipstick, pasties and puffed-up egos, vindication and vanity. "Moments before the show I become a bit of a tyrant. Everything has to be perfect."
The fragments of opulent textiles that jump about the room are more than just previews from his eponymous couture label, Lucian Matis, and ready-to-wear collection, MATIS by Lucian Matis — they are representations of a budding designer continuing to view himself as a work in progress. "I have not made it yet," he says. "I am far from making it.
I have such big goals to achieve and so much to do that I feel with every collection that I am starting my career. I have big dreams," says the self-described artist, who plans to expand his collections across the world, as well as launch eyewear, home décor and menswear lines. Apart from travelling to add cultured layers and dimension to his work, Matis admits to a ravenous obsession with prodigious Italian Renaissance artist Michelangelo. His favourite pieces are the ones he left unfinished. "The amount of work that he's done and that he's produced — it's hard to believe that it was one man who created all of that."
If his contribution at World MasterCard Fashion Week in Toronto this fall — a Moroccan-inspired spring/summer 2013 collection of crocodile prints, rich reds and mustards, bold graphics and sequins — is any indication of his longevity, Matis may get to where he wants to be sooner than anticipated. "I first witnessed Lucian's work at Mass Exodus, the runway show for graduating students of Ryerson University in the early 2000s," comments president of the Fashion Design Council of Canada, Robin Kay, via email while on business overseas. "I was inspired by the incredibly detailed work of one so young: the innovative use of fold and placement; the exuberance of fabrics and presentation; a total standout … I have complete confidence in Lucian's ability to become and maintain a major force on the Canadian fashion landscape," adds Kay, the former head of Toronto Fashion Week.
Quick to confess that spreading himself too thin one year — he designed two separate collections for both his couture label and ready-to-wear line, as well as four collections for Daphne by Lucian Matis, sold on the Shopping Channel — proved to be a challenge for him, Matis continues to propel forward. "It was quite intense, it just got so exhausting and overwhelming, so I think that was where I was just like, OK, I need to slow down or stop altogether. But I can't stop, because it's not in my character to."
For all he knows of his life work — constructing his own fabrics and applying innovative techniques, achieving femininity and grace in his garments — the fashion prodigy credits his skills to his mother, who once owned a successful tailor shop in Romania and is now an integral member of his design team. "She always sees the positive in everything … she influenced me and my strength to never give up."
Photography by Jesse Milns
Runway Photography by Jenna Marie Wakani