Van Cleef & Arpels: The Inspiration Of Historic Splendours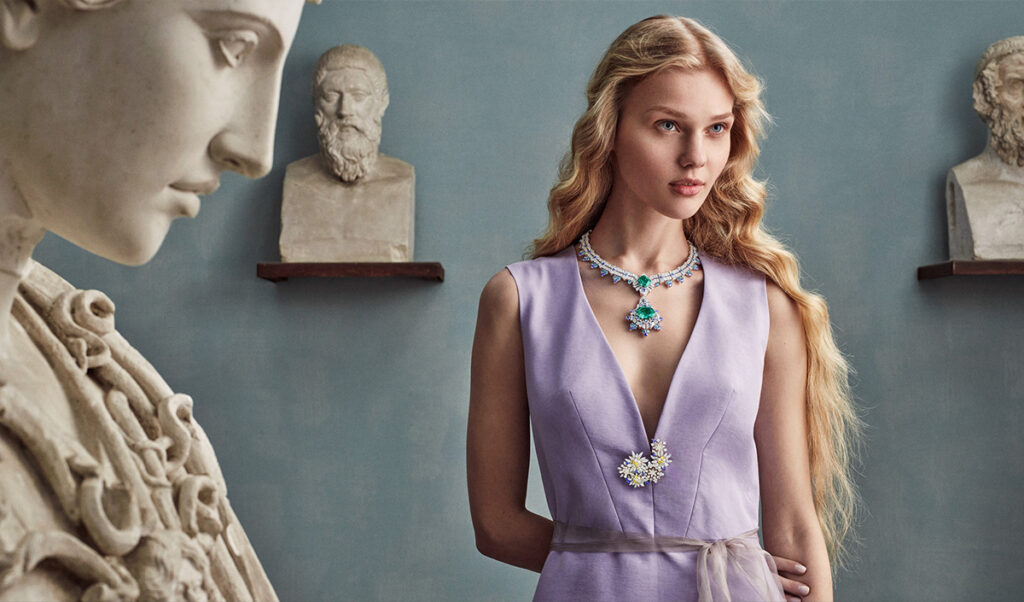 Van Cleef & Arpels' new Le Grand Tour collection captures a colourful sketchbook of European history and culture.
Today's modern expression, "backpacking through Europe," had much grander and more romantic origins. Born in England in the 16th century, the Grand Tour – so named in reference to a circular journey that returned to its starting point – became popular during the 18th and 19th centuries. Young aristocrats undertook usually two- to three-year expedition to finish, to supplement their academic educations, forge their characters, broaden their minds and ensure their entry into society. Highly recommended, the experience included two compulsory passages: a visit to Paris and stays in the main cities of Italy.
"LE GRAND TOUR" COLLECTION IS MULTIDIMENSIONAL, LIKE A COLOURFUL SKETCHBOOK THAT INVITES YOU TO DIVE INTO BOTH DESTINATIONS AND GEMSTONE."
This is the inspiration for Van Cleef & Arpels new high jewelry collection, titled "Le Grand Tour," which takes admirers on a journey through Europe's history while showcasing the multifaceted spendour of its finest and most precious gems. Beginning in London and ending in Baden-Baden, Germany, the stunning collection aims to reimagine the very same journey French writer and poet André Suarès made more than a century ago.
In 1910, just four years after the founding of Van Cleef & Arpels, Suarès published an account of his Italian journey, Le Voyage du condottière. It is about his memories through the cultural centres of the "Boot" (Venice, Florence and Naples) and an exploration of Renaissance masters such as da Vinci and Michelangelo. Following in the footsteps of both that author and all the travellers who have made their own personal "Grand Tour," Van Cleef & Arpels has reinterpreted this journey of initiation and passage in life that has so indelibly left its mark on the artistic and cultural landscape of Europe.
The Grand Tour was, above all, a personal odyssey, perhaps structured by political events, wars, artistic movements and trends and fashions as well as by private factors such as departure points, social status or financial resources. Although its cost originally made it the preserve of the elite, it attracted a broader public over the years as an invitation to dream and escape, eventually giving way to "tourism," including to more and more distant destinations, and to its associated leisure activities.
Marrying antique art movements with Van Cleef & Arpels' heritage and its unmistakable signature style, each piece of Le Grand Tour Collection is inspired by the place it represents. The 70-piece collection is an invitation to discover the Maison's creativity, the excellence of its distinctive savoir-faire and its taste in gems, and is now on display in stores around the world, including its Yorkdale Shopping Centre location in Toronto and its new standalone store at 100 Bloor Street West, also in Toronto, this fall.
LE GRAND TOUR TAKES ADMIRERS ON A JOURNEY THROUGH EUROPE'S HISTORY WHILE EMBRACING THE MULTIFACETED SPLENDOUR OF ITS MOST PRECIOUS GEMS.
Van Cleef & Arpels Le Grand Tour High Jewelry Collection is the Maison's celebration of its cultural heritage, which is European. The collection's sculptural necklaces and girandole earrings evoke Renaissance jewels, and its wide bracelets faithfully reproduce views of well-known sites. Pieces capture the style of antique micro-mosaics with stunning clips composed of vintage cameos and intaglios, all of which reassert Van Cleef & Arpels' attachment to the arts and demonstrate that a great voyage, far beyond backpacking, is indeed a work of art in itself as well as a voyage of self-discovery.
Heritage, culture and history have always guided La Maison Van Cleef & Arpels, a house where tradition is as strong as its distinctive style and creative brilliance.
"The High Jewelry Collection celebrates a tradition that has always fascinated us," says Nicholas Bos, President and CEO of Van Cleef & Arpels. "At the beginning of the 20th century, when Van Cleef & Arpels was founded, curiosity for other cultures, periods and forms of art was a way to fuel one's imagination and give rise to innovative creations. But even before that, travelling abroad to discover the vestiges of ancient civilizations served as a mind-opening practice for intellectuals and artists in Europe. It has had a strong impact on our uses of today. We still travel to widen our perspectives in a quest for experiences and encounters."
Bos explains that in creating today's new pieces today, Van Cleef & Arpels drew very heavily on the historical splendours of the past.
"The Grand Tour Collection is multidimensional," he says. "It blends the traditions of jewelry and the decorative arts – such objects were brought back as souvenirs from the Grand Tour – with the idea of once again discovering and mixing periods and cultures. For that, we followed the trail of our predecessors and chose cities that were renowned stops historically. We took inspiration from antique jewelry – Roman, Etruscan, Medieval or Renaissance – marrying it with our own heritage, style and craftsmanship. The result is like a colourful sketchbook that invites you to dive into both destinations and gemstones."
The new Van Cleef & Arpels Le Grand Tour High Jewelry Collection is an opportunity to embrace the inspirations of the historic splendours of the past while showcasing the creative brilliance of today.