Amalfi Coast, Italy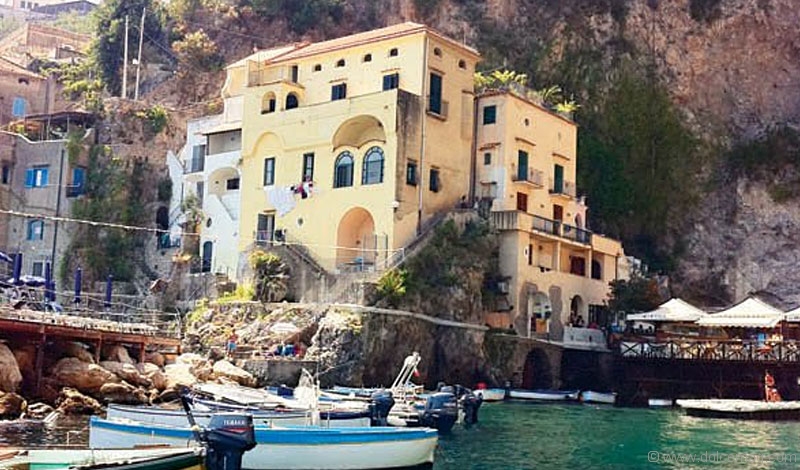 A picturesque landscape that arouses envy from the friends of those who visit its cinematic backdrop, Italy's Amalfi Coast is renowned the world over for its spectacular climate and even more incredible scenery. If you're ever cruising along the winding roads of this iconic and striking region – the cool breeze dancing in your hair and the salty taste of sea breeze wafting through the air – and find yourself in need of lodgings for the evening, look no further than Conca dei Marini.
Located in the Salerno province of the Campania region of southwestern Italy, you will find this quaint semi-rural fishing village perched along the cliff side overlooking the Tyrrhenian Sea. The town's buildings blend seamlessly with the coastline, providing an unspoiled feeling to the area's natural landscape. There are several lovely hotels occupying the region, but to immerse yourself in the Mediterranean lifestyle of this pretty little town, there is a remarkable collection of private villas available for rent, such as the Amalfi Garden Villa.
These personal accommodations offer both timeless elegance and modern luxuries. Bask in the warm sunlight on spacious sun decks or take in the enchanting view of the crystal waters and rugged mountains from your own private terrace, enjoy the region's succulent seafood under romantic candlelight, and while the moon glistens over pristine waters, stroll down to one of the area's many beaches for a refreshing dip. You can also take a boat trip to the Grotta dello Smeraldo (the Emerald Cave), and relish in its natural beauty.
While you stroll through the town's scenic architecture, be sure to take in the sweet smells of local gardens rife with lemon groves. Because of the town's central location within the Amalfi Coast – about 10 minutes away from Amalfi itself – it is an ideal spot to explore the rest of the region.
+44 07899087165
info@amalfigardenvilla.com
www.amalfigardenvilla.com