Martin Riese: The Extraordinary Water Sommelier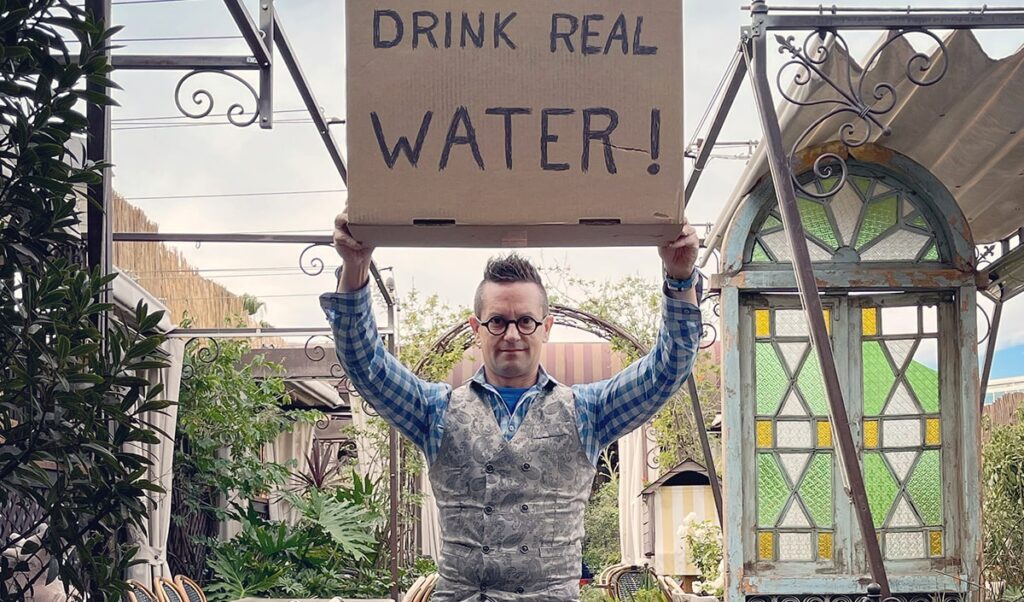 Meet the man crazy about water, on a mission to shine a light on water conservation.
Prior to its closure, Michelin-starred First Floor at Hotel Palace Berlin was renowned for its refined European cuisine and world-class wine list, which featured over 1,500 carefully selected bottles from around the world. The wine list, in particular, represented the culmination of an extensive process of careful selection and testing, and deservedly won the praise and attention of patrons. Although it wasn't until one guest complained that the restaurant had only one option for bottled water that general manager Martin Riese had his eureka moment — he needed a water menu to rival his wine list.
As Riese explains, the lack of water choices at First Floor was akin to a sports bar with only one beer on tap. "What is wrong with this sports bar? That's happening to water in pretty much every restaurant around the world. They just have one brand, whatever they decide on. Mostly they decide on convenience, not even on taste or quality, and water companies pay you money for the water on the water menu."
As Riese began his research into water, he soon learned that water demanded to be taken seriously. Among other things, he learned that water can have an impact on wine and that wine tastes different with different sources or types of water. This discovery represented the perfect opportunity for him to launch First Floor's water menu, which, at its peak, had 40 different kinds of water, from Canadian glacier water to Tasmanian rain water. From a complaining customer, Riese managed to turn wine into water.
"It's unbelievable how powerful, actually, water is, when you think about how the grand canyon's created by water and rivers."
Riese's recent appearance in Zac Efron's Netflix show Down To Earth for an extended water-tasting session has brought renewed attention to the importance of the water we choose to drink. The Dolce team wanted to taste the difference for themselves and invited Riese to lead the team through its own private tasting session with the original Water Sommelier himself.
To set the table, Riese provided the Dolce team an amuse-bouche of six pre-tasting samples to try prior to the formal tasting, but the prep work did not end there. To truly appreciate the beauty of natural water, it's crucial to understand its context. Riese asks us: how much water do we have on this planet? How much water do you need on a daily basis in direct water, like in your home? How many gallons of water have been used for one cheeseburger?
"You may be surprised to learn that we have 325 million trillion gallons [1230 million trillion litres], but only one per cent is what humans have access to when it comes to drinking water. Ninety-seven per cent of the water is trapped in the oceans, three per cent of water on this planet is freshwater, but two-thirds of the three per cent is trapped in icebergs and glaciers, so we don't have access to it. Therefore we only have one per cent of water that we actually have access to," says Riese.
The average American household uses 100 gallons of water per day, which is considered direct water use, but Riese explains there's also indirect water use, which includes things like when you eat an apple, the apple had to be grown, so the tree needed water to grow the apple.
There's about 660 gallons behind the making of a cheeseburger. Riese highlights these numbers in order to make us aware of water, to rethink our use of water, so that we may be personally making some adjustments, or even calling out big companies and asking them, "Hey, what is your water use?" "When you think 80 million people on this planet don't even have access to clean, safe drinking water, we need to somehow figure that out. And for me, water is a human right. And I'm fighting for this on a daily basis. I'm supporting non-profit organizations like Viva con Agua, for example. We build wells in countries that don't have access to clean, safe drinking water," says Riese.
Fundamental to all water on earth is the water cycle. "All water comes from the same source. It's the water cycle. Let's start with the ocean, then the sun evaporates the water, clouds are created, and then rain comes down. The moment the rain hits the ground, it starts to dissolve minerals, because all the different stones, all the different soils and sand have different minerals dissolved all around the planet. And they're all different. So, it pulls through the different soils, these waters, and picks up minerals. And water is a universal solvent. There is no other liquid with a higher dissolving rate than water. It's unbelievable how powerful, actually, water is, when you think about how the Grand Canyon was created by water and rivers."
Indeed, it is this process that gives different sources and types of water different tastes. You can actually pick up, however subtly, where your water has originated from. As Riese explains, "When it comes to wine, you're always looking at the terroir, which makes a German Riesling taste clearly different than a Riesling from California. But what actually is in contact with the terroir? Water is really terroir-driven. And for me, that's the fascinating part, that water tastes different depending where it's coming from. You can measure the overall mineral composition of bottled water by using TDS measurements, which stands for "total dissolved solids." The more minerals are dissolved, the stronger the water will taste. "It's kind of like cooking a soup. When you have a soup with no salt, it's tasteless; when you add a little salt, all other flavours will appear; when you have too much salt, you don't like the soup anymore," says Riese.
After officially receiving certification as a Mineral Water Sommelier from the German Mineral Water Trade Association in 2010, Riese began to share his knowledge in Germany, and he felt he had achieved everything he could within his native country. It was a 2020 vacation with his wife in Los Angeles that sparked the idea to move to America. "When you really want to make it, you have to go to America," said Riese. As fate would have it, his immigration lawyer helped Riese obtain a working visa under the "Individuals with Extraordinary Ability or Achievement" category. Riese thought to himself, "I looked at this visa and I said I'm not a Grammy-Award-winning music star. I'm not a scientist who wins the Nobel Prize. I'm just a guy who drinks water." It turned out that six months later, Riese received his visa. "I will never forget the interview at the embassy in Berlin, because they looked at me like I'm a crazy guy. I walked in there and everybody knew, from security officers to the person that you meet, all of them. They thought what I was doing was hilarious."
In 2018, Riese, along with his business partner, Michael Mascha, founded the Fine Water Academy, where those interested in becoming water sommeliers are able to obtain a certification. "We have people from China, Japan and South Africa. We have them from everywhere now. And it's crazy. It's a great community. And they are employed now. They have their own WhatsApp group and they communicate with each other to discuss different waters. It's so cool."
NOTES ON THE WATER-TASTING: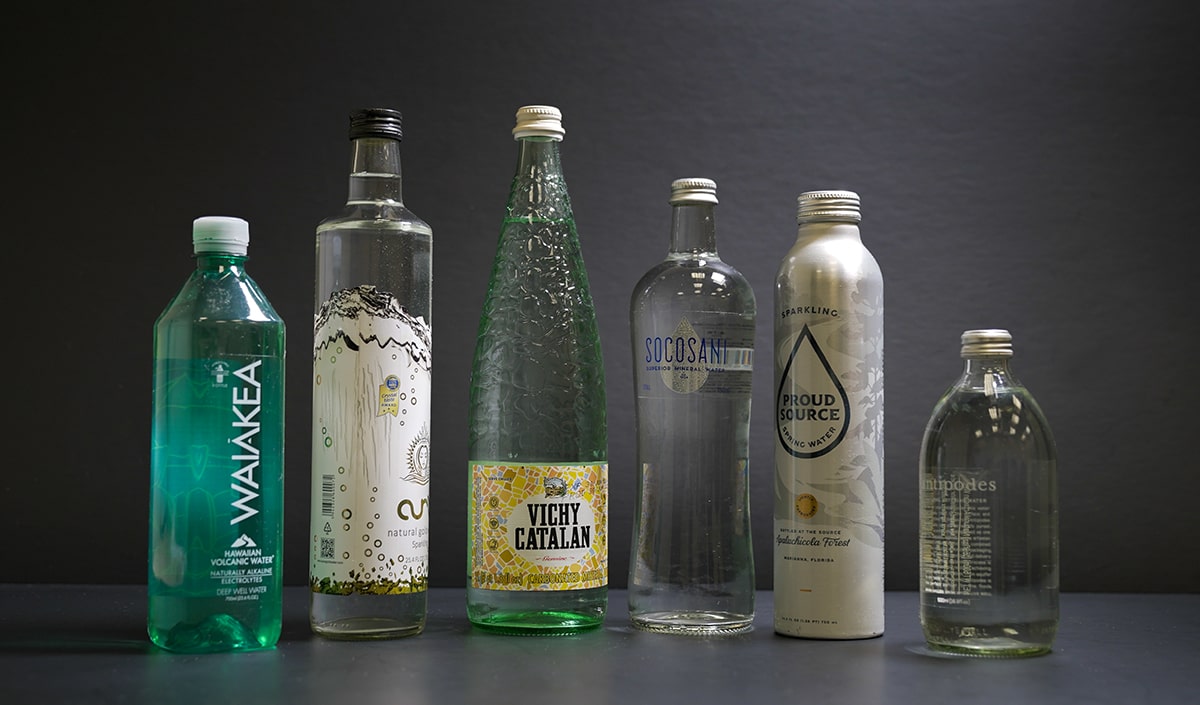 From a regulation standpoint, for a water to be called a mineral water, it has to have at least 250 TDS.
You cannot really tell if companies are adding CO2 artificially or if it is of natural origin. The only thing I can see with the natural carbonated waters is that the carbonation lasts a little longer in the glass. It's kind of like the same with a cheap Prosecco versus a nice champagne.
• Waiakea: TDS of 82. Source: Hawaii. Very smooth because there are not so many salts dissolved. The salts are very subtle in this water, so it's easy to drink.
• Antipodes: TDS of 140. Source: New Zealand. New Zealand is known for very, very good water qualities. It's a very unique water. It feels colder than Waiakea. There are slightly more minerals dissolved.
• Socosani: The TDS is 1,390. Source: Peru. This water is naturally carbonated, with very tiny bubbles that are natural. They've not been added. It has a slightly salty aftertaste. It's an effervescent water. There's a hint of bubbles dissolved in the water from nature.
• Aur'a Natural Gold: The TDS is 490. Source: Romania. It's from Transylvania. It has a medium bubble. It's not fully carbonated. It's not super-salty but there's enough power to this water to really engage you.
• Proud Source: 154 TDS. Source: Florida. Artificially carbonated. Naturally alkaline spring water is rich with minerals and electrolytes.
• Vichy Catalan: 3,052 TDS, tons of dissolved minerals. Source: Spain. This is natural carbonated water. Overall the taste is really heavy, very salty. An intense water.
What does la dolce vita, the sweet life, mean to you?
The sweet life means for you, but I can help more and more people to get access to clean, safe drinking water. It's not about me, it's about helping others.