Hanya's Hope – Children's Charity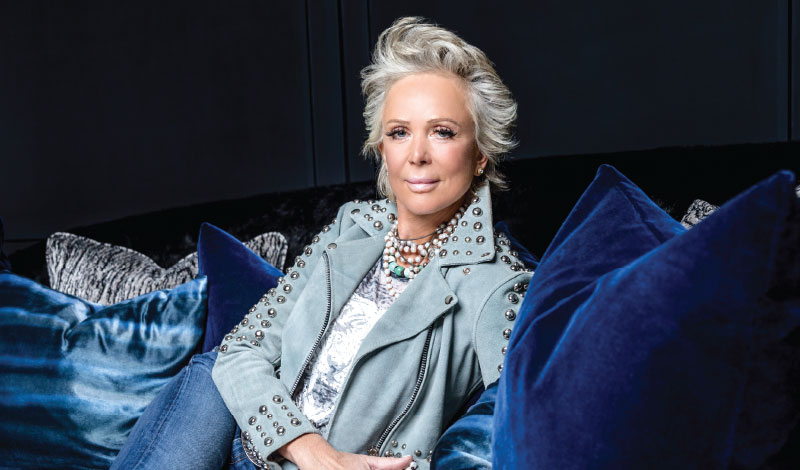 After a lifetime of success, Hanya Kizemchuk is paying it forward through her new foundation that will provide vital resources to young survivors of abuse and sex trafficking.
In her 60 years, Hanya Kizemchuk has worn a surprising number of hats, as a model turned real-estate investor turned entrepreneur. But her latest project, Hanya's Hope Foundation for child survivors of abuse and trafficking, is, she says, her most meaningful yet.
In the '80s, Kizemchuk walked the runway for designers like Karl Lagerfeld, Jil Sander and Claude Montana, and back home in Toronto she appeared in the pages of Chatelaine and Flare. By her estimation, she was also the first Canadian model to sport a buzzed-short hairdo, given to her by Aldo Coppola in Milan, to set her apart from the pack.
But when real estate started booming in the late '80s, she nimbly changed tack. She got her real estate licence and used her well-trained eye and adventurous spirit to sell houses in neighbourhoods like Rosedale and Moore Park, converted a 48-unit Forest Hill apartment building into a co-ownership and even sold her own home in Mississauga to then-superstar Blue Jay Vernon Wells.
But when her daughter came along, her agent hours clashed with family life. So she pivoted again, this time into property development, buying, renovating and selling properties, until finally in 2014, she founded Spinout Cycle, an innovative spinning gym in Liberty Village that allowed members to track their progress digitally. Kizemchuk was just starting to think about expanding the business when, unexpectedly, her ex-husband, the father of her daughter, died. Life as she knew it screeched to a halt.
"After going through a dark place and dark tunnel, myself and with my family, and looking deeper into myself, I realized that I was really interested in helping other children"
The couple had always maintained a close relationship, and in grieving, Kizemchuk found that, despite success in her business life, where she most wanted to be was by her daughter's side.
"It was a very emotionally draining and stressful time and I understood that I couldn't be in all these places. I had to choose what had to go. And I just walked into the spin studio one day and shut it down," says Kizemchuk. She had opened its doors only seven months earlier, but the decision was firm.
Grief had illuminated her path, and what had become clear to Kizemchuk was that the world was full of children left to face life's adversities on their own. She knew that she wanted to focus her efforts on helping others in need.
"After going through a dark place and dark tunnel, myself and with my family, and looking deeper into myself, I realized that I was really interested in helping other children."
Out of that revelation came the idea to start a foundation focused on the plight of children who are survivors of sexual abuse and sex trafficking. Already an active philanthropist, Kizemchuk is now leveraging her connections to help get her charity off the ground.
Last September she rubbed elbows with Steven Tyler in Toronto at a fundraiser for his own charity, Janie's Fund. He put her in touch with his team and from there the idea grew to loosely fashion Hanya's Hope after Angie's List — a hugely successful U.S.-based site that features crowd-sourced reviews — for all types of children in need. Hanya's Hope will primarily be a resource for charities, giving them quick access to professionals and aides such as women's shelters, social workers and legal aid and connect them with numerous charitable organizations globally.
"Hanya's Hope is in its infancy, but I really hope it will become a hub for all matters pertaining to child advocacy, whether it's children of alcoholism or abuse or whether it's anti sex trafficking. In the U.S. alone, sex trafficking is the third-largest underground 'business' after drugs and arms and approximately 30 million children are involved."
Those staggering statistics are what propel Kizemchuk, who sees her foundation as a connector between children's charities around the world, something that "draws them all in and becomes a power force. Because worldwide, there's no one really doing that right now."
Kizemchuk has never been one to flinch at a challenge, but this act of her life feels different from the rest. It was, she says, preceded by a "shift" within herself. "I have realized that I was actually born to do exactly this. My journey has brought me to this door and I'm walking through it."
Photos By Robin Gartner and Brian Bossert