There's Something Unique About It – Unique Store Fixtures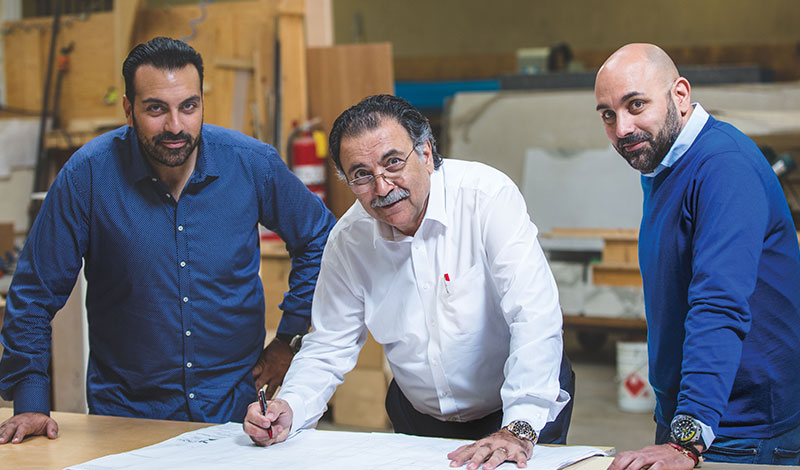 Unique Store Fixtures Ltd. remains an industry leader after more than three decades in business.
Ferruccio Corrente, a son of a master ebonist, came to Canada in 1964 and worked alongside world-class designers in the store fixture industry. Due to great popularity and demand, he started his own company in 1983. Ferruccio Corrente, CEO of Unique Store Fixtures Ltd., has watched his business soar to unimaginable heights. Since its establishment 34 years ago, Corrente has been producing award-winning luxury retail and residential interior fixtures: display design, custom millwork, metal and glass fabrication and superior stonework.
Along with sons Ferro Corrente Jr. and Marco Corrente, COO and vice-president respectively, Corrente proudly operates his business out of a 100,000-square-foot complex in the heart of Vaughan.
North America's leading millwork services company has held contracts with some of the largest major brands locally and globally, including Tim Hortons, Holt Renfrew, Tiffany and other notable high-end retailers.
"Something that makes our company very different from others in the industry is that we fabricate everything in-house," says Marco. Unique boasts a full woodshop and produces its own metal, glass, stone, granite and acrylic products. With hundreds of thousands of manufacturing jobs being sent overseas in recent years, Marco explains that having all the company's operations in-house is kind of unique.
Recently, the custom fixture brand has garnered another accolade. In March, Globalshop 2017 awarded Unique four times over in the Fixture of the Year category for its extensive work in Bergdorf Goodman, a luxury department story in New York City. "It's wonderful to be recognized and appreciated by the industry, your peers and the public," says Ferro.
While Unique continues to flourish in the commercial sector, its residential portfolio has grown exponentially as well. Initially making up about 10 per cent of the company's business, custom residential millwork now sits at par with its retail counterpart.
Unique designs and manufactures custom kitchens, bathroom vanities, closets and wall units for midsized to large luxury estates across the GTA. Combining traditional carpentry methods, proficient artistry and premium materials carried out by state-of-the-art technology, clients come home to a truly individualized space.
Furthermore, the company's in-house design and engineering teams are constantly keeping up-to-date with the latest trends in fixtures, kitchens and other residential components.
Without a stitch of publicity over the past three decades, Unique has thrived by word of mouth. "We get great recommendations," says Marco. "If clients are referring us to their friends, that's the ultimate compliment to us."
Perhaps it's the company's long-standing reputation for excellence in customer service and its dedication to quality that further propels its success. "Quality is number one," says Ferro. "My father always says that if it's not good enough for him, it's not good enough for the customer." Dedication to quality work is one of the many values passed on by their father that the brothers never compromise on.
The Unique family, comprised of more than 100 skilled designers and craftsmen, share the company's philosophy. "We've got a great team, and most of our employees have been here long-term, some more than 20 years," says Marco.
Brothers Marco and Ferro are continuously committed to taking Unique Store Fixtures to the next level, bringing satisfaction, pride and enjoyment to each of their valued clients for decades to come.