Megan Hess — From Designing to Writing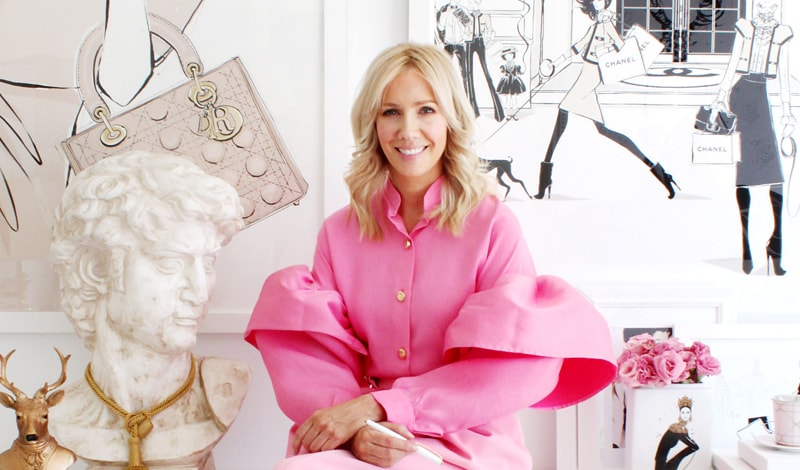 As an internationally renowned fashion artist, Megan Hess has partnered with iconic brands, designed collections of her own and most recently created a children's book that celebrates fashion, Claris: The Chicest Mouse in Paris.
Interview By Michelle Zerillo-Sosa
Tell us a bit about Claris: The Chicest Mouse in Paris and how it came to be.
It was during my time in Paris, researching for my last book, that I had a wonderful idea. I was sitting on my little balcony at Hôtel Le Bristol Paris (as I am their Artist in Residence) and I thought I saw a little mouse on a neighbouring rooftop scurrying across the building. I remember thinking how wonderfully chic it would be to live in Paris, even if you were only a tiny little mouse!
What makes this children's book so special and unique?
I really hope that Claris connects with both children and adults. After reading to my own children for over 12 years I longed for a children's book that had a little fashion in it while still having enormous heart. I really hope I've achieved that.
Why did you choose a mouse as your character for this book and not another animal?
I really wanted the character to be an animal rather than a person because it allows me to explore a whole other world that humans can't see! I also loved that she's so small and dainty and yet she's so strong because of her outlook. Claris is also the complete opposite to the long, tall fashion characters that I normally draw — she's short, hairy and oh, so chic!
Your tabletop collection is exquisite. Why do you think people love it so much?
I think the tabletop collection has been so popular because it's different and it's fun to use. I have always loved setting my table and both my tabletop collections just bring a dinner party to life. My favourite part is choosing which guest should get which character on her plate. Enormous fun!
Tell us about The Dress book and the Coco Chanel book in your collection.
The Dress book is about 100 iconic dresses throughout time. Some are very expensive and were always destined for greatness and others became iconic completely by chance.
My Coco Chanel book is an illustrated story of her life. I find her one of the most interesting and inspiring women of all time.
Tell us about some of your most memorable travel experiences.
The very first time I arrived in NYC as a teenager — the excitement of all of the cabs honking, sirens wailing and chic New Yorkers strutting the sidewalk was unforgettable.
The moment I became the Artist in Residence at Hôtel Le Bristol Paris — I remember walking into that incredible hotel and I could barely breathe with excitement knowing that was now my Parisian home!
Where did you grow up?
I grew up in Queensland in Australia.
How old were you when you knew you wanted to become an artist?
I always knew that I wanted to draw for a living but when I was growing up I had no idea that a fashion illustrator was an actual job! It was just always the thing I loved to do. I still feel incredibly lucky to do what I love as a profession.
Do you have siblings?
I do, I have a brother and a sister. We're all at that stage in life where we now have our own children and it's incredible to watch them grow up and discover their own interests and passions too.
What do your friends and family think of your success?
I think all my friends and family are very happy for me, as I am [for] them.
Which fashion houses have you collaborated with in the past and what were those relationships like?
I have collaborated with many luxury fashion houses over the years. I've loved every project for different reasons. Likewise, working with different clients always brings new experiences.
Some highlights are: Working with Bergdorf Goodman, New York, to create a signature look for the prestigious department store. Being commissioned by Harrods of London to create a bespoke bag collection for the iconic British department store.
A series of portraits were also created for America's former First Lady, Michelle Obama. I've also illustrated portraits for Gwyneth Paltrow, Cate Blanchett and Nicole Kidman.
I've worked on global campaigns for Fendi, Prada, Cartier, Dior and Salvatore Ferragamo.
I've also loved illustrating live for bespoke fashion shows around the world including Fendi at Milan Fashion Week, Viktor & Rolf and Christian Dior Couture.
How do you define la dolce vita, the good life?
Spending time with the ones you love, eating beautiful food, being creative and taking time to appreciate everything that you have.
What is important to you today that was not as important a few years back?
Taking time to stop and enjoy the process rather than always trying to get to the outcome.
What have you learned in business that you didn't know about when you first started?
That absolutely nothing is impossible and that you only ever really fail if you give up.
What is the one thing you want more of that you do not currently have?
TIME!
Do you have any regrets about business or personal decisions you made in the past?
None. I believe that everything good and bad brings you to exactly where you ultimately need to be.
What difficulty or challenge have you overcome in your life? How did you overcome it and what have you learned from it?
Working globally. Today, it's probably one of the things that I love most about what I do because it's incredibly exciting to work with different brands and projects all over the world.
The problem initially was that all my work was coming from New York and Europe and communicating and travelling with a newborn baby was very hard! Even if I wasn't travelling I was always Skyping late at night and early in the morning and then illustrating all day long — it was very hard to have any time to switch off.
Now I really have my communicating with overseas down to a fine art. For all my U.S. clients I wake at 6 a.m. — I do my makeup and hair in six minutes — I keep my PJs on the bottom half and I wear something chic on the top half (because that's all they can see on Skype), then I do the Skype before my kids are even awake. Then I'm off to my day. I'll then do a late-night Skype the next night to Europe — but never the two on the same day. I also condense my travelling to what's really necessary. Everything is planning. If I can really hone the schedule of any work trip it becomes both productive and enjoyable.
Where do you go to find inspiration?
Everywhere! I seem to find it when I'm least expecting it. I love beautiful photography books, travelling and just getting out of the studio and seeing other exciting things that are happening in the world. In terms of subject matter, I find people and all their differences and quirks the most inspiring.
Who do you look up to?
My parents were always very supportive of my dreams and always made me feel like anything was possible. In high school I had an amazing art teacher who helped build a sense of confidence in me to pursue drawing. Later in life I have been very inspired by so many other creative people all over the world that I have worked with.
I really learned to take advice, to really listen and see what makes other people interesting or creative. Even people who are difficult or demanding to work with, there is always knowledge to be gained by the experience of working together. Above all, I have learned that no matter what anyone else feels, you have to go with your gut.
What advice have you taken in life, art or business that has contributed to your success?
Every Saturday as a child I went to art classes — it was my absolute favourite day of the week! At the end of one of the classes I spoke with my art teacher (Janet Thomas) about the possibility of being an artist when I grew up — I was unsure if it was something that you could actually make a living out of. She looked at me and said, "Do what you love and the money will follow."
I held on to that advice for many years to follow and eventually I came to realize that it was absolutely true.