For the Love of Kindness – THE CANADIAN CHORDOMA NETWORK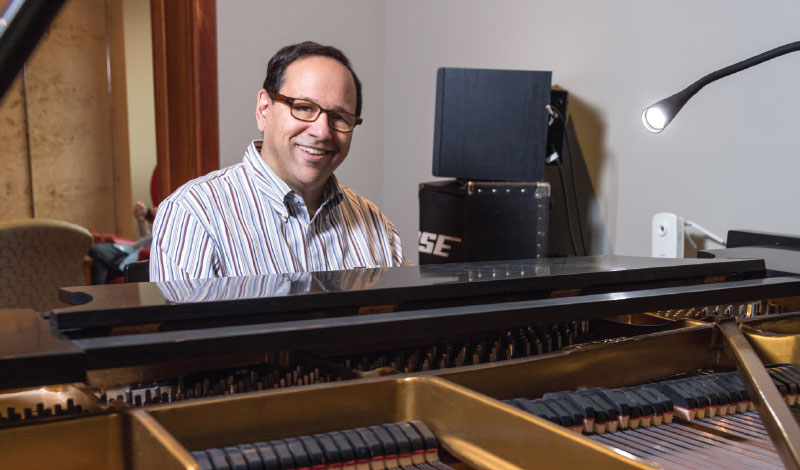 Steven Golick may not believe in fate, but we believe that the retired insolvency-lawyer-turned-philanthropist was born to help others. It's not just his knack for dreaming up great ideas like the newly founded Canadian Chordoma Network or his hosting of successful fundraisers, but also his eagerness to spread positivity, kindness and encouragement where it's needed most.
Interview By Rebecca Alberico
Steven Golick says that he has never let life's problems get in the way of embracing positivity, or of investing enormous amounts of time into helping others. This, despite being thrown one of life's most serious punches.
Golick's life was "ordinary and normal," besides a little trouble walking in a straight line that he thought was merely vertigo.
But after spending a dozen hours in the hospital, a CT scan and an MRI, he heard the words no one wants to hear: you have cancer. Golick was diagnosed with a very rare tumour called a chordoma. This is a form of cancer that occurs in the bones of the spine or — as in Golick's case, the skull.
It took an incredible team of doctors and surgeons, a 12-hour procedure, more than three dozen radiation treatments (reaching his lifetime limit of radiation) and a long period of recuperation to battle the diagnosis.
So far, the chordoma hasn't return, but it's likely that it will. It's now been five years, and since that time Golick has sought to raise awareness and funds to help others with the same cancer, which affects one in a million people each year, according to the Chordoma Foundation.
"I decided to give something back," says Golick of his fundraising and awareness campaigns.
One of the first campaigns he organized was a musical fundraiser in New York that raised $50,000. Another event in Calgary — a Climb for Chordoma — raised $70,000. All of these efforts began at a grassroots level, asking friends, family and contacts for support.
"It's wonderful that part of this began at the community level. It's not at the corporate level, which is what makes it fun," says Golick of the support from friends, family and former colleagues from Osler, Hoskin & Harcourt LLP, the business law firm from which he recently retired as partner.
Not one to rest on his laurels, this year Golick's efforts included becoming founder and CEO of the charitable foundation Canadian Chordoma Network.
Additionally, he is the co-chair of the Patient and Family Advisory Council at the Odette Cancer Centre. This unit of the Sunnybrook Health Sciences Centre is said to be one of the largest Canadian cancer centres, and Golick says one of his projects currently on the go is assisting in creating a "new patient concierge service." Among the endeavour's goals is to ensure that patients are greeted by a staffer upon entering the hospital and offered a number of supports to help them during their stay — help scheduling appointments, locating exam rooms and more.
Other projects include creating videos of patients' stories that will be available to other patients and staff. "The staff love the humanization of it," says Golick. "I think the whole institution gets over 300,000 patients a year. When you can humanize it for the staff, and they hear one patient's journey, they love it. They are passionate, eager and want to help. It's a unique organization and I'm proud to be a part of it."
Moreover, Golick — a keyboard, organ and synthesizer player for the American Bankruptcy Institute house band, the Indubitable Equivalents — naturally melded his love for music and his passion for helping others to produce Nov. 9's fundraising concert, Chords for Chordoma, at the Toronto Centre for the Arts. It was there that top jazz musicians from North and South America took to the stage, performing an array of genres such as Brazilian, samba, swing and Cuban music.
"Rare cancers make up about a third of cancers. But any one of those individual cancers is rather unique. One of the goals we're trying to accomplish in hosting a big event like this one is to raise awareness among the public. You have to band together to build a community," explains Golick.
"As the Buddhists say, 'pain is inevitable, suffering is optional.' It is much healthier, much more fun, and I just prefer it to live in the moment and be positive" — Steven Golick
For his generous contributions to the community, Golick has been awarded the Queen Elizabeth II Diamond Jubilee Medal, which also honoured his work as co-founder and director of Kids Help Phone. Established in 1989, Kids Help Phone is a network of counsellors reachable by phone (and now on the web) who offer their services pro bono to help youth sort out crises.
"It's been amazing — being around people who are so passionate about helping children and youth and young adults is inspiring," says Golick. "The organization, unlike many others, is made up of people who are passionate about helping and want to be there for Canadian youth. I have been blessed with being involved."
Golick recognizes children as the most vulnerable members of our society and takes the responsibility of protecting them very seriously.
His ardour for communicating to youngsters extends to having been one of the executive producers of Ruby Skye PI, a web series about a detective. Unsurprisingly, Golick hustled into fundraising mode, enabling the start-up show to pay for equipment, actors and other items. The award-winning online series ran for three seasons and is now regularly featured on CBC Kids.
It seems that helping others was always Golick's life mission, and his charitable efforts are the natural extension of his 30-year law career, focused on fixing what's broken.
"To do insolvency, what you are really doing is taking companies that are in distress — either financial or otherwise — and you are making them better. You are getting them healthier," he notes.
And, who better to seek out funds for cancer research than one who is driven to improve the lives of others in just about every single way? He's been doing it for decades and he shows no signs of slowing down now. Golick finds happiness and purpose in kindness.
However, he admits that one doesn't need to be at the forefront of fundraising or committees to better their life.
"We all have a choice in life. Our choice is to decide how we deal with things, how we react to things. It's inevitable that we are going to cut our finger at some point. You can choose to say 'ouch' or you can choose to go wash off your finger and put a Band-Aid on it," says Golick.
"As the Buddhists say, 'pain is inevitable, suffering is optional.' It is much healthier, much more fun, and I just prefer it to live in the moment and be positive," says Golick. "There is no advantage to being negative. It doesn't make you a better person and it doesn't make you happier."