Barteca Restaurant Group – Reinventing The Restaurant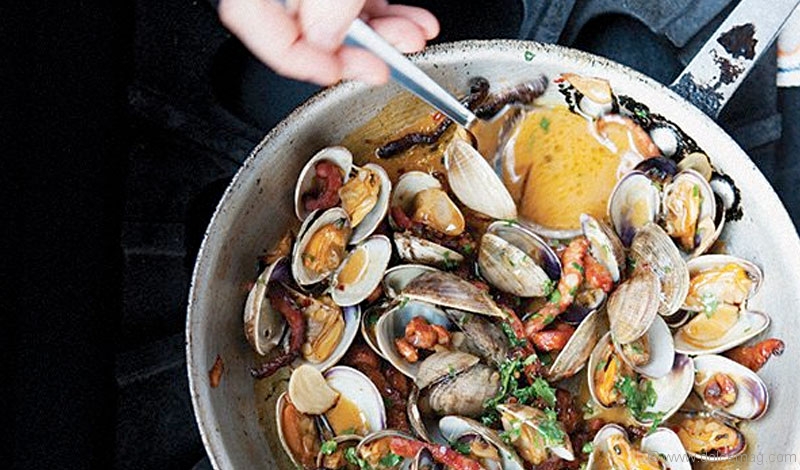 There's a restaurant group in the United States that's revitalizing the concept of dining out — and we can't get enough
Sitting at a wooden table and soaking in the rich, rustic ambience at one of Barteca Restaurant Group's 15 eateries across the United States, you lift a forkful of something divine to your lips, knowing that this artsy space, this handcrafted dish, are a story that began 20 years ago.
Barcelona Wine Bar & Restaurant was born in the mind of Sasa Mahr-Batuz while he was living in Spain and Portugal. Immersed in the animated sights and sounds that bounce through these European centres, Mahr-Batuz imagined creating a culinary hub that mirrored this culture: a fun, lively space that dished out powerfully flavoured small plates inspired by Spanish eats and wines by the glass. Eventually he connected with business-minded chef Andy Pforzheimer, and together they opened the first Barcelona Wine Bar & Restaurant, a tiny, 38-seat hole in the wall adorned with radical, chic décor in South Norwalk, Conn.
Jump forward to 2015, and that one founding restaurant has blossomed into Barteca Restaurant Group, a whole family of restaurants comprised of two concepts: there's Barcelona Wine Bar & Restaurant, the original brainchild featuring mod and classic Spanish-style cuisine and wines from little-known regions of Spain and South America; then there's Bartaco, a beachy-casual lifestyle chain that creates upscale street food, one-of-a-kind cocktails, beers and tequilas.
Headed by Pforzheimer, its CEO, and Mahr-Batuz, its creative director, Barteca Restaurant Group has taken America by storm. The cool vibe of the spaces alone has made a dent in the industry, not only via the culture-infused décor but also by the assortment of people running each joint. Barteca Restaurant Group has hired real talent — chefs, sommeliers, mixologists, general managers, artisans, local farmers, interior designers, artists and architects — to comprise each of its locations, and the culmination of all this creativity gives each restaurant an identity of its own, one that locals find magnetic.
In order to keep the inventiveness flowing, the award-winning Barteca Restaurant Group has provided each of its dives with a fascinating array of resources, from in-house test kitchens and mixology labs to research trips to Spain, from cross-training for staff to signature wine blends. Adding to these are culinary director Adam Halberg, who curates ideas, recipes and fresh ingredients and passes them on to each location to be discussed and dissected in the respective test kitchens; and wine and spirits director Gretchen Thomas, who's in charge of the alcoholic side of things, including a forever-evolving seasonal cocktail menu.
And here's something new: the menu changes daily — not weekly, not seasonally. Novel and often unheard-of dishes are invented on the regular to bring fresh options to the table each day. This, combined with the game-changing atmosphere, is what draws customers back again and again, even two or three times a week, in many cases.
The look, the eats, the system — it's all something very new to the cuisine scene, and the response has been wild. Pforzheimer and Mahr-Batuz plan to soon unveil a Barcelona Wine Bar & Restaurant in Atlanta's West Midtown neighbourhood, and a Bartaco in Chastain Park, both in Georgia. Perhaps the chain will touch down on Canuck territory sometime in the coming years, but in the meantime, it would be wise to add paying a visit to Barcelona Wine Bar & Restaurant and Bartaco Restaurant to your culinary bucket list.
www.barteca.com