Marisa Rocca – SOTTO SOTTO Rises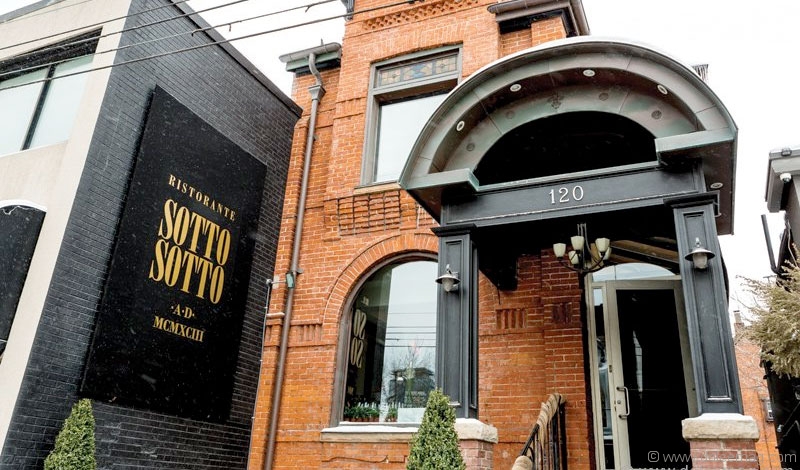 Yorkville's fine dining darling is back. Sotto Sotto's new Avenue Road location delivers the signature warm ambience that has made it a magnet among Toronto diners and the celebrity set
Sotto Sotto owner Marisa Rocca vividly remembers the day her beloved Yorkville restaurant burned to the ground. It was the morning of Dec. 25, and she had just landed in Arizona to spend the holidays with family when she received a devastating call from a friend screaming about a fire at 116A Avenue Rd. Shocked and confused, and so far away, Rocca didn't understand the gravity of the situation until someone sent her a video of the blaze. "That's when I realized it was big," says Rocca over the phone. "I was losing my first baby; my first child was up in flames. And that's when I started to cry." She quickly packed her bags and booked the first flight out of Tucson.
As firefighters battled the three-alarm fire, which tragically brought down Trattoria Sotto Sotto and Spuntini Ristorante & Bar, the establishment that sat above it, Rocca arrived on the scene, unable to accept what had happened to the restaurant where discerning diners and celebrities such as Johnny Depp and Jude Law have dined since its opening in the '90s. The Christmas Day fire quickly made headlines and hashtagged its way through social media. "Damn. My second home. Gone but not forgotten. #SottoSotto," wrote loyal patron Drake on his Instagram account.
And then something happened. As Rocca tore her eyes off the rubble and set her gaze on the faces of her long-standing employees, she realized what she had to do: she would bring her fine Italian restaurant back to life like it was the last thing she would do. Believing in the power of good people, she and her husband Lou kept all the main staff on salary while they tried to find a new location. "In the end you have to move fast, you have to move quickly, because, you know, there's nothing I could do about the [fire]. So that's what I did. I had a lot of people who showed me love and respect, people who called me and said, 'I have this location or that location.' And when an opportunity came up, I said, 'absolutely, this is mine.'"
Two months later, Rocca is still emotional, but in a good way. It's the day after the soft opening of a new Sotto Sotto, now housed at 120 Avenue Road, just two doors north of its original location, and the turnout was a success. "It was quite the night, there were great conversations," says the self-described cook, who was born in Rome and moved to Canada in 1989. "I sat at the bar and looked over the room — which doesn't look exactly like Sotto Sotto but is quite beautiful — and asked every five minutes if our patrons were smiling. I went around to the tables to ask how the food was and they all said, 'it's exactly the same.'" Revered for its grilled fish and popular Roman pasta dishes — Rocca's favourites are bucatini all'Amatriciana and spaghetti carbonara — the unchanged, tried-and-true menu bursts with a delicious variety of simple dishes featuring slight contemporary twists.
While renovations to the two-floor space are not yet complete (Rocca has for now taken items such as flowers and candles from her own home to bring that dusky, candle-lit warmth of the old Sotto Sotto to the new ambience), the kitchen is ready to go, with dinnertime seating available from Thursday to Sunday. Rocca anticipates that the Romanesque-styled restaurant, which has attracted a multitude of stars and high-profile execs throughout the year and especially during TIFF, will run daily full-service lunch and dinner by mid-April of this year. "The new space is covered in photos of people who have experienced the restaurant — all smiling faces extending back 20 years. That was the only thing on the walls, besides some art, they managed to keep from the fire," says spokesperson Laura Fracassi.
www.sottosotto.ca
Call 416-962-0011 for reservations or email sottosotto@rogers.com
photography by john packman