The Bedrock of Australian Cuisine – Curtis Stone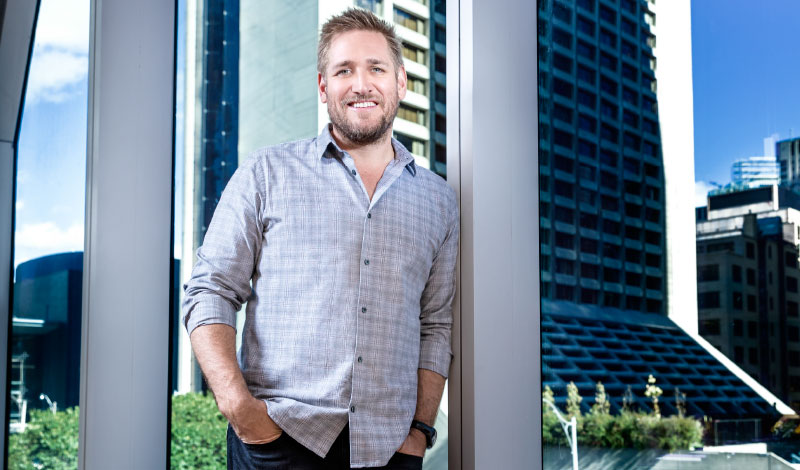 Superstar chef Curtis Stone has taken the culinary world by storm with his food knowledge and technical prowess. From chef to reality star, Stone has spread Australian cuisine around the globe.
Interview By Sarah Kanbar
From humble beginnings to mastering his craft, Curtis Stone is a food savant. First gaining notoriety after being published in London on a Plate, a cookbook about London's finest chefs, Stone has since become one of the most renowned chefs on the planet.
You may know Stone from one of his food shows like Surfing the Menu or Take Home Chef, or his many appearances on talk shows and reality shows, ranging from Masterchef to Celebrity Apprentice. The Australian chef infuses his roots and heritage into his passion for cooking and travel. Stone's success led to the inception of two celebrated Los Angeles restaurants, Maude and Gwen; a bestselling cookbook, What's for Dinner?; and the Kitchen Solutions By Curtis collection, an exceptional line of glassware, utensils and kitchen accessories.
Married to actress Lindsay Price and father to two young boys, Emerson, 6, and Hudson, 3, Stone finds himself extremely busy balancing work, travel and family life. We recently had the pleasure of meeting with Stone to discuss how he's bringing Australian food culture all over the world and his family life.
Q: Can you tell us about your partnership with Tourism Australia and how it came about?
A: I'm so passionate about many things, and travel is one of them. Australia, I obviously grew up in. I'm really patriotic. I love my country. There's so much to like about it. It's a supernatural fit. I'm constantly talking about it anyway. The idea of spreading the word more about the culinary parts of Australia is meaningful to me. I watched it grow sizably. I did my apprenticeship there as a kid. Back when I was younger, I had to go to Europe to work under a chef or with a chef to learn from them. That is certainly what I did. What happened over time is that all of that knowledge that has been taken from Europe and other parts of the world has been brought back to Australia through native chefs. The restaurants are really fantastic and the wine regions have really grown into themselves. I'm super passionate about it.
Q: I don't know a lot about Australian cuisine, and I don't think many people do. Could you elaborate on some of the typical flavours?
A: It's a real melting pot. We have cultures from all over the world. It's very diverse. Geographically we're closer to Southeast Asia than anywhere else. What grows well in Southeast Asia grows really well in Australia too. We have a variety of tropical regions, subtopic regions, dry heat areas, and we have cooler climates too.
That's the first thing. We're a melting pot. We have Southeast Asian cooking, rooted heavily in Europe from an English standpoint. Melbourne has the largest Greek population outside of Athens. We have a large Italian population, and more recently, a lot of Southeast Asian immigrants. The food has really evolved. There are great indigenous ingredients that you can't find anywhere else. There are even some interesting ingredients that you can't grow anywhere else. Even the animals, kangaroo, emu and stuff like that, people find on menus in Australia. It's unique and it's cool.
Q: What about the wine and the wineries?
A: The wineries are everywhere, in all different corners of the country. The regions are really diverse. Cooler climates like the Mornington Peninsula and even Tasmania produce fantastic Pinot Noir. Diversity in the same region, where you have some of that hot/cold [temperature variation], produces some of the best Shiraz that you'll find in the Barossa Valley. The Hunter Valley and Eden Valley [as well] — again sort of more moderate temperatures. The Margaret River over on the west coast is a great region that produces incredible Sémillons, and great Sémillon Sauvignon Blancs. There are a variety of different regions that are producing really beautiful wine.
Q: What inspires you to create new dishes?
A: Inspiration comes from a variety of places. Firstly ingredients. You can walk through a farmer's market, go meet a farmer or look at a tree. You start there; it's the building block of every dish.
Then there's technique. As a chef you constantly try to learn different things, or you perfect a technique in one way or another, and you apply it to a different ingredient. It's interesting.
There's also culture. I always start with, "What do I want to create? Who's coming? Do I want it to be formal? Do I want it to be romantic? Do I want it to be sort of family oriented? Informal and casual? Do I want people to share?" If you think about the moment, because that's really what food is, it's a moment in time, it's a combination of those things. "What do you want to create in the moment? What ingredients do you have available? What technique do you have?"
Q: How do you balance career and travel with your family life?
A: I probably don't do a great job of it, to be honest. I work more than I should. But I love what I do. It's funny when you love what you do; it's hard to say no to things. I'm lucky that my family gets to be involved in my work a lot. I'm sure if I was a lawyer and in court all day long, it'd be more difficult. I cook for a living and I develop recipes for a living. My kids are often involved in the process and involved in the end result, which is hopefully something delicious to eat. They travel with me a lot too. While they're young it's easy to take them on the journey, which is cool.
So what is next for Stone? Focusing on his family. "The boys just started school. I'm really enjoying being a big part of that. Taking them to school and helping them do their homework. I love being a dad and I don't want to overcomplicate things, to be honest. I'm really happy."
Stone has his hands full with two restaurants, two children and two dogs. A "full roster," Stone jokingly calls it. His pioneer restaurant, Maude, is undergoing a menu renovation. Instead of centring a single key to that compose the entire menu, the selection will be created by focusing on a specific wine region each quarter. Whether it is pairing wine and meals or combining work, travel and family, Stone brings his Australian heritage and love of food everywhere he goes.