Superyachts Go Herculean – The Monaco Yacht Show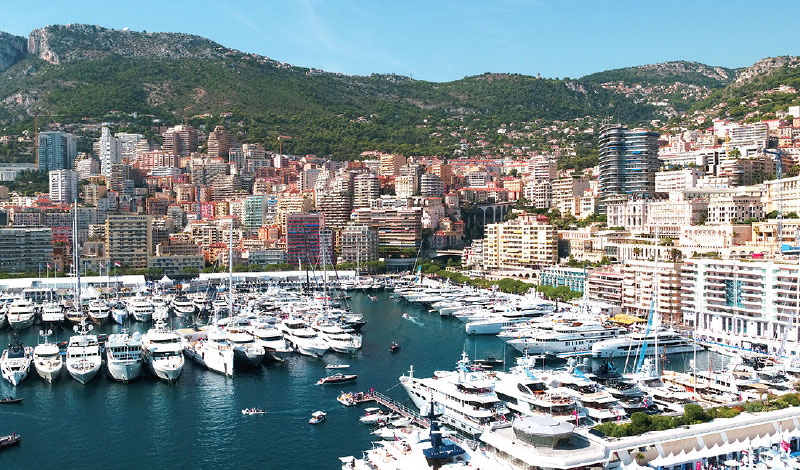 The world's grandest yacht exhibition, the Monaco Yacht Show, returns with more events, a bigger attendance, and of course, more yachts.
Since ancient times, the Port of Hercules has been home to many a vessel that has entered its shores. Undergoing various renovations over centuries, the Port is well known for being an entry point into gorgeous Monaco. For the past 27 years, the only deep-water port in the French Riveira has hosted the luxurious Monaco Yacht Show (MYS).
Taking place over 4 days, the MYS is the world's greatest superyacht event. Electric golf carts and shuttle boats are used to transport people around the massive event, which spans various historic exhibition areas, including Darse Sud, Parvis Piscine, Quai Albert Ier and Quai Antoine Ier. The MYS combines the cultivation of historical landmarks with the newest inventions in yachting, forming a new storied history to the already classic location.
Boasting an impressive 125 superyachts and a steadily rising attendance, the MYS is the absolute finest in yacht exhibition. At this year's event, more than 36,000 people participated, coming from all over the planet. An exclusive Gala Party, press conferences, cocktails on yachts and stands and private evening receptions are a mere sampling of the 150-plus private events that the exhibition hosted. Two of the biggest and most enthralling events are the Car Deck and Tenders & Toys.
The Car Deck introduced 16 exclusive thoroughbred automobiles from the likes of Bentley, Aston Martin, Lamborghini and more, along with classic cars from Mercedes-Benz and Shelby, all integrally rebuilt. MYS brings together the natural convergence of luxury cars and yachting, for those who appreciate the craftsmanship and prestige of rare items.
Tenders & Toys presented the hottest new luxury tender and water toys on the market, aimed at a younger clientele who enjoy leisure activities while yachting, which is experiencing a prominent boom.
With no plans of slowing down, the MYS intends to continue growing next year, with grander and greater luxurious spaces, and bigger and better yachts on the horizon.
photos courtesy of monaco yacht show 2017