The Taste Of Quality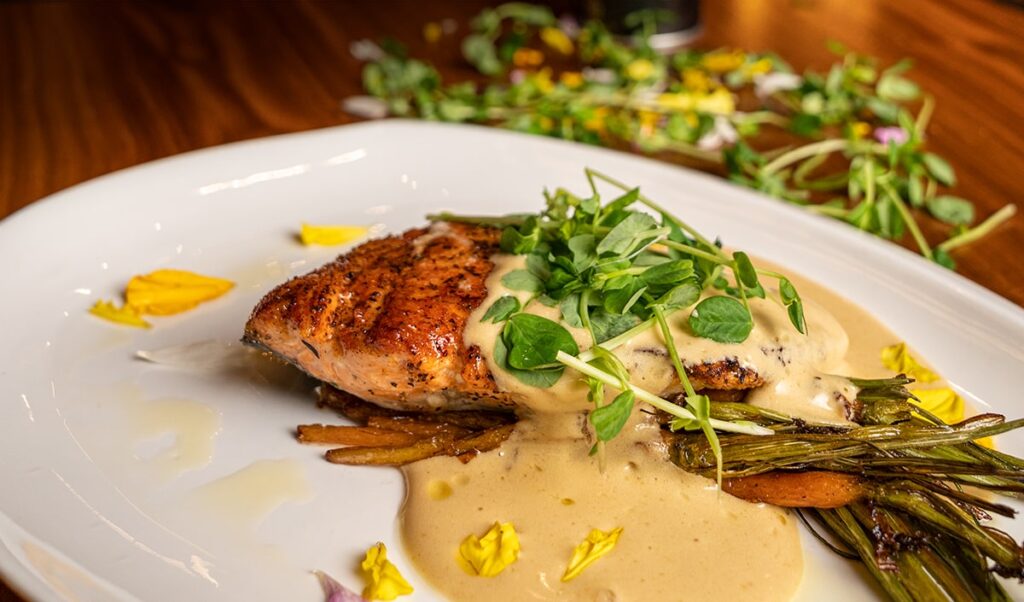 The superior quality of Zerillo Premium Extra Virgin Olive Oil is the result of ideal terroir, the highest standards of production, and a family's passion and dedication to a centuries-old craft.
Ask any chef and they will tell you: "The secret to any good dish lies in its ingredients." That's because no matter how much skill and creativity is put into preparing a dish, without quality ingredients the dish will not reach its full flavour potential. Quality ingredients simply bring out the best in a dish.
Using a quality ingredient begins with knowing exactly where and how it was produced. Zerillo Premium Extra Virgin Olive Oil comes with a guarantee of exceptional provenance and high standards of production that are deeply rooted in tradition. Olives are harvested from centuries-old olive groves in the Apulian countryside, known as one of the best olive oil-producing regions in the world. Zerillo Premium Extra Virgin Olive Oil imparts a true taste of place — a terroir featuring clay-rich soil and a moderate climate with sunshine all year round. At Azienda Agricola Fratelli Zerillo, olives are picked strictly by hand. They are taken from the field to the mill within 48 hours of harvesting, before oxidation and fermentation can occur, to ensure that quality is not compromised. The olive-oil production process is solely mechanical and uses no chemicals, preserving and enhancing the characteristics of the olives and resulting oil. The oil is obtained from the first pressing of the fruit, without the use of heat, keeping flavour and aroma intact, and retaining high levels of polyphenols and antioxidants. The result is a superior-quality extra virgin olive oil with a mild and fruity flavour, pleasantly bitter and with fresh notes of citrus. Zerillo Premium Extra Virgin Olive Oil is complex, yet soft and sweet on the palate.
"The Secret To Any Good Dish Lies In Its Ingredients"
When it comes to cooking, fat is an essential element. Whether it's animal fat, butter or oil, the power of fat should be harnessed. Fat binds ingredients together, it enhances flavour and it produces richness and depth in a dish. Fat is used as a cooking medium, imparting flavour and allowing other ingredients to soften and release their natural flavours. Fat is used as a seasoning. Fat adds texture to a dish — crispiness, flakiness, creaminess. Fat makes food delicious. Of course, one of the most indispensable fats in any kitchen is olive oil. A kitchen staple used by home cooks and professionals alike, olive oil defines the flavour of a dish. The superior quality of Zerillo Premium Extra Virgin Olive Oil sets it apart, allowing the flavours of a dish to shine, and corporate chef Claudio Tentenni of Giro D'Italia restaurant agrees. Giro D'Italia specializes in authentic Italian cuisine, with most ingredients imported from Italy. Chef Tentenni and his talented kitchen team — Emanuele, Gianluigi, Giulianno, Paolo, Vinny, Antonio and Renis — came together to create a dish that highlights the quality and flavour of Zerillo Premium Extra Virgin Olive Oil. The result: pan-seared Atlantic salmon with housemade Zerillo Premium Extra Virgin Olive Oil and Marsala zabaglione. Pan-searing the fish seals its juices and forms a delicious crust, with flavour imparted by the fruity notes of Zerillo Premium Extra Virgin Olive Oil. Soft and mild, the oil is a perfect complement to the delicate flavour of the fish. As a main ingredient and seasoning in the zabaglione sauce, Zerillo Premium Extra Virgin Olive Oil adds a rich and delicious layer of creaminess, with sweetness from the fortified wine striking a perfect balance with the rich, buttery flavour of the salmon.
Today, Nicola and Giovanni Zerillo are the third generation of the Zerillo family of olive growers. Continuing the legacy that their grandparents began 100 years ago, their product is a true reflection of their passion and dedication to the tradition and craft of making olive oil and to their deep connection to the land. Their commitment to offering exceptional taste and quality is evidenced in Zerillo Premium Extra Virgin Olive Oil. The olive tree grows slowly over time, with strength, resilience and generosity, and so too have the branches of the Zerillo family slowly grown and extended their reach to North America. It is here that Dolce has been sharing a love of food and family with our community for 26 years, so it is only natural that we wish to share this exceptional product with you, too. It is in the same vein that the Zerillo forebears shared the fruits of their labour with their family and friends when they arrived in Foggia, in the Apulian countryside, and began cultivating the land one century ago.
Rich and complex, yet elegant and mild, Zerillo Premium Extra Virgin Olive Oil offers versatility that covers all culinary needs. A perfect cooking, flavouring and finishing oil, extracted from olives grown in ideal terroir and using the highest standards of production, Zerillo Premium Extra Virgin Olive Oil provides the stamp of quality needed to bring out the best flavours in any dish.
---
Pan-Seared Atlantic Salmon, with House-Made Zerillo Premium Extra Virgin Olive Oil and Marsala Zabaglione
INGREDIENTS
8 ounces, plus 2 teaspoons
Zerillo Premium Extra Virgin Olive Oil
1 salmon fillet, skin on
1 clove garlic
1/2 teaspoon clarified butter
One sprig fresh rosemary
One sprig fresh thyme
2 ounces Marsala wine
2 egg yolks
2 pinches sugar
Salt
Your choice of roasted vegetables
Edible flowers
DIRECTIONS
1. Preheat oven to 400°F/200°C
2. Season salmon with salt.
3. Heat 2 teaspoons of olive oil in a non-stick oven-proof skillet over medium-high heat.
4. Add garlic, rosemary, thyme and clarified butter, and then fry for 30 seconds to release flavours.
5. Add salmon, flesh-side down, and cook for 4-5 minutes until meat is seared, flipping it over for the last minute to brown and crisp the skin.
6. Transfer skillet to the preheated oven and continue cooking for 8-10 more minutes.
7. In the meantime, prepare the zabaglione sauce by whisking together the egg yolks, a pinch of salt, sugar and Marsala wine. Add 8 ounces of olive oil and whisk.
8. Prepare a bain-marie by filling a pot halfway with water and bringing it to a simmer.
9. Place bowl with zabaglione over the pot. The bottom of the bowl should not touch the simmering water. Continue whisking the mixture until it thickens and coats the back of a spoon.
10. Place roasted vegetables on a plate. Once the salmon is ready, take out of the oven, place it skin-side down on top of the vegetables, and pour the zabaglione sauce over the top.
11. Decorate with edible flowers.
Recipe courtesy of Giro D'Italia Ristorante, #16-8740 Jane St., Vaughan, ON