Fausto Di Berardino's Bottled Poetry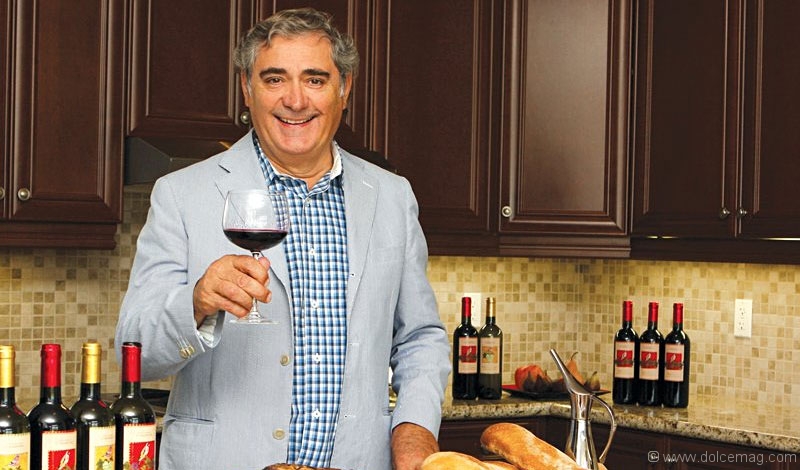 Victor Hugo once said that God made water but that man made wine. Great wine, however, rests in the synergy of humankind and nature, which harvests this perfected and civilized drink. Not much else exudes such class in a glass.
For accomplished restaurateur Fausto Di Berardino, the only ingredient missing from his life was producing fine wine. After years of hobnobbing with socialites and serving first-rate dishes to celebrities, he ventured into vineyards to find the perfect grape. "It is still vivid in my memory," says Di Berardino. "When I visited a vineyard in Italy the tranquility, silence and the smell of fresh-turned soil conquered my soul. I said to myself: 'One day, I want to own my own vineyard.'"
That day came eight years ago, when Di Berardino contented his long-time dream to produce red and white wines with the climactic beauty and unique soil of a decades-old vineyard in the Abruzzo region of central Italy.
While his posh eatery, Coppi Ristorante, bustles in Toronto, the setting of Di Berardino Winery rests upon the historic and famed green pastures of San Vito Chietino in the province of Chieti. In the past and to this day, San Vito entices inspiration within various artists, including the great works of renowned Italian poet Gabriele D'Annunzio. The coastal town of San Vito, rimmed by the romantic waters of the Adriatic Sea, is a place that only poetry can describe. Here, in 2002, Di Berardino uncovered bountiful land and untapped potential. "Starting my own winery represents an alternative to the busy life of a big city," explains Di Berardino, who is also the builder of Borgo del Guardiano, a development of luxury villas surrounded by the Adriatic coast.
Combining his penchant for nature with business acumen, Di Berardino unbottled his passion and poured it into a carafe. As a perfect companion to grilled lobster and lamb, Di Berardino's fine white Trebbiano DOC flows with fresh, slightly sparkling fruit scents of peach and pear, while hints of cherry plum decant through the Montepulciano DOC, a structured, well-balanced ruby red that stains your glass with violet reflections.
Like most vinologists, the complexity and unpredictability of nature did present itself as the biggest challenge Di Berardino had to face, but within a year the morning sun, ocean breeze and the fresh air sweeping off the Majella Mountain gave way to high-quality Trebbiano and Montepulciano grapes. Every day, agricultural experts and contadini nurture the grapes into plump varietals and vintages with the greatest respect, tradition and knowledge.
Starting my own winery represents an alternative to the busy life of a big city. – Fausto Di Berardino
An exclusive signature label circles each wine bottle with life and vibrancy – the perfect tribute to Di Berardino's lively wines. Designed by rising Italian artist Vittorio Bruni, the labels depict winding vines upon which a charming bird rests, to highlight Di Berardino's preservationist nature. A long-time bird breeder, Di Berardino supports the Lega Italiana Protezione Uccelli, a foundation that aims to protect bird reproductions in Europe.
With every sip, Di Berardino's wines entice pleasure while commemorating a celebratory past. The picturesque village of San Vito, bordered by the Roman town of Ortona, is a place where Canadians fought in 1943. The Battle of Ortona became one of Canada's most triumphant victories during World War II.
During its third year in production, Di Berardino Winery produced 80,000 bottles of Montepulciano D'Abruzzo and Trebbiano D'Abruzzo DOC, which are now served in refined establishments across Italy, Germany and Canada. "The satisfaction of being in a sophisticated restaurant and the table next to me has a bottle of my wine is what excites me," says Di Berardino.
www.diberardinowinery.com
To order, contact Atlantic Specialties at 416.827.3008