George Clooney & John Pendergrast: Nourishing the Seed of Hope in Sudan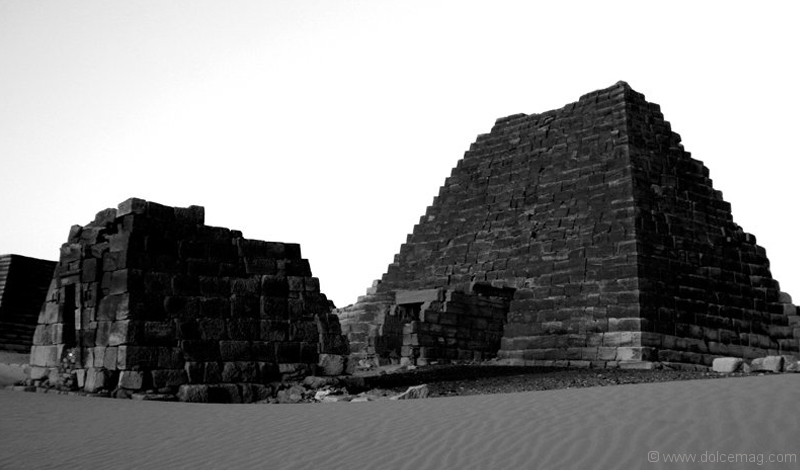 While trying to prevent war and potential genocide in Sudan, George Clooney endured uncharacteristic living conditions for a movie star of his stature. He braved an electrical storm while aboard a small aircraft, he tolerated mice-infested African huts, he used a toilet that had frogs jumping in and out, and it was all for the greater good.
Most of this admirable work done by the actor/activist has taken place alongside the dutiful humanitarian John Pendergrast, co-founder of Enough Project, a Washington-based anti-genocide organization that carries out a large amount of its work in Darfur and Congo. Together, Pendergrast and Clooney visited many rural villages, none more significant than the oil-rich region of Abyei, which has the highest probability of an outbreak of violence (once again, our crude dependence on what is underground puts life above ground at risk).
From there, with Pendergrast by his side, Clooney spoke candidly about the situation in Sudan on CNN's Larry King Live. "These people have been captured, sold, tortured, raped and murdered. They believe that they have a right for independence now, and that the international community agreed to it. They believe that they are going to have that independence starting on the 9th of January, 2011 … they are willing to fight and die for that freedom." In an interview with NBC's Ann Curry, Clooney asked, "If I said to you that there's going to be an earthquake and 200,000 people are going to be killed, what would you do?"
For decades, the people of South Sudan have tried to free themselves from the suffocating hold of the North. The 22-year Second Sudanese Civil War ended in 2005 with the signing of the Comprehensive Peace Agreement (CPA). Throughout that time, war and famine consumed the lives of nearly two million people (the highest death toll since World War II) and displaced another four million throughout Africa and abroad. Remnants of the war remain; it is estimated that 200,000 women and children from South Sudan were allegedly abducted during the civil war by northern clans and placed into slavery rings all across the world. The "lost generation" is a term that humanitarians use to describe the consequences of the conflict that took place in Sudan. The key component of the CPA was the independence vote set five years in the future that would allow the south to secede from the north. That vote is less than 30 days from now.
Sudan's current president and indicted war criminal Omar al-Bashir, is the man accused of allowing the crimes against humanity to occur. Abuse of human rights, injustice and sedition are nothing new for President Bashir, who has ruled Sudan with an iron fist ever since he assumed office through a bloodless military coup in 1989. Since 2005, the promised peace process has not stopped the last bullet from being fired or the last house from being burned down. The violent loss of human rights has rolled through southern Sudanese villages, leaving a bloodstained trail that leads back to Khartoum. In spite of all that has taken place, Clooney and Pendergrast believe that change is possible.
With the possibility of a third civil war or genocide, the UN rallied, the international community joined the fight and unknown heroes like Pendergrast and well-known faces like Clooney rose up for a country that was on the brink of falling apart for a third time. The largely Christian south demanded autonomy in the past but their dreams were crushed by the Arab-Muslim dominance of the north. Pendergrast and Clooney are part of a movement geared towards giving the southern Sudanese the well-deserved opportunity to achieve independence.
With Clooney's support, the tireless humanitarian efforts of Pendergrast are finally paying off. He is gaining mainstream popularity, which has caused his posse of do-gooders to expand, cover more land and hopefully resolve more problems. One of their main missions, as stated by Pendergrast is "to hopefully build the political will to do more for peace." When asked whether massive public support is the only way for great humanitarian endeavours to succeed, Pendergrast said, "for the most part, yes; political will is generated by public interest."
Central Africa is one of the most saddening areas in the world. If all goes well, Sudan could offer hope to neighbouring countries at the end of what has been a persistent and sinister tunnel of despair for the entire region. As Pendergrast said, "If they [North and South Sudan] can figure out a way to avert a war and share resources, they could both support the development of the other. In a best-case scenario, a good relationship between North and South Sudan could be an engine of development for the entire region." In an interview with Charlie Gibson on CBS's The Early Show, Pendergrast added, "We didn't prevent Somalia, we didn't prevent Rwanda, we have an opportunity to prevent Sudan."
If Bashir should start conflict in the remaining 30 days, his arrogance will have to answer to the Western world. With more to lose than to gain, the Sudan Military Academy graduate has stayed quiet as of late. Voters are beginning to register for the upcoming referendum throughout Sudan.
It looks like Pendergrast's push and Clooney's voice are paying off. The registration in Juba this past November was a jubilant affair. Southern Sudan's incumbent president, Salva Kiir, was part of the festive atmosphere that included drummers and joyful Sudanese singers. Radio Netherlands Worldwide was present when Kiir proudly announced the victory his south is due to see. "We will vote on January 9," said Kiir. "People must come out en masse; otherwise, people would have been fighting and dying for no cause. The referendum is done only once."
As the referendum vote gets closer, the horizon is still vague for south Sudan. As Oxfam reports, "Southern Sudan is one of the least developed regions on Earth … with few roads and little infrastructure, the referendum is a logistical nightmare … the longer uncertainty drags on the more likely violence could flare up."
The United Nations Mission in Sudan (UNMIS) reports, "Voter registration in Southern Sudan was encouraging, but low turnouts in the North must be addressed."
While the future is uncertain, the nobility expressed by Clooney, Pendergrast and the other unnamed champions of peace continues to nourish the seed of hope for the southern Sudanese. As Pendergrast made clear, public pressure can insight political action and force governments to recognize those who are too often ignored.
Sudan needs to come together and give one final push in order to coagulate the rampant corruption and anguish in
Central Africa. A new foundation in Sudan has the possibility to create opportunities for the current and future generations of Central Africa.
For more information, go to the enoughproject.org website or sudanactionnow.org to sign a petition that will end up on the desks of Deputy National Security Advisor Denis McDonough and President Barack Obama.