Grape Expectations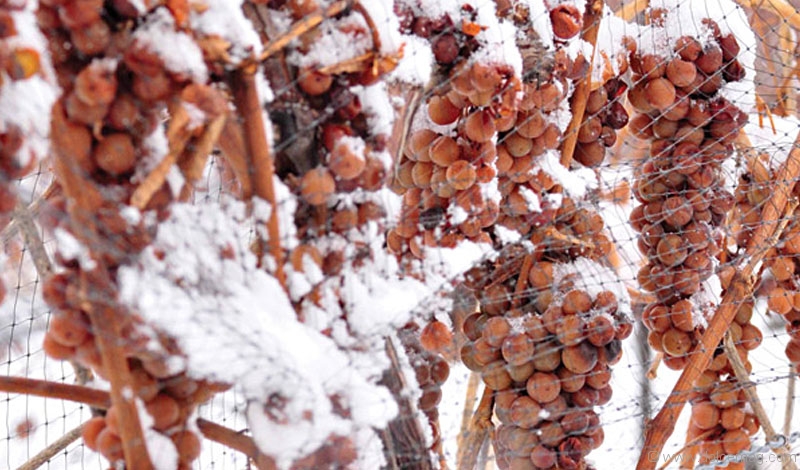 In the dead of a winter's night gripped by an icy breath, we hunker down by the fireplace, dreaming of heated days with good company and great wine. Yet it's these dreaded conditions that help to sweeten our summer, when frigid hours of darkness provide an opportune time for winemakers to produce a favoured Canadian luxury. It's a magical experience dictated by the weather, with last year's unusual winter delivering bittersweet conclusions. "Most years we pick very easily, but it was just such a mild winter that we didn't have many choices – we picked when we could," says Charles Pillitteri of Pillitteri Estates Winery, the largest estate producer of icewine in the world, exporting its product to 32 countries. The CEO and president of the family run success story adds that on an average year, the château will produce anywhere from 700 up to 1,000 tonnes of icewine, but the winter of 2011 generated half of that number. Ontario icewine gets a taste of Mother Nature.
"We didn't get everything we wanted because we didn't have enough cold days … but the consumer is going to be happy with the quality overall."
Icewine is an intense, first rate summer staple produced from frozen grape varieties that are picked by hand or with a harvesting machine at nighttime. Ontario's Niagara region, heralded around the world for its ideal climate, is considered the leading producer of the premium dessert wine. Necessary requirements for icewine production in Canada include grapes picked at a temperature of -8 C between the months of December through to March, and a minimum sugar content of 35 Brix. The intricate process is verified by the regulatory body VQA Ontario, which is responsible for testing and certifying Ontario wines and label claims.
According to Gina Ressler, a meteriologist at The Weather Network, only eight nights in December 2011 to March 2012 registered the ideal temperature of -8 C, compared to 28 nights of that temperature in the winter of 2010-11."From a Canadian perspective, we virtually didn't have a winter this year. I wouldn't say it was extreme by any stretch, but there were moments when we were certainly getting a little frustrated with Mother Nature, hoping she would be able to change her trajectory," says Brian Schmidt, winemaker and vice-president of Vineland Estates Winery.
Despite last winter's mild winter temperatures, which minimized the number of days available to harvest, VQA executive director Laurie MacDonald explains that production numbers are also affected by the size of a winery's crop, its decisions of when to pick and the location of its vineyards. "I know there was a lot of anxiety among the producers because they had less time this year to harvest; less 'windows of opportunity' when the temperature was less than -8 C but last winter was not like that," she says, adding that Ontario icewine juice registered for the 2011 vintage was more than 600,000litres, up considerably from 2010. "What we see from our perspective as a regulator is that the icewine business is still very strong."
Schmidt praises the thick-skinned grape variety Vidal for sustaining icewine production last winter, whereas sensitive varieties such as Riesling, Cabernet Sauvignon and Cabernet Franc weren't as resilient. "We definitely saw some loss of production, in some cases 20 to 30 percent, or so." A third-generation winegrower, Schmidt is all-too-familiar with the hardship and acclaim that comes with making Canada's famed icewine. "There were challenges, absolutely, but we have challenges every year – it's just a part of winemaking."
www.winecountryontario.ca
www.pillitteri.com
www.vqaontario.com
www.vineland.com