Dining Alfresco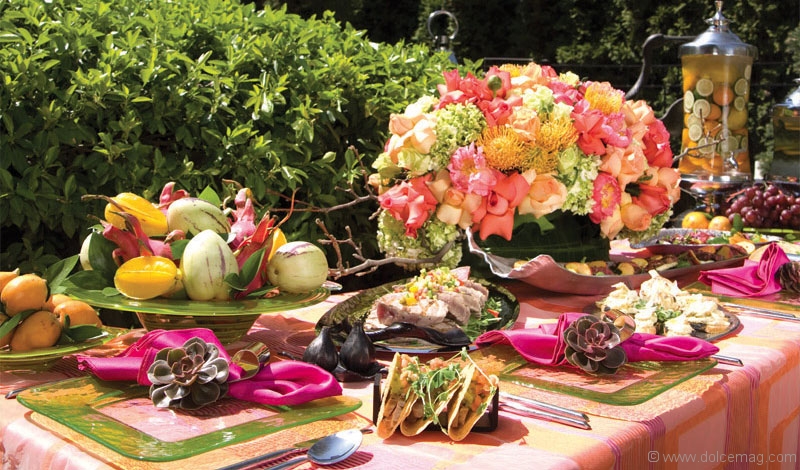 Get the Look
Create a sizzling summer party with the bright hues of coral, tangerine and yellow. Accent this citrus palette with chartreuse green, a complement to the natural beauty of your backyard. Match your table décor with exotic fruits, and add some fresh slices to your water decanters for sweet flavour and a special touch. Make your outdoor luncheon one to remember by bringing attention to your delicious dishes and drinks with bold table settings and beautiful flowers.
Grilled Ahi Tuna with a Cherry Tomato Avocado Salsa Ingredient
50 grams cherry tomatoes cut in half
50 grams Persian cucumber, de-seeded
50 grams ripe avocado
30 grams celery
25 grams red onion
25 grams red pepper
1 teaspoon cilantro, chopped
½ piece chili, chopped
1 tbsp rice wine vinegar
2 tbsp olive oil
1 tsp honey
1 ear of corn grilled, then kernels cut off ear by knife
1 large lime, juiced / Salt and pepper to taste

Direction
1. Chop all vegetable ingredients into ½ cm cubes.
2. Mix all together with the wet ingredients. Marinate and season with salt and pepper. For best results, make at least 2 hours in advance.
---
Grilled Ahi Tuna Ingredients
1 lb Ahi tuna sushi grade, cracked peppercorns, Kosher salt, olive oil

Directions
1. Cut tuna into 1.5 inch squared strips.
2. Crack peppercorns with bottom of frying pan or use a food processor on pulse (medium grind) and season tuna with pepper, salt and olive oil.
3. Grill at high temperature, 25 – 30 seconds each side. Serve rare.
4. Slice and serve with salsa.
The Grilled Ahi Tuna dish may be served plain or in taco shells.
---
Creamy Artichoke and Pecorino Cheese Crostini
Ingredients
6 slices French baguette, pre-toasted with olive oil and baked at 300 F for 4 –
5 minutes
½ lb marinated artichokes strained and dried
1 shallot, diced
1 cup cream, 35%
2 tbsp butter, unsalted
2 tbsp roasted garlic
25 grams Pecorino Romano shaved
1 tbsp fresh oregano
Salt and pepper to taste
Directions
1. Melt butter and sauté shallot and garlic. Add artichokes and sauté for 1 – 2 minutes.
2. Add cream and reduce flame. Cook for 15 – 20 minutes on low heat.
3. Purée mixture and add oregano, salt and pepper.
4. Spoon mixture over crostini, add shaved pecorino shavings and drizzle with extra-virgin olive oil.
---
Grilled Beef Bavette, Grilled Asparagus, Peach and Arugula
1 piece beef bavet (can be substituted with Pusateri's Flat House Steak)
1 tbsp Mexican chili spice
1 tbsp brown sugar
2 tbsp olive oil
Kosher salt and cracked pepper to taste
Marinate bavet with all spices and oil for 3 – 4 hours.
2 pieces ripe peaches, slice just before plating
200 grams wild arugula
¼ piece red onion, sliced thinly
1 lb grilled asparagus, trimmed and tossed in olive oil salt and pepper
Key Lime Dressing
1 tbsp Pommery mustard
1 tsp honey
2 tbsp Key Lime Perel vinegar
½ cup olive oil
Salt and pepper
Mix all ingredients in a bowl and stir until all are combined.

Directions
1. Have all ingredients ready and prepped, then barbeque the bavet on a hot grill to sear, then transfer to medium heat and cook for 3 – 5 minutes on each side. Cook to medium rare.
2. Let meat rest for 8 – 10 minutes, then slice thin against the grain.
3. Grill marinated asparagus from raw till cooked al dente.
4. Arrange platter with asparagus, arugula and sliced beef, then add sliced peaches. Drizzle with key lime dressing.
---
Lemon Blueberry Mascarpone Parfait
1 container mascarpone cheese
1/2 tbsp lemon extract
500 ml 35% cream
100 grams sugar
1 pint blueberries
75 grams sugar
50 ml red wine
1 pack pizzelle or Pavesini
100 grams icing sugar
Directions
1. Whip cream in mixer with icing sugar and lemon extract till high peaks form.
2. Add room temperature mascarpone and continue to whip for 2 – 3 minutes. Cover and refrigerate.
3. In a pan, heat red wine and sugar for 2 – 4 minutes until syrup texture is achieved. Add blueberries and simmer until reduced. Cool and add to mascarpone mousse.
4. Garnish with Pavesini cookies or pizzelle.
Chef Tony Cammalleri is not credited on this page, can we pull the following tagline from the magazine:
All recipes were designed for Dolce's Dining Alfesco feature by executive chef Tony Cammalleri of Pusateri's Fine Foods.