Havergal College – Toronto's Premier Girls School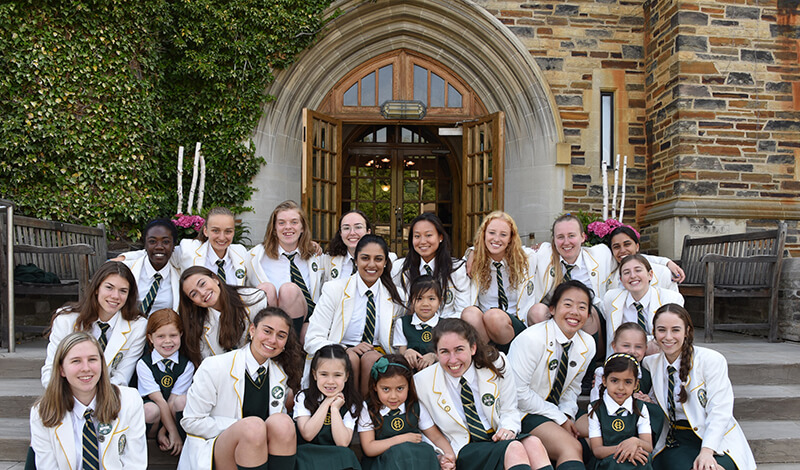 Education lies at the very foundation of everyone's fated journey to understanding the world around them. For young girls that can be filled with challenges, but Havergal College has been committed to teaching young girls and helping them discover their own identities since its foundation in 1894.
"Our girls are asked the question, 'What are you going to do?' — with the intent that they can do anything, they can ask questions, they can find what their passions are about," says Maggie Houston-White, Executive Director of Enrolment Management at Havergal College. "They get an education here that allows them to be deep thinkers, to really understand deeply the subject matter that they're studying, but also allows them to really delve into the things that they're interested in, not just the things that they need to know but the things that they want to know."
Havergal College is one of Toronto's longstanding landmarks. Located at Lawrence Avenue and Avenue Road, this ivy-clad estate is one of the top choices for girls across Canada and, in fact, the world when it comes to acquiring their education. With a junior school, an upper school and even a boarding component, Havergal has it all.
The college is guided by its leading values: courage, compassion, inquiry and integrity. These have been integral factors at Havergal since its inception and are crucial to the development of its students. With a dedicated faculty and staff that are carefully selected, the college's girls are provided with incredible role models who are prepared to supply them with an education that will help them reach their full potential.
Located on 22 acres, the college takes full advantage of the space with two outdoor classrooms, tennis courts, woodland paths and playing fields on top of its two schools and boarding facilities, which highlight both heritage and modern architecture. Currently, Havergal is even undergoing construction as it is building additional facilities to expand its art, STEM, music and health and well-being programs as well as widen the possibilities for groups, clubs and learning opportunities for the girls.
Havergal also values the community and has multiple community partnerships through which students can give back and volunteer. "Havergal's always been very much about community, not just a Havergal community and celebrating that but celebrating the community that we live in," says Houston-White. "We really believe in the importance of giving back and in instilling a sense of philanthropy within our girls so that they know the value of being part of a community and in giving back to the community."
With over 9,500 girls comprising its alumni and celebrating its 125th anniversary this January, Havergal has made its mark in the world of education, acting as a leader in girl's education and continuously striving to reach new heights, all while staying true to the foundations of the college.