Living Your Best Life – Executive Health Centre Founder Dr. Elaine Chin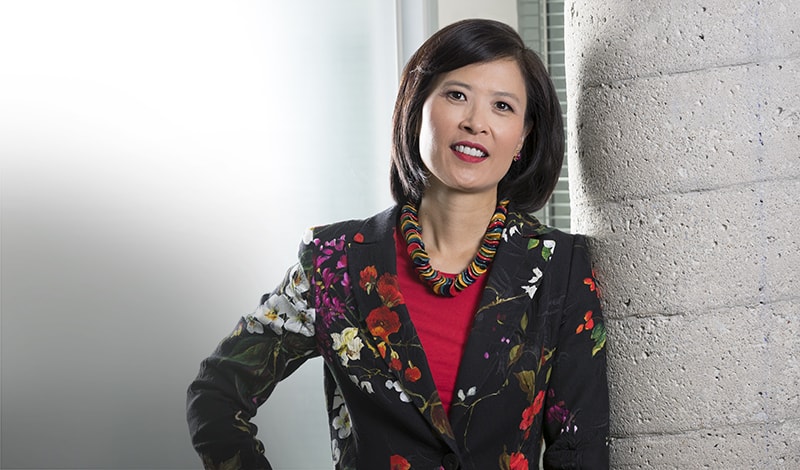 When it comes to health, Elaine Chin — medical doctor, health coach, corporate wellness consultant, entrepreneur and bestselling author — says we are doing it all wrong. Instead of treating symptoms and waiting to pour millions of dollars into care near the end of our lives, we need to take a proactive and preventative approach. And that is exactly what the Executive Health Centre is doing — with action plans, leveraging biotechnology for early detection and integrating universal knowledge to help clients live the best life possible.
---
Formative moments in our lives shape us into the people we are today. Take Dr. Elaine Chin. When she was completing her residency at Toronto General Hospital, her own mother became ill, so she took a year off to help her parents out, while working in a practice serving nursing and retirement homes. "I had never seen this — people just lying in their beds, waiting to die," she says. "I said to myself, 'I have to figure this out, I need to fix this disease care system into a true health care system.'"
"My goal is to empower clients to live a long and healthy life that is disease- and disability-free"
HOW IT ALL STARTED
Realizing the solution wasn't coming from public health, Dr. Chin went to business school because she felt the best way to positively change the health care system was to look at it differently, through the practical lens of a business operator. And that is how, eventually, the Executive Health Centre came to be. "In business, no one waits around for something to happen, yet that is what the medical model does today," she says. "Why are we still using stethoscopes when an MRI can get a 3D view to look at your heart valves, plaque in your coronary arteries and see how well it's beating?"
HOW IS THE EXECUTIVE HEALTH CENTRE DIFFERENT?
At the Executive Health Centre in Toronto, Dr. Chin takes care of busy professionals who are too busy to take care of themselves. With each client, she starts with a biometric assessment that provides scientific insight into the health of her patient. As she says, the numbers don't lie and they are used to develop a customized action plan that tracks performance over time. She equates her work to that of a financial planner — the action we take now is not just for today, but also for tomorrow.
As the author of Lifelines: Unlock the Secrets of Your Telomeres for a Longer, Healthier Life, she knows what she's talking about. She harnesses the power of the technology we have today for robust results and integrates this with diet and lifestyle information; naturopathic medicine and the potential of supplements; Eastern philosophies like mindfulness to manage stress; and even wearable technology with apps to measure your heartbeat and the quality of your sleep, for example. The company's motto? Prevention is the best cure.
Dr. Chin likes to start with a baseline of biometric tests, including genetics, hormones, neurotransmitters, nutrient profiles and more to understand core risk factors, then to discuss a customized action plan for the client. It's a holistic view, she stresses, with the ability to pull in other experts as needed. "The goal is to improve and maintain overall health and wellness by tracking biometrics and adjusting your custom action plan to reduce disease risk," she says.
WHAT'S UP FOR THE FUTURE?
Clients visit the clinic every four months to review and track their progress. But what about clients who can't do that? That's the impetus for the Centre's latest online offering, Health-in-a-Box. "With Health-in-a-Box, we're able to deliver an online preventative healthcare program on an IT platform for the mass market that's also appealing for our out-of-town clients or those with global obligations," she says. "Now clients can be kept on track via video conferencing, and our proprietary patient health record platform means we can track and share health information securely and in real time."
New Health-in-a-Box clients are sent home biometric self-testing kits, which come with simple instructions for collecting their lab samples. "Once the client completes their test, they securely ship their sample to our labs, where results are shared with our team of health experts for review with our clients," says Dr. Chin. "Recently, an entire senior executive team in the States was enrolled in a customized program, and their results reviewed virtually by videoconference with a medical and naturopathic doctor. Then they received follow-up with a nutritionist, fitness trainer and life coach to keep them on track."
The reality is that most of the money spent on health care now is spent on disease care near the end of our lives, says Dr. Chin. "My goal is to empower clients to live a long and healthy life that is disease- and disability-free," she says.
www.drelainechin.com
www.executivehealthcentre.com
www.twitter.com/drelainechin