Love, Love Me Do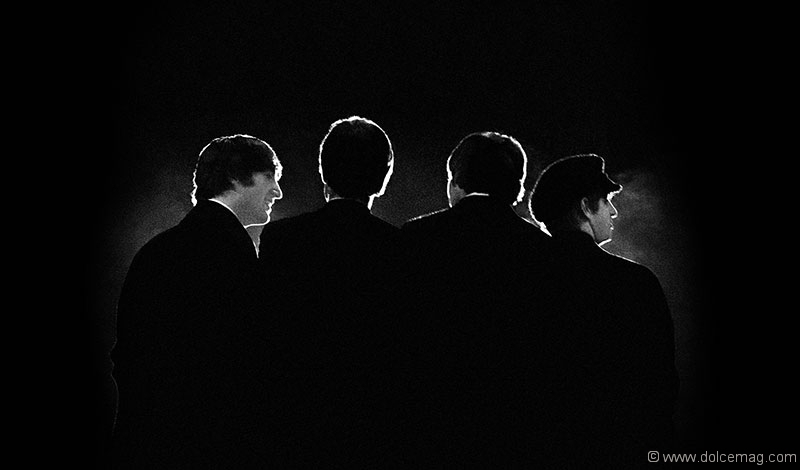 Before Beatlemania swept the globe and led the British Invasion onto American soil; before the Fab Four sold out Shea Stadium, setting concert attendance records, proving large-scale outdoor concerts were viable and profitable; before Sgt. Pepper and his Lonely Hearts Club Band dabbled with mind-altering substances and reinvented the studio album, transforming it into a legitimate art form; before they became the world's highest selling artists, and before that iconic rooftop concert on Apple Records – their last public performance as a group – one song set the stage for The Beatles' triumphant rise: Love Me Do.
It's a heartfelt tune pleading for returned affection, introduced by John Lennon's
bluesy harmonica, set to an upbeat melody and a dawdling bass. "You know I love you," Paul McCartney sings. "I'll always be true," he insists – a sentiment made all the more sincere with Lennon's harmonizing support. It's a simple song, first conceived in McCartney's father's basement during afternoons of skipped classes in the late 1950s. It was one of the earliest expeditions into song writing by the Lennon-McCartney partnership; unspectacular but theirs, and that's what mattered.
"I think we sussed early on that we weren't going to get anywhere unless we were different," says McCartney in The Beatles Anthology, a collection of historical interviews, photos and quotes from and about the band. "Because if you weren't original, you could get stranded."
Originality, at the time, was as rare as a record deal. Bands of that era traditionally didn't write their own music. Their catalogues would consist heavily of covers by established musicians or songs composed by professional tunesmiths to match their style. The Beatles' early repertoire, for example, was comprised of a variety of blues and R and B covers, including tracks by Ray Charles, Little Richard, James Ray, Frank Ifield, Fats Waller and The Isley Brothers, among others. As The Beatles' lead guitarist, the late George Harrison, explained in Anthology, "That was the thing to do if you didn't have a tune: just rock up an oldie." But the boys didn't want to be a fad, a one-hit wonder. And that meant composing originals.
For renowned Beatles expert Bruce Spizer, author of eight books on the band, including the recent Beatles For Sale on Parlophone Records, this is one of the most significant qualities of the iconic British rockers. "They never really played it safe," he says, describing how each album was distinct, pushed the envelope and offered a spectrum of constantly changing tracks. When a new release belted through the radio, it was always an exciting time. From the modest teenage sentiments expressed in I Want to Hold Your Hand to the melancholic melody of Yesterday, to the dream-like journey through Strawberry Fields Forever to the smooth, gritty, urban vibe of Come Together, the experience was as magical as their Mystery Tour.
And it wasn't just a case of innovation. As Spizer explains, just months after the release of the drug-driven Magical Mystery Tour and nearly a year after their psychedelic masterpiece Sgt. Pepper's Lonely Hearts Club Band, Lady Madonna hit the airwaves. It was clear-cut, piano-driven rock and roll. "They certainly weren't predictable," he adds.
But before they could take music on a paradigm-shifting journey, the four lads from Liverpool needed a record deal. They spent years strumming and jamming and slumming it in small, seedy venues, trying to catch that big break. The most crucial time being their second stint in Hamburg, Germany. They played for rowdy crowds of heavy rock-loving Germans, their gangster countrymen, drunken British solders and promiscuous women. Nights of bloody brawls, excessive drinking and 12-hour, preludin-fuelled performances – where they played one hour on, one hour off, often till the break of dawn, seven days a week – were standard. They slept (when they slept) in a cold, dark storeroom conveniently located next to the ladies lavatory in the back of a local cinema, the Bambi Kino. It was the authentic rock 'n' roll lifestyle personified. But after two months in squalor, the boys returned to English soil, gaunt and weary. While exhausting, these wild, marathon shows were essential to the boys' musical tutelage. Lennon, who passed away in 1980, is quoted in Anthology, saying, "It was Hamburg that did it. That's where we really developed."
It was also one of the first instances where they dared introduce their own work – a decision Lennon described as "quite traumatic." They were already rocking out other artists' tunes as tightly as the originators and the crowds adored it. Love Me Do "was the first one we dared do of our own," he said. "We thought our numbers were a bit wet. But we gradually broke that down and decided to try them."'
Brian Epstein, who ran his father's highly successful Liverpool music store, soon approached The Beatles, and they agreed to bring him on as their manager. He cleaned up their image, tossing out their preferred duds of leather jackets and blue jeans – a Marlon Brando look the boys emulated emphatically – for turtlenecks and slacks, and eventually matching suits. If they wanted to make it they would also need to act more professionally: no more swearing, eating or smoking onstage, and showing up on time for
gigs was a must.
When The Beatles eventually made the leap to stardom, this clean-cut image was a major factor. Unlike the slick-haired, pelvis-thrusting Elvis – a man both Lennon and McCartney greatly admired and the reason for Lennon's head-first dive into music – The Beatles were handsomely clad, non-threatening pop stars; appealing to both screaming teenage girls and their parents alike.
Most importantly, Epstein's suggestions paid off with an audition at Decca Records, a prominent British music label. Decca, however, rejected The Beatles. This infamous blunder – now simply known as the Decca Audition – is considered one of the most significant gaffes in the history of music. Luckily, Epstein quickly secured a second audition with EMI's Parlophone label.
It was early June in 1962, when Lennon, McCartney, Harrison and their then-drummer Pete Best found themselves in EMI Studios (later renamed Abbey Road Studio in 1970) for their commercial test. They played an assortment of songs for producer George Martin, which included Love Me Do. "Love Me Do was the one that caught the attention of Martin," says Spizer. Known for producing smaller acts – "scrag ends", as McCartney describes – Martin had achieved only several minor successes. But he took hold of the session and made several critical tweaks to Love Me Do. Initially, explains Spizer, the track was slower, but Martin felt upping the tempo would produce a superior sound. He also reassigned the lead vocals from Lennon to McCartney so Lennon's harmonica playing wouldn't overlap with his singing.
While these moves improved the song, Martin and his team weren't overly impressed with the audition; the weakest link being Pete Best's inadequate drumming. The band had previously discussed replacing Best over his lack of ability, and his failings at the audition were enough to expedite the process. They cut him loose.
To fill the vacancy, The Beatles turned to whom they considered was one of the best drummers in Liverpool: Richard Starkey, aka Ringo Starr. Starr was drumming with Rory Storm and The Hurricanes, but had played past shows with The Beatles when Best couldn't make a gig. He simply couldn't pass up the chance to be part of a record. In a passage taken from Anthology, Starr says: "A piece of plastic was like gold, was more than gold. You'd sell your soul to get on a little record."
The Beatles returned to EMI Studios on September 4, sans Best and with Ringo at the ready. Martin pitched a song written by tunesmith Mitch Murray titled How Do You Do It, instead of Love Me Do. The Beatles weren't keen. "We listened to the demo and said, 'It's a hit, George, but we've got a song, Love Me Do'. George said, 'I don't think yours is such a big hit.' We said, 'Yes, but it is us, and it is what we're about,'" says McCartney in Anthology. The boys reluctantly agreed, but played half-heartedly. Martin also unenthusiastically let them record Love Me Do again with Ringo on the drums.
But Martin still felt the song wasn't strong enough. He scheduled another recording session for September 11, where he left his assistant, Ron Richards, in charge. To the surprise of The Beatles, Richards brought in session drummer Andy White to guarantee a quality recording. "[Starr] was basically handed a tambourine for Love Me Do, which of course was a very awkward moment," says Spizer. The Beatles, with White on
drums, recorded Love Me Do a third time, but when the single was finally released on October 5, 1962 – with another one of their original songs, P.S. I Love You, on the B-side – the Starr version was used instead.
Interestingly enough, when The Beatles released their first album, Please Please Me in March 1963, the Andy White version was used.
In the UK, Love Me Do was met with modest success. It reached 17th on the charts and sold roughly 17,000 copies in 1962, selling another 100,000 copies before it was deleted from EMI's catalogue in the mid-1960s. Spizer estimates a near-mint, absolute first pressing of the single will fetch between $500 and $1,000 at auction. Not bad for a 50-year- old piece of vinyl.
In the U.S., Capital Records had a right of first refusal for Love Me Do and passed on the single – another industry blooper. When Capital finally released it to anxious American fans in April 1964 – after two
Beatles albums were already available in the UK, and only a few months before the release of their third, A Hard Day's Night – the single vaulted to No. 1 on the charts and sold over a million copies. "I think the main thing that was really different about Love Me Do was the fact that here were The Beatles, in a kind of do-it-yourself situation, in a day when normally the producer picked a song that you would do," says Spizer. "I think that was key." Indeed, it was a bold stance, but after all, Picasso wasn't a master because he painted by numbers.
Fifty years later, Love Me Do is still a song very much entwined in the Western ethos. It wasn't an earth-shaking hit, but it introduced the band to a wider audience and primed eager music lovers for the oncoming storm of Beatlemania. But most importantly, it was theirs: a legitimate creation, albeit a simple one, from the minds of young dreamers; a melody written from the heart, wrapped in the hopes of aspiring artists.
Today, what is there to say about The Beatles that hasn't already been said? They're one of the most enduring and influential bands to ever strike a chord. They shattered sales records, selling more albums than Elvis, Madonna and Michael Jackson, made writing your own material an expectation and reinvented what it meant to be a musician. The re-release of Abbey Road, their 11th studio album, for example, has been the highest selling vinyl in the U.S. for the past three years, and they were forever immortalized on the digital screen when The Beatles: Rock Band was released for gaming consoles in 2009 – a further testament to their generation- spanning longevity.
Every music lover has a favourite Beatles track – Spizer's favourite hit being Hey Jude, popular album track being In My Life, and obscure song, "if there is such a thing", being Across the Universe. Mine: I've Got a Feeling; the last great true collaboration between Lennon and McCartney. No band has influenced music and pop culture more than The Beatles, and it all started with a bluesy harmonica and the heartfelt crooning, "So plee-ee-ee-ease—love me do".