Luxury Real Estate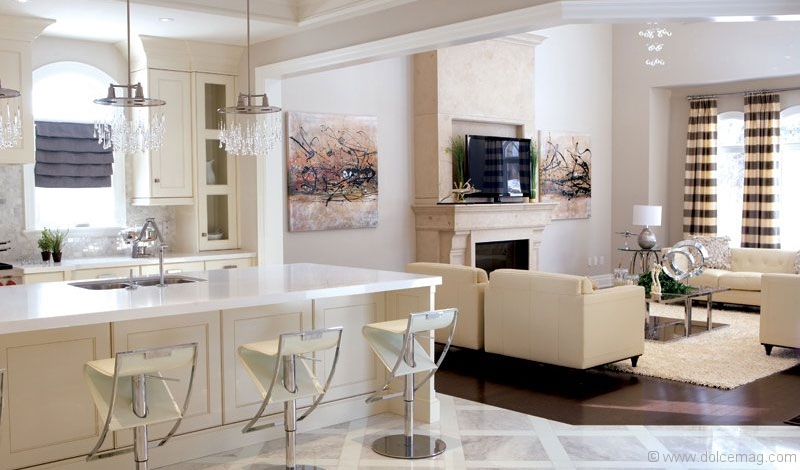 Italian isles, Spanish manors and Parisian apartments are just a few luxurious accomodations for you to peruse.
Kleinburg, Ont.
Developing commercial and residential properties since 1979, Quintessa Homes' latest venture – Kleinberg Reserve "on the boulevard" – offers spectacular residences amidst a private, green backdrop, yet is within arm's reach of all the amenities of a big city. These striking homes wrap charming contemporary interiors with an elegant exterior for a spectacular result.
Listing agent: Intercity Realty Inc., Brokerage
905.893.1988
Priced from C$1.5 million
www.quintessa.ca
Paris
On the prestigious Avenue Foch in the extravagant District 16 of Paris, France rests the apartment of your dreams. Built in 1900, and containing wood panels from the personal palace of Samuel Bernard – King Louis XV's private banker – this eight-bedroom, nine-bathroom apartment is a remnant of old-world luxury that will have you sing "c'est magnifique."
Listing agent: Marie-Helen Lundgreen
+33.153.238.181
Price available upon request
www.christiesrealestate.com
Saint Peter's Bay
On Barbados' stunning West Coast, comfort and magnificence rests in Saint Peter's Bay. Developed by Bjorn Bjerkhamn – one of Barbados' most respected entrepreneurs – spectacular beachfront residences offer a breathtaking view of the sparkling Caribbean Sea. Luxurious amenities such as concierge service, pool bar and beauty salon are inimitable.
As an added bonus, owners gain membership to the exclusive Port St. Charles Yacht Club. Prices start at $2.3 million for three-bedroom residences.
Listing agent: Tami Wilkinson
905.855.2200
Priced from US$2.3 million
www.stpetersbaybarbados.com
Hogg's Hollow, Toronto
Surrounded by a lush country setting, this magnificent private estate boasts traditional luxurious furnishings on a 9,000 sq. ft. lot. The elegant interior uses soft whites to accent deep hardwood floors and sparkling chandeliers. Boasting seven bedrooms and nine bathrooms, this fabulous home is complete with a spacious workout room, hardwood office, cosy entertainment room, outdoor firepit and pool.
Listing agent: Howard Lende
416.488.2875
Priced from C$6,995,000
www.luxuryrealestate.com
Majorca
On the Spanish island of Majorca, nestled among the rocky Tramuntana mountains, this monumental mansion is a heavenly haven amid the rugged surrounding terrain. With 31 bedrooms and 31 bathrooms, this revitalized retreat is a delightful display of classic Spanish architecture. From its classic dining room to its over 95-ft. swimming pool, this magnificent manor is a bastion reserved for the most affluent homebuyers.
Listing agent: Michael Perkins
+34.971.700.764
Priced from US$46 million
www.christiesrealestate.com
Paris
Originally constructed for the Duchess of Montmorency in 1912, this absolutely breathtaking Parisian manor is the epitome of luxury and elegance. This 12-bedroom, 12-bathroom palace contains a superbly painted ceiling in the dining room by the famous French artist Henri Rousseau.
Listing agent: Marie-Helene Lundgreen
+33.153.238.181
Priced from US$136 million
www.christiesrealestate.com
Forest Hill, Toronto
With four bedrooms, six bathrooms, wine cellar, gym, outdoor pool and more, this stunning custom-built Forest Hill home features towering ceilings, elaborate mouldings and beautiful woodwork, which showcases spectacular craftsmanship to the minutest detail.
Listing agent: Steven Wagman
416.824.4344
Priced from C$7,495,000
www.luxuryrealestate.com
Sardinia
Located on the dazzling coastal area of Costa Smeralda (literally the Emerald Coast), Italy, an exclusive and private island awaits. With four hectares of beautiful shoreline property surrounded by the glistening Mediterranean Sea, this unapologetically gorgeous isle is lined with white beaches, a private pier and contains a majestic villa with three double bedrooms, three bathrooms, dining room and a quaint terrace for outdoor entertaining.
Listing agent: Immobil Sarda
+39.0789.754.500
Price available upon request
www.luxuryportfolio.com
Houston, Texas
Inspired by the traditional villas of the sweeping Spanish plains, this magnificent Houston home adds an exquisite level of luxury to a classic look. The rich, inviting interior is complemented by deep mahogany doors, fully furnished hardwood kitchen and classically styled bathrooms, while a resort-style pool, secluded master bedroom and three-car garage provide added opulence.
This home is a classic, through and through.
Listing agent: Martha Turner Properties
713.558.3266
Priced from US$2.9 million
www.luxuryportfolio.com