The Pricey Grail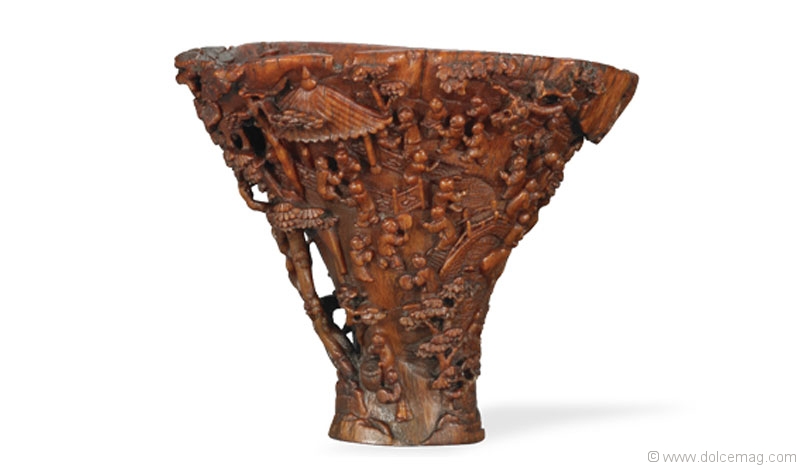 One person's junk is another's treasure. This past December, a Rhinoceros Horn Carved 'Hundred Boys' Libation Cup was sold for nearly $900,000 at Waddington's auction house in Toronto. Even more shocking, the cup was initially purchased for $1. Let me say that again: $1. That's a serious return on investment. "It's just a great story – buying it for $1 at a church yard sale 30 years ago, and then selling it for a record-breaking price," chuckles Anthony Wu, a specialist in Asian art for Waddington's.
For confidentiality reasons, the individual who put the cup up for auction cannot be named, but it was originally purchased at an Etobicoke, Ont. church yard sale in the 1980s. The woman selling the cup inherited it from her deceased husband, who received it from his grandfather – a British soldier who fought during the Second Boer War. "I knew that this was an extraordinary piece, and I knew that it was very rare. There was a similar piece that sold in Hong Kong … in May 2010 that went for US$2 million," explains Wu. "This one had some condition problems, it didn't have a signature and was a little bit smaller than what sold in Hong Kong, but I knew that this was an extraordinary piece."
This specific Rhinoceros Horn Carved 'Hundred Boys' Libation Cup is from the 17th century Qing Dynasty, and represents the customary Chinese tradition celebrating the continuation of a family line through a son. Today, these cups are extremely rare. With only between three-to-four-thousand published examples, these rhino horn cups are highly sought after by many mainland Chinese collectors. Understanding how highly coveted these cups are, Wu utilized some clever manoeuvering. "If I started too high, if I put maybe $200,000 – $300,000 on this piece, you are losing a lot of bidders. So rather then setting it too high, we set it ridiculously low at $40,000 – $60,000 just to attract more bidders," Wu explains.
Luckily, Wu's planning more than paid off. After some heated back-and-forth bidding, the cup broke the Canadian record for a Chinese decorative work of art, selling for $893,750. "It does happen, and for the most part it is luck, and it also depends on the specialist in charge, whether they've done their homework or found enough bidders," continues Wu. "This one was kind of my secret weapon. I've had it since August and I've been showing it to a lot of my dealers, a lot of my contacts – and not just in the U.S. and London, but also in Hong Kong and China – just to get them excited."
This almost unbelievable story demonstrates the financial opportunities modern auction houses present. Due to art's subjective nature, you can never be too sure what will fetch a hefty price, and although there are no lucrative guarantees, with careful planning, knowledge of art, monetary resources and patience, you too might be able to find that rewarding diamond in the rough.
www.waddingtons.ca