Objects of Desire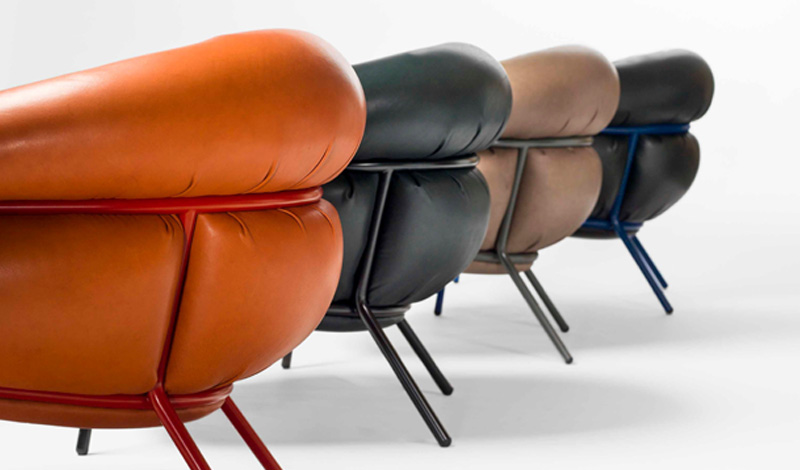 A collection of designs spanning jewelry, accessories, auto and art, curated with desire in mind.
1. ISABELLE THILTGÈS, LA GRANDE ENVOLÉE: Belgium-born artist Isabelle Thiltgès wants her sculptures to invite the viewer to travel. This piece, designed with the inclusion of a flying bird, gives wings to that actual idea, introducing thoughts of flight and freedom.
---
2. BIRKS BEE CHIC SIGNET RING: Bring home the beauty of bees with a signet ring that incorporates a bee motif and delicate honeycomb-shaped diamond clusters.
---
3. PAPA' SIGNATURE COLLECTION: This 18-karat yellow gold signature pendant comes with an engraved female silhouette and Bimbi logo.
---
4. COSMIC CREATIONS: The Cosmic Creations collection brings the expanse of space back down to Earth with jewelry crafted to echo the language of the stars.
---
5. GRASSO ARMCHAIR: "Grasso is not fat. Grasso is more than fat. It's overflowing." Stephen Burks's description of his collection seems fitting, given its dedication to "ultra-comfort."
---
6. MCM VISETOS LEATHER WEEKENDER: Embrace the bright, colour-block aesthetic with this leather duffel bag, complete with an all-over MCM logo design.
---
7. MOODO SMART DIFFUSER: A smart aroma diffuser, Moodo's fusion of technology and fragrance allows users to mix and personalize scents to their home.
---
8. CAMEO KITCHENS: Cameo works to a core principle of "never abandon hand craftsmanship in favour of the mass produced," creating living spaces around individual needs and tastes.
---
9. GENESIS G70: Named North American car of the year for 2019, the Genesis G70 is built on superior driving dynamics, future-facing technology and state-of-the-art safety systems.
---
10. MARK SHAW, BALENCIAGA, ORANGE COAT SIDE, 1953: Originally published in LIFE in 1954, this Mark Shaw print shows a model posing for buyers in a coat designed by luxury fashion house Balenciaga.
---
11. FACUNDO RUM COLLECTION: Made using the world's largest private reserves of rums, the Facundo Rum Collection brings together four, ultra-premium, aged rums.
---
12. XIAO HUI WANG FOR CHRISTOFLE LOVE LIP SILVERED BRONZE SCULPTURE: The limited edition Love Lip sculpture is a conversation waiting to happen. Created by Xiao Hui Wang and commissioned by Christofle, it marks the first time the brand collaborated with a Chinese artist.
---
13. VALENTE JEWELLERS: With an understanding that jewelry runs deeper than being a piece purely for decoration, Valente Jewellers centres on Italian-influenced, custom pieces.
---
14. SCHUMACHER CHIANG MAI DRAGON CHINOISERIE AQUAMARINE WALLPAPER: Inspired by the art deco movement and embellished with chinoiserie motifs, this is a wallpaper that's hand-screen printed.