The Kingsway's Crown Jewel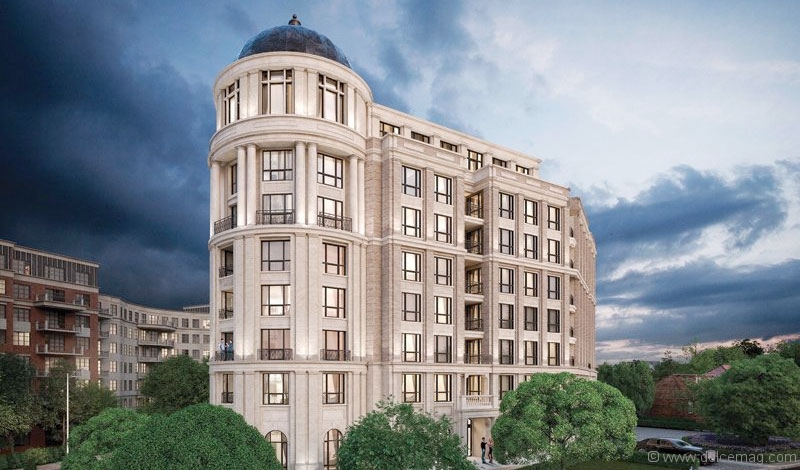 West-end development 4 The Kingsway reflects the area's prestige and elegance with beautiful European craftsmanship
When developer Jordan Morassutti and his partners obtained the slice of land at the apex of the Kingsway and Bloor Street West they knew they had a chance to do something special. That point is largely viewed as the eastern gateway into the prestigious community of the Kingsway, one of the most affluent neighbourhoods in Toronto's west end. It was the perfect spot for an exclusive boutique building.
"This particular site is something that we had followed closely for quite some time," says Morassutti, one of three partners at North Drive Investments. "We saw it as a rare opportunity to build something that was specifically designed for the more luxurious downsizers from the Kingsway area."
That vision culminated into North Drive's second development, 4 The Kingsway, an eight-storey neoclassical mid-rise of 30 suites and five townhomes with 13-foot ceilings. Designed by architect Richard Wengle, who's become known for the numerous transitional-style custom manors he's created in the city, this sophisticated stone-clad condo blends the European esthetic of the Beaux-Arts buildings lining the streets of Paris with the wedge shape of New York's iconic Flatiron Building.
Morassutti explains that a mandate of North Drive is to create legacy buildings both that are compatible with the surrounding neighbourhood and that add to location. So, he adds, elevating the design of 4 The Kingsway wasn't difficult given what surrounds it. "The neighbouring community has such a strong architectural character in and of itself, so to design a building that was compatible with that existing fabric made it easy to make it of a high architectural standard," he says.
While Wengle shaped the exterior, design maestro Brian Gluckstein orchestrated the inside. Much like its facade, 4 The Kingsway reverberates with that old-meets-new feeling, a balancing act between traditional luxury and modern design.
Within each unit, you'll find plenty of lavish materials, like pristine hardwood floors and choice of granite, Caesarstone or marble countertops in kitchens and porcelain and marble options for washrooms. To elevate the exclusivity, all the lower levels were given the same attention to detail as the upper levels to provide penthouse-type units throughout the building. As Morassutti notes, "We're really trying to go above and beyond here."
Morassutti founded North Drive back in 2011 with his two partners, brother Taylor and childhood friend Robert Fidani. They went with the name North Drive after the street they grew up on.
Their debut of an architecturally ambitious building was The High Park, a modern 11-storey condo just east of 4 The Kingsway that's currently under construction. The interiors were designed by Cecconi Simone and earned a Building Industry and Land Development Association award for Best Model Suite in 2014.
But when it comes to their target for 4 The Kingsway, they're keeping their eyes on a modest prize: "Our goal is to really make sure that residents feel like they're at home," says Morassutti.
Construction for 4 The Kingsway is expected to begin in late 2015. Units are running for roughly $1 million. Occupancy is still slated for fall 2017.