Grand Central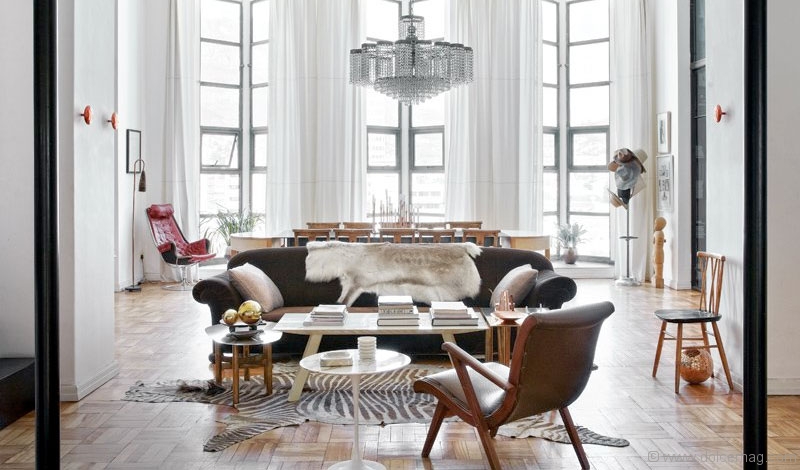 This impossibly glamorous inner-city apartment in Africa's only art deco skyscraper marries the owners' love of fashion, art, history, Bauhaus and public spaces to dramatic effect. It's a space full of extraordinarily beautiful things that belong to the city as much as to the family that has lived here for almost 10 years
This may be the most famous apartment in Cape Town. For starters, it's on the eighth floor of Mutual Heights, a masterpiece circa 1939 that is recognized as Africa's only art deco skyscraper. Then there are the absurdly striking views of Table Mountain visible from two terraces and soaring floor-to-ceiling windows. Then there is the fact that this former office block was one of the first to be converted into a residential space in the heart of the city — when no one actually lived in the city. Since it was reclaimed almost 10 years ago, it has played host to everyone from international design luminaries to Hollywood actors. (It recently guest-starred as Mandy Patinkin's New York apartment in an episode of Homeland.) And all because it was discovered in 2005 by the Rossouws — in particular Laureen Rossouw, a gifted design consultant turned magazine editor with a singular talent for seeing past the surface of things.
It was thanks to this gift that, after viewing only the building's former banking hall preserved with its original gold leaf, red marble columns and mahogany counters, Laureen and her husband Koos bought three apartments off-plan. "I saw it and I moved in," Laureen says now. Because they were the first buyers, the building architects helped them to merge the three units and customize the interiors, turning it into a light-filled, double-volume, 200-square-metre space that is part railway station and part Bauhaus movie set. "It was an amazing project and an opportunity," says Laureen. "To actually live like this in an African city has been an enlightening experience." In keeping with the building's severe architecture, she kept the interiors understated and the palette muted, then introduced moments of eccentricity and humour. Bathrooms with subway tiles and laboratory details, a Victorian wall clock in the library/TV room, a Swarovski crystal chandelier and an all-white mezzanine bedroom that hovers over the living space like a cloud. "You can have fun within the strict lines of the Bauhaus style," she says of her favourite period, "but it's not a frivolous space — the pieces are functional." She gives the building its due: "It was a great shell. You could put anything ugly in this space and it would still look beautiful."
And it is beautiful. Truly. A vast expanse of honey-coloured parquet greets you as you walk through the double front doors with their school-hall glass panels — the first nod to Laureen's fixation with public spaces. To the right is the cooking kitchen and to the left the scullery, "like a Jewish meat and milk kitchen," she laughs. The kitchens are both steely utility spaces and were divided into two and separated from the entrance by glass windows in order to create a defined "passage" into the apartment. "I didn't want to walk in through the kitchen," says Laureen, "I wanted to feel very special when I walked in here. I thought about it non-stop for three weeks. An architect couldn't have done that, but I love solving those kinds of problems."
Beyond the entrance is the living area she describes as her "waiting room," which is furnished with curvy 1950s chairs, a brown velvet sofa like a prized Dachshund (all second-hand finds) and a lacquered coffee table Laureen designed herself, flanked by two gold side tables from Tonic Design to make "my gold stage." The result is a space that seems poised for a grand reception. "My father was a dentist and when I finished in here I said to my husband, 'this looks just like his surgery.'"
The dining area features more precious pieces — an assembly of church chairs discovered in a junk shop, a steel Trek-style table by contemporary South African designer Gregor Jenkin, a classic apothecary cabinet used to display paintings and ceramics by local artists and a beautiful French dresser, stripped to its original wood grain and customized with handles made from semi-precious stones. Every room and piece of furniture has received the Laureen treatment. Besides design, Laureen's other great love has always been fashion and so she re-dresses and styles everything in her home as a better version of itself. Her love of history and fashion informs many of her choices, from the chandeliers that reminded her "of my mother's diamanté brooch" to the collection of sepia photographs of her Boer War relatives in the bedroom. "They were so stylish," she says, "even the men wore earrings."
Continuing the public space design metaphor, glass doors in steel frames on either side of the living spaces lead into the main bedroom to the left and to the library/den/TV room to the right. The idea for the library started with a double-sided railway clock that is fixed to the wall, presiding over an overflowing steel bookcase that reaches to the ceiling. "I wanted the apartment to feel like a smart station hotel," Laureen says. "And then I saw a picture in a magazine of a steel bookcase with a ladder and a platform and that fitted my idea of the railway station. That became my storyboard for the apartment."
The master bedroom continues the theme, with simple, custom-made furnishings, dramatically offset by a wall papered entirely in gold leaf. It's an unexpected flourish Laureen calls her "Bollywood project." In place of a headboard are two large, black-and-white botanical paintings by a local artist, while '50s drink trolleys serve as open side tables.
The only deviation from the theme is the whimsical, glass-walled mezzanine above the kitchens and the entrance. This is a little girl's fantasy bedroom, created for the Rossouws' younger daughter, Laura. "It wasn't an indulgence," Laureen insists, "it was the only thing I could do with the mezzanine; it needed light and a view but also privacy." (She does confess, though, that the white carpet may not have been the most practical choice for a child's bedroom.)
If this isn't the most famous apartment in South Africa, it's certainly the most thoughtful, the most elegant, the most memorable. Filled with art, bespoke designs, original collector's pieces ("I don't buy copies"), memorabilia and beloved objects, it's a tribute museum to all the great loves in Koos' and Laureen's lives: history, art, design, books, their children and, most of all, their heritage and their city. "What I love about living here is that it's as though you are part of the city. It doesn't belong to us alone, we must share it."
And so they have, with great generosity.
Production by Sven Alberding / bureaux.co.za: Photographs By Greg Cox / bureaux.co.za; Portrait Photograph By Inge Prins