The Scumbag Cut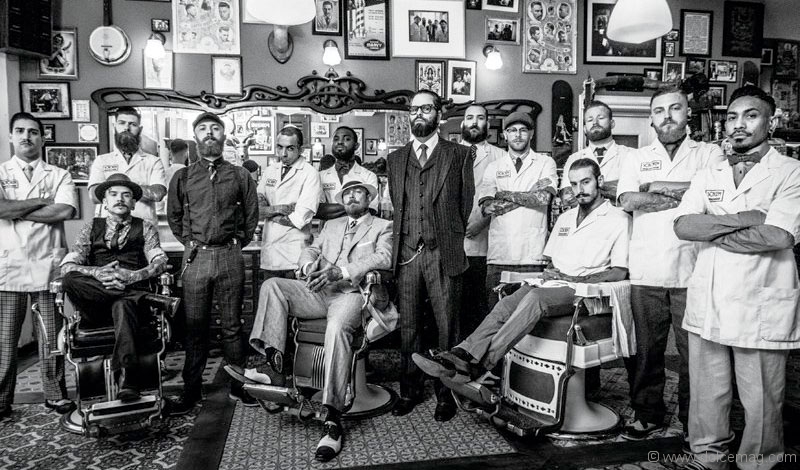 How the manliest barbershop in Holland keeps classic cuts flowing through an authentic, unapologetic, no-women-allowed approach
In Holland's blue-collar port town of Rotterdam stands the most masculine barbershop on Earth. Specializing in classic cuts and hot-towel shaves, Schorem is a revival of the old-school barbershop, where men and men only can socialize, drink and get their mane and whiskers trimmed — and clients have been known to wait in line for four to five hours to do so. We spoke with Robert-Jan Rietveld, co-founder of Schorem, to find out what this unapologetically authentic joint is all about.
Dolce Magazine: What does "Schorem" mean, and what is the concept behind your barbershop?
Robert-Jan Rietveld: Schorem is a bit of wordplay that gets lost in translation. It means "scumbags," "bad boys," but it's also the tense form of "I shave him" literally meaning "I shaved him." We are an old-school, men-only barbershop specialized in traditional, classic and signature haircuts and hot-towel straight razor shaves. We're trying to bring back a vanishing craft from a lost era of time.
DM: Tell me about your shop's history.
RJR: My business partner and I had the idea of opening a traditional barbershop for years but were involved in other businesses. It was kind of a joke to end our days — wearing white jackets, talking about football and foxy ladies we used to date and bitching about the good ole days gone by with the other grumpy old farts from the neighbourhood that we've been cutting for the last decades. Then one day we decided "Why not do it right now, have some fun?" and it went crazy from there. We just wrote down all the ideas we had on beer coasters, tried to find out all there was to know about the history of the trade and continued our search for antiques and paraphernalia to get things started.
DM: How did you find your team?
RJR: We get them off the streets: skateboarding rats, dropouts — the lost boys. We don't believe in beauty school turning them into robots. We teach them ourselves, if they've got what it takes. A barber has to be a craftsman, a shrink, a bartender. It's so much more than just cutting hair.
DM: What is your clientele like?
RJR: We got them all, man. From hardcore punks, psychos, greasers, scumbags, freaks, vagabonds, bikers, billies, inkslingers, skateboarding kids, ruffians, lowlifes to businessmen. We welcome them all, as long as they want a classic men's haircut.
DM: When a client sits in your chair, do you ask him what he wants or do you usually do what you think is best for him?
RJR: Both. We will never do a haircut that's not going to suit the client though. We made two posters, the "Barbershop Classics" and the "Signature Haircuts," with a total of 22 haircuts and we always say, "When it's not on one of the posters, you're in the wrong place." Men don't want to go through books with models they will never look like with the perfect abs and jawlines and bleached fringes — that's not real life. They want to point at the wall, sit down and don't have to worry about the end result. When guys come to Schorem they know they're going to leave with a perfect haircut.
DM: Haircuts, beards, moustaches, tattoos, clothing — everything looks extremely stylish on you. Do you think being a barber is in vogue nowadays?
RJR: We don't know and we sure as hell don't care. We've been looking like this for years. Nothing's changed. We didn't get tattooed because we're barbers — that would be pretty stupid. We're part of a custom subculture. I still like to customize my jackets, clippers, etc. It's gotta be in the heart. You gotta live that lifestyle. Rock 'n' roll isn't about the looks. It's something you drink and breathe everyday and for us being barbers is part of that lifestyle.
photos by Jelle Mollema Photography