Alexandra Weston – Shopping For a Cause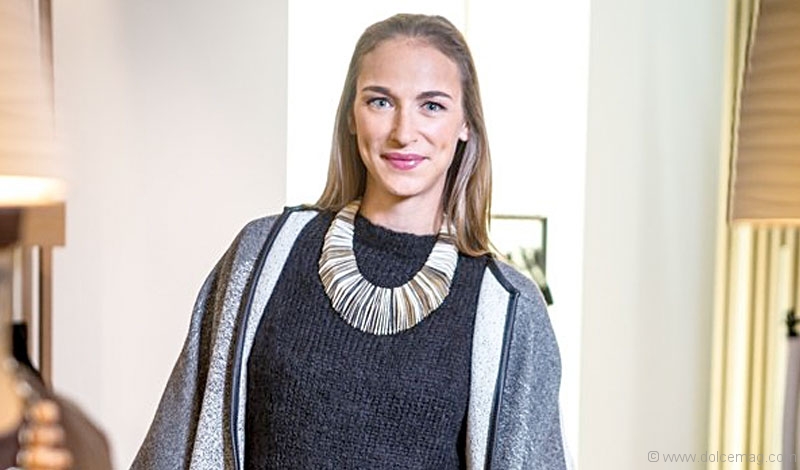 Curating a more compassionate and charitable retail experience with Holt Renfrew's director of brand strategy, Alexandra Weston
Alexandra Weston brims with delight as her eyes lock on to a blue and black clutch on display in Holt Renfrew's in-store shop, the H Project. "These came in," she beams, magenta lips spreading cheek to cheek. She explains the clutch is from Mercado Global, a social enterprise that works with indigenous artisans in Guatemala, helping to build businesses and connect with international markets. "And they have a whole series of different givebacks — social empowerment, education — that go along with their brand," adds Weston, director of brand strategy at Holt's. While esthetics are important (this is Holt Renfrew, after all), it's this charitable component that is crucial for Weston. She's on a philanthropic retail mission, one that's all about the story behind the product.
It's a bright and clear October morning as Weston, dressed casual chic in head-to-toe black, guides us to a quiet table in the back of Holts Café at the high-end retailer's flagship location on Bloor Street. Equally well-dressed patrons begin to filter in and, considering the exclusivity of the Holt's brand, it becomes increasingly clear I'm likely the least important person in this room. But Weston's humble warmth eases any anxiety. There's this almost tangible niceness glowing from her, a sensation that makes you forget that you're sharing a table with a member of Canada's unofficial royal family, the better half of heir apparent to the Weston kingdom, Galen Weston Jr. It's a genuine kindness that blossoms further as she opens the book of her soulful retail tale.
For the past two and a half years, Weston has cultivated the H Project into a permanent fixture within the Holt Renfrew brand. She curates this in-store shop with products from over 70 international brands, all of which have some health or humanitarian component. It's a people-before-profit concept that grew out of Holt's charitable collaboration program that launched in 2010. "It was really successful," she says of that program, and not just for the bottom line. "The biggest success for me came from employees when they would call me, write me notes, they'd see me in the store and they'd say, 'You know what? I love this program. I feel really good about coming into work every day.'"
When Weston was on maternity leave with her second child, she began to think about ways of expanding the program.Many people told her they loved the stories behind certain items — where they came from, who made them — and she wanted to develop something less in-and-out and more within the ethos of the Holt Renfrew brand. "I wanted something that was subtly always there that our employees could walk by every day, not just when the campaign was on, and they could feel proud about the products there, the stories," she says. "And also to take our customers on a different journey."
Weston determined three criteria of which products would need to meet at least one to make it in this new space. The first is where, by whom and how the product is made. The second: What are the materials used to create the product? (Are they upcycled or recycled or otherwise sustainable?) And the third: The charitable giveback. Like Lauren Bush Lauren's FEED Project, which Holt's carries and supports: "Her product is made by artisans, it helps empower people in developing parts of the world," but it's all about the charity. "Her whole MO is a certain number of meals are provided by purchasing this bag."
What Weston has found is, much like people's growing interest in their personal well-being, there is an emerging concern in the products we buy. Where do they come from? How were they made? Whose life do they affect? It's a sentiment that flies in the face of fast fashion, where it's all about speed and low prices, and everything else is an afterthought. "We've gone through a bit of a blip where I think people became so disconnected from the things they were eating, the things they were touching, the things they were wearing that now the pendulum is swinging," she says. "Health, well-being. That started it. But now fashion is following."
While these items may have a moral slant, they're not just mantel pieces. Weston wants you to be, first and foremost, attracted to the product. In order for it to be successful, it needs to be luxurious — "This is Holt Renfrew and the product needs to match," adds Weston, granddaughter of Bata shoe king Tomas Bata. But luxury doesn't necessarily mean additional zeros on the price tag: "It's really the stories, the depth of what's behind it."
Each year, Weston and her team unearth these stories firsthand by collaborating with designers on the H Project's Uncrate initiative, which highlights distinct cultures and their artisans. In 2014, they connected with Waris Ahluwalia for Uncrate India. Earlier this year they took a similar excursion to Africa, teaming up with the likes of designers Jodie and Danielle Snyder, the aforementioned Lauren Bush Lauren and Grammy-nominated recording artist John Forté. They met with local co-operatives in Kenya and Rwanda to find handmade jewelry, clothing and accessories they could retail in Canada. But it's the stories they brought back that hold the real weight.
Weston recounts walking the slums in Nairobi, Kenya, with Simone Cipriani, an officer of the United Nations and creator of the Ethical Fashion Initiative, and Italian designer Stella Jean. They sat down with a man named Vincent, who was born and grew up in the destitute region. Scars from stab wounds offered a map of the hardship of his upbringing. But Vincent's story is no tragedy. He now has his master's degree and works with the UN to help others like himself find a better life beyond the perceived hopelessness they seem destined to endure in the slums. "He's just this incredible beacon of hope," Weston adds.
---
Alexandra Weston on Wool
Favourite wool item for the home in the H Project?
"For home, blankets. I have way too many blankets, but I can't stop buying them," she says. "I think they're really chic and they show the luxury and I love that they're made in Prince Edward County."
One wool item you shouldn't be without?
"I think a cosy wool knit," she says. "Like a big, oversized, I'm-swimming-in-this sweater."
---
But you don't need to fly halfway around the world to offer a helping hand. One initiative that the H Project has continuously supported is the Prince's Charities' Campaign for Wool. This global mission was founded by the Prince of Wales to generate awareness to the benefits of wool — its versatility as a fabric, its financial support to rural communities, its sustainability — and to revitalize the dwindling industry in Canada and the 11 other countries where the program runs. Holt Renfrew hosts an annual pop-up in the H Project during the campaign's Wool Week, displaying blankets, scarves, hats and more made of Canadian wool, some produced as close as Prince Edward County.
"Without their support the Campaign for Wool would not be a fraction of what we've been able to build in these last few years," says Matthew Rowe, director of operations and partnerships for the Prince's Charities Canada. Rowe explains that by providing a platform for Canadian wool products in the luxury market, Holt's has not only created awareness for this environmentally friendly fabric, but also revenue to allow this struggling industry to find footing.
And it's not just the annual pop-up shop Holt's provides either. Holt's and Weston have been right there from the beginning, offering ideas for activations, including this year's launch of Wool Week at the Royal Ontario Museum, where knitting circles were held and an Alice in Wonderland-type chair was yarn bombed in Holt's signature magenta. As Rowe explains, "When you have partners like that it makes putting together a complicated and multi-levelled collaboration like this not only easier but a pleasure."
When it comes to the future of the H Project, Weston's goal is simple: "I want to see it grow, just like a child." She feels the luxury market is already well on its way to social responsibility, explaining, "We're really going back to rebuilding what was important in the first place. Why were we making these things? Who was making them? Who was the best of the best with their own hands? In the luxury sphere, I think we've arrived there."
It's now a question of whether this idea will transition into the mass market. When you hear the passion in Weston's voice, it feels like it's more than just a possibility. And if she can help make that happen, it would make for one heck of a story.