Toy Culture – Pushing boundaries of art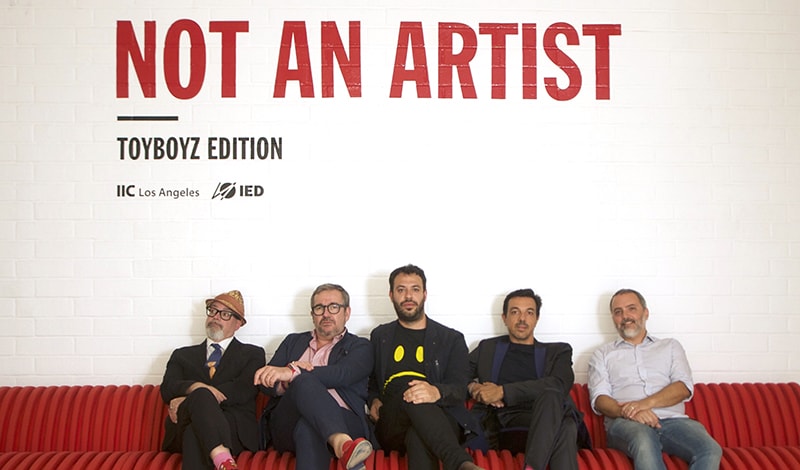 Creative, innovative artists and designers are pushing the boundaries of toy design, one of the most interesting expressions of contemporary culture.
Just as globalization is blurring the boundaries of different worlds, so it is with toy design and sculpture, paintings, graphic design and merchandising. And now, organized by the Istituto Europeo di Design (IED) and The Italian Cultural Institute in Los Angeles, comes NOT AN ARTIST — Toyboyz Edition.
The exhibition investigates "toy culture" — a cultural bridge that started in the '90s in Hong Kong, influenced by the street art and visual culture of the American West Coast and the manga universe, along with subcultures that have developed between Japan and Korea. The choice of artists and designers in the exhibition — Fidia Falaschetti, Joe Ledbetter/J.Led, Massimo Giacon and Simone Legno/tokidoki — is illustrative of this journey through different disciplines.
CLEVER SOCIAL COMMENTARY
Born in Marche, Italy, Fidia Falaschetti's foray into art began in childhood, and he was actually producing wall paintings and illustrations for established companies as a teenager. He studied product design and went on to a career as a graphic designer, illustrator and photographer. But after a trip to the United States in 2007, Falaschetti moved into contemporary art, which he found to be an ideal way of expressing himself. His inspiration comes mainly from people and from taking iconic characters and portraying them in a satirical and playful way for social commentary.
Falaschetti's art begins with an idea, then focuses on the detail to express and share his messages. Over the years, Falaschetti has exhibited his work in museums, art fairs and galleries in India, France, the U.S., Brazil, Indonesia, Switzerland, the U.K. and, of course, Italy, with his award-winning work highlighted by many publications.
A GLOBAL LIFESTYLE BRAND
Best known for his creation of the tokidoki brand, Simone Legno grew up in Rome, but he was always drawn to Japanese culture. His passion for art led to the eventual creation of tokidoki, meaning "sometimes" in Japanese, with Legno himself describing it as the energy we all have inside that allows us to dream about something positive, as well as the hope that something magical will happen to us.
Today, tokidoki is a world-renowned lifestyle brand, the result of a partnership between Legno and entrepreneurs Pooneh Mohajer and Ivan Arnold. The brand offers a range of products, from apparel and cosmetics to handbags and toys.
Legno has surprised the contemporary world with his cute yet sophisticated art, which includes characters such as personified cows and monkeys, and Japanese-inspired characters in bright outfits. He also creates acrylic-on-canvas works featuring modern versions of women found on classic Japanese woodblock prints.
INNOVATIVE AND PLAYFUL
Born in Padua, Italy, Massimo Giacon refuses to be constrained by boundaries. His work spans a wide canvas as a cartoonist, illustrator, designer and musician. In 1985, he started honing his design skills, working with brands such as Alessi, Swatch and Philips. Then Giacon took an interest in design, collaborating with some of the major architecture houses in Milan — Sottsass, Mendini and Thun.
He's created some popular items for Alessi, including Mr. Cold (a character who dispenses liquid soap from his nose), straddling the line between art and toy. Giacon has designed carpets, virtual characters and created TV theme songs. Presently, he's working on graphic novels, various editorial projects, musical and commercial videos, new design objects, art shows and music. For this exhibition, Giacon is showcasing his Nativity, a toy-style reinterpretation of the classic and traditional Italian Nativity for Alessi.
WEST COAST STYLE
Joe Ledbetter (a.k.a. J.Led) is an artist, illustrator and toy designer, based in Los Angeles. With bold lines and a vibrant palette, his art mixes irony, social criticism and mischief, making his work distinctive and universally recognizable.
His style is deeply influenced by classic animation, underground comics, skateboarding and '80s video games. Despite a limited amount of formal art training, Ledbetter began his career as a graphic artist in the apparel industry. Working his way up from underground art shows, Ledbetter has been at his craft full time since 2004, holding solo art exhibitions and collaborating with top brands like Nike and Sony Music. Over the years, Ledbetter has created an incredible cast of creatures. He's best known for his innovative and distinctive designer toys, but the company J.Led, LLC, also produces magnets, prints, apparel and furniture.
---
SIMONE LEGNO/TOKIDOKI
www.instagram.com/simonelegno
www.tokidoki.it/simone-legno
MASSIMO GIACON
www.massimogiacon.com
JOE LEDBETTER/J.LED
www.instagram.com/joe_ledbetter
www.joeledbetter.com
FIDIA FALASCHETTI
www.instagram.com/fidia
www.fidiafalaschetti.com
ISTITUTO EUROPEO DI DESIGN (IED)
www.ied.edu
ITALIAN CULTURAL INSTITUTE IN LOS ANGELES
iiclosangeles.esteri.it/IIC_Losangeles/it/